Prince William visits World Holocaust Remembrance Center in Israel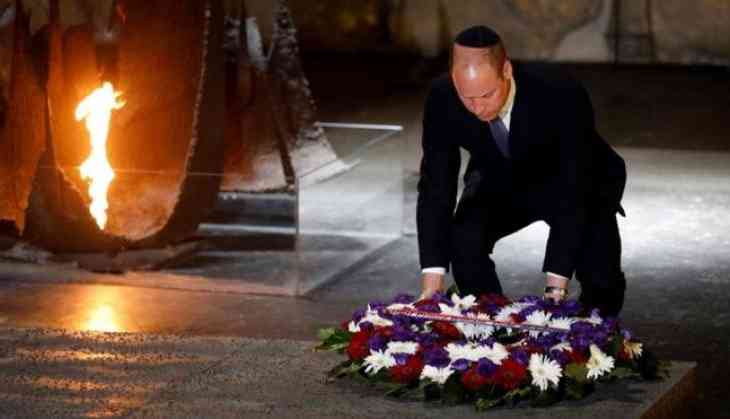 Prince William, paid respects to the six million Jews murdered in the Holocaust during a somber visit to Yad Vashem, the World Holocaust Remembrance Center, in Jerusalem on Tuesday.

"Terrifying. [I'm] trying to comprehend the scale," he said as he viewed a powerful display of the victims' shoes, Haaretz reported. He wore a traditional kippah on his head to show his respect as he laid a wreath in the Hall of Remembrance.
The Duke of Cambridge visits the Hall of Names at @YadVashem, Israel's official memorial to the Jewish victims of the Holocaust. pic.twitter.com/15g7YEdxA9

— Kensington Palace (@KensingtonRoyal) June 26, 2018
He spent an hour and a half touring Yad Vashem, the first stop in his historic tour of Israel and the disputed territories. It is the first official visit to Israel by a senior member of the British royal family.

Inside the center's Hall of Names, which honors those whose resting place is unknown, he read some of the personal details of the millions who perished. Their names have been recorded on Pages of Testimony, which serves as tombstones.
At @YadVashem, The Duke of Cambridge meets Paul Minikes-Alexander and Henry Foner, survivors of the Holocaust and the Kindertransport. pic.twitter.com/QNuzQK0wZp

— Kensington Palace (@KensingtonRoyal) June 26, 2018
He then headed to spend time with Israeli Prime Minister Benjamin Netanyahu and his wife Sara before meeting Israel's President, Reuven Rivlin, at his residence.
The Duke of Cambridge lays a wreath at @YadVashem, in memory of those who perished in the Holocaust #NeverForget pic.twitter.com/lqlfUreRg9

— Kensington Palace (@KensingtonRoyal) June 26, 2018
William's grandfather, Prince Philip, traveled to Israel in 1994 for a Yad Vashem ceremony honoring his mother, Princess Alice of Battenberg, who saved Jews during the Holocaust by opening the doors of her palace in Greece.
In 2016, William's dad Prince Charles, 69, attended the funeral of former President Shimon Peres.Knauf said in a statement before the visit, "The complex challenges in the region are of course well known. The non-political nature of His Royal Highness's role — in common with all Royal visits overseas — allows a spotlight to be brought to bear on the people of the region: their cultures, their young people, their aspirations, and their experiences."
The Duke of Cambridge meets @IsraeliPM @Netanyahu and Mrs Netanyahu at the Prime Minister's residence. pic.twitter.com/g8i6pj1WxV

— Kensington Palace (@KensingtonRoyal) June 26, 2018
In a statement before the tour, William's spokesman Jason Knauf said, "The complex challenges in the region are of course well known. The non-political nature of His Royal Highness's role — in common with all Royal visits overseas — allows a spotlight to be brought to bear on the people of the region: their cultures, their young people, their aspirations, and their experiences."
Also Read: Prince William visits Roman ruins in Jordan during royal tour