Piyush Goyal says, Much bigger trade ambitions with US than free trade deals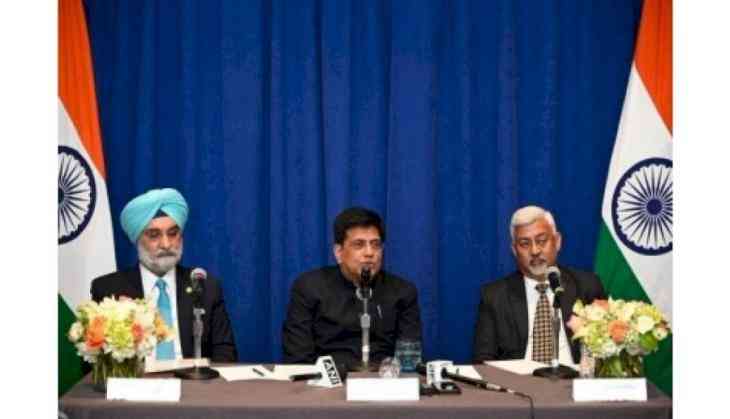 Union Commerce Minister Piyush Goyal.
India has bigger ambitions in doing trade with the US than securing a free trade deal, said Union Commerce Minister Piyush Goyal on Wednesday as he laid emphasis on greater market access, ease of doing business, and a larger footprint for trade and investment between the two countries.
Goyal made these remarks after convening the 13th meeting of the US-India Trade Policy Forum (TPF) with US Trade Representative Katherine Tai in Washington.
"We are looking at much much bigger ambitions in our trade with the US. While of course, we are doing free trade deals we've concluded and entered into force free trade deals with Australia and UAE. They're in active dialogue with the UK with Canada with Israel with EU," Goyal said during a press conference in Washington.
Union Commerce Minister stated that the US is currently not looking at any free trade deal with any country as a matter of their political policy. "So I think that's not something that's on the table. So rather than that we are focusing on greater market access. We are focusing on ease of doing business between the two countries," he added.
Goyal said that India is looking at bilaterally in a much larger footprint for trade and investment and business, adding that the small military deals have lost relevance today.
Answering a question on the possible revival of India's GSP status which was removed by the Trump administration, the minister said, "I think in terms of GSP I have not heard any significant clamor from Indian industry to focus our energies on the GSP issue I have resumed today with my counterparts."
Goyal said the GSP issue is not something that was on a high-priority list and trade between the two countries continues to expand very rapidly. "I have placed on record our requested GSP should be restored. But I can assure you the trade between the two countries continues to expand very rapidly," he added.
In March 2019, then-US President Donald Trump terminated India's designation as a beneficiary developing nation under the key GSP trade programme.
The meeting between Goyal and US Trade Representative Tai provided the two ministers with the opportunity to review the work that has taken place, since the re-launch of the TPF in November 2021, under the Forum's working groups, and to provide their guidance on priorities to pursue as part of the TPF's 2023 work program.
At the conclusion of the meeting, the ministers issued a Joint Statement reflecting the results of the discussion.
"In her remarks during the TPF meeting, Ambassador Tai emphasized that the TPF is contributing directly to the strength of U.S.-India bilateral relations by providing a structure for constructive dialogue on trade policy matters," the US Commerce Department said in a statement.
She noted the tremendous potential for growth between our economies, and the equally significant potential to ensure that bilateral trade brings a positive impact to working people in both countries.
She also highlighted the commitment of both US President Joe Biden and herself to ensure that bilateral trade dialogue contributes directly to helping the United States and India respond to shared challenges in the global economy.
Ambassador Tai also highlighted the creation of a new TPF Working Group on Resilient Trade.
She expressed her appreciation to Minister Goyal and his colleagues for their contributions to the TPF in general, and to today's ministerial meeting specifically.
(ANI)
Also Read: Afghanistan: 5 killed in suicide attack outside Taliban Foreign Ministry in Kabul