Nepalese girls fight menstruation taboos with photography
Asad Ali
| Updated on: 10 February 2017, 1:50 IST
Imagine that for one week every month, you can't look at the sun or the mirror, sleep in your own room - sometimes not even in your own home, eat or drink at the family table. Absurd? Probably. Harsh? Definitely. But it's also a reality a large number of women have to live with in Nepal. These, and other assorted restrictions of varying degrees of backwardness, are placed on young women during their periods. And these women have now discovered a way to counter this culture of regression - a camera.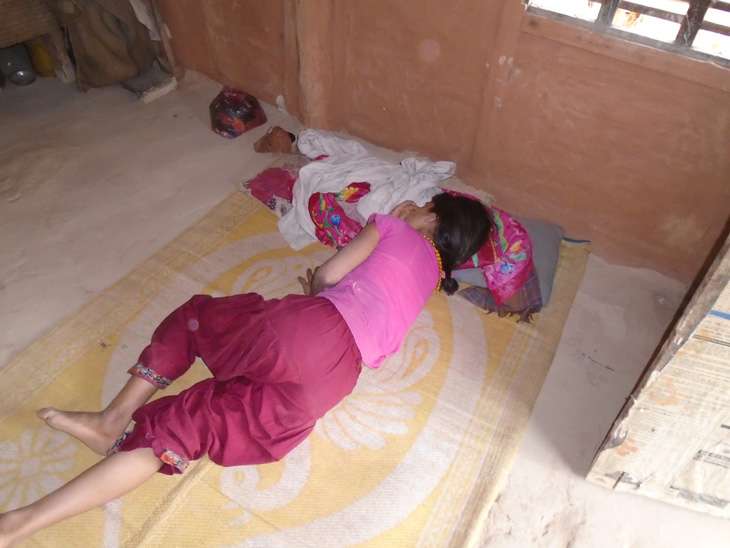 This is my cousin. Her name is Maili. She is taking rest. During menstruation, we should relax and not lift heavy loads. We need to rest more during periods because our body gets tired and weak. April 2016. (Sabina Gautam)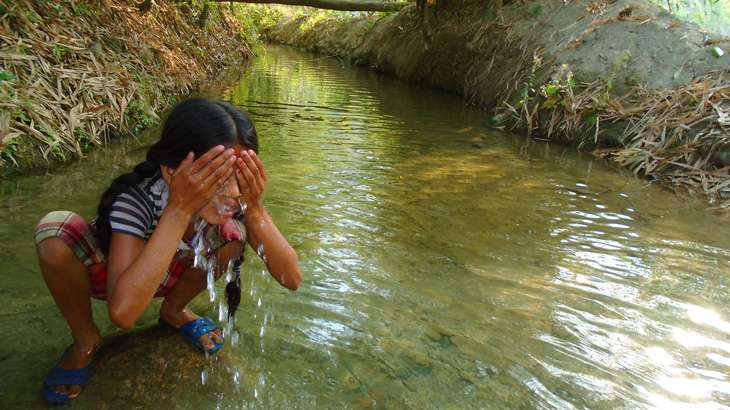 My sister Shristi is washing her face in this picture. When I had my first menstruation, I stayed at someone else's house. We were not allowed to stay in our home. For following social culture, we have to be out of home for seven days, and we may not be secure. But any adolescent girl has the right to stay with their parents to feel safe and secure. Sirthauli, Sindhuli, Nepal, April 2016. (Bisheshta Bhandari)
As part of an awareness campaign to whip up discussion around menstrual hygiene, and to showcase the challenges women have to face during their periods, WaterAid gathered a bunch of young women in Nepal and gave them cameras. The objective? To document the restrictions they have to deal with every month when they are menstruating.
"The project started around six or seven months ago. We were scoping out the potential project sites and doing a recce of four schools," explains Mani Karmacharya, a communication officer for WaterAid based out of Nepal, and who helmed this campaign. Karmacharya says that a participatory approach by developmental agencies isn't uncommon when it comes to dealing with sensitive issues, and the idea was to really engage intimately with the community for this campaign.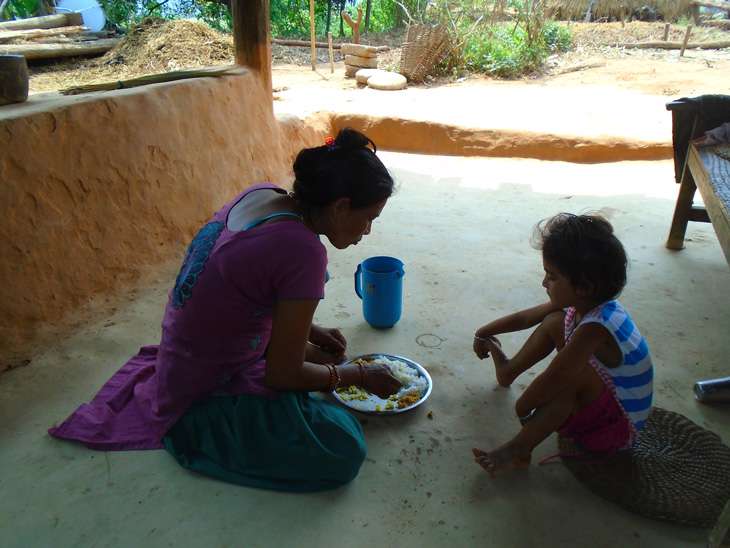 This is my mother and sister in the picture. Here, my mother is feeding my sister with so much of love. Mother loves me very much as well. However, during my menstruation cycle I am kept separately and have to eat at a distance. When nobody touches me, I feel unloved. When I am separated and treated like an untouchable I feel no love from my mother and father and I feel only hatred. I feel sad being treated that way. Sirthauli, Sindhuli, Nepal, April 2016. (Bandana Khadka)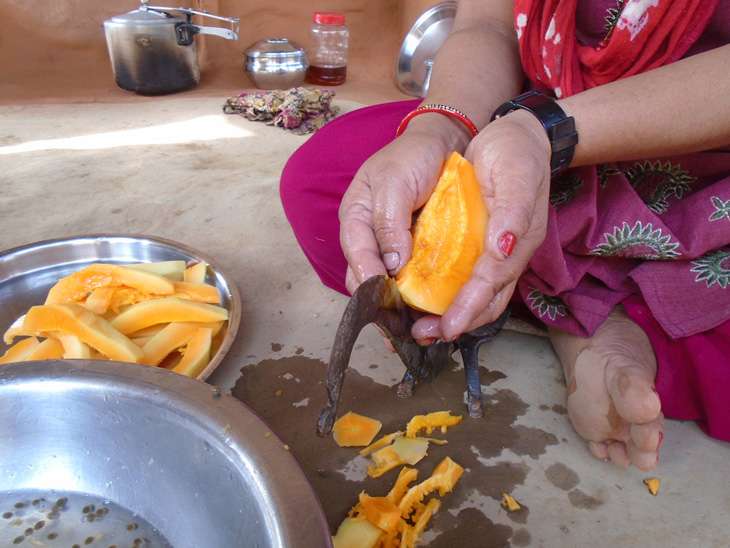 In this photo my mom is cutting a papaya. In our community, there's a belief that during menstruation we should not eat papaya though I like it a lot, and is a nutritious fruit. During menstruation, we are told not only to not eat papaya but also to not touch the papaya tree. Though during menstruation, adolescent girls should eat even more fruits and vegetable to keep the body strong and healthy. Sirthauli, Sindhuli, Nepal, April 2016 (Sabina Gautam)
The project covered three areas - two hilly regions, one plain land. Sindhuli & Sirthauli were the hill regions most in focus for the project. Sirthauli, in fact, is just about 130 kilometres southeast from Kathmandu. Karmacharya says that the hill regions are usually more affected by such socio-cultural problems. He says that any region where, demography-wise, there's a prevalence of Brahmins and Kshatriyas, the problem of menstrual restrictions seemed higher and stronger.
Given that families can often be quite conservative in nature, how did WaterAid officials convince the girls - and their parents - to yield to their experiment? Karmacharya says that a lot of recce went into pulling off this project. "Initially, we got in touch with ten or fifteen girls and from four schools, then narrowed it down to seven. We explained to them and even their guardians that they will be voicing their own stories." The girls took some time to open up, admits Karmacharya. "At first, they were of course reluctant to talk to me. They were more comfortable with my colleague who was a woman and I had to leave the room every time she was talking to the girls. But by the end of the project, they were very comfortable, they would talk about their first period date also."
There was a proper consent form that the girls and their parents needed to sign, "We ensured they understood each and every line of the form in detail since some of them were illiterate. We explained that the photos will be used by the media as well (for non-commercial purposes) and they can't have objections to it," clarified Karmacharya.
The parents were given the choice to do a first selection of the photographs, and voice reservations, if any. Once the project was over, an exhibition with the final set of images was held for the parents as well. That's also when, says Karmacharya, several mothers came up to say that they don't necessarily endorse such traditions. But the social pressure to adhere to "tradition" is too much to resist.
How much of a difference do such projects create within the community? Sandhya Chaulagain, also working with WaterAid, says it ends up making a fair amount of difference. "The fact there's any conversation at all about sanitary napkins is a difference," she says. "In many places women use cloth and reuse it. Shockingly, after they wash it, they have to hide it. They can't even let it dry in the sun outside because it might anger the gods!"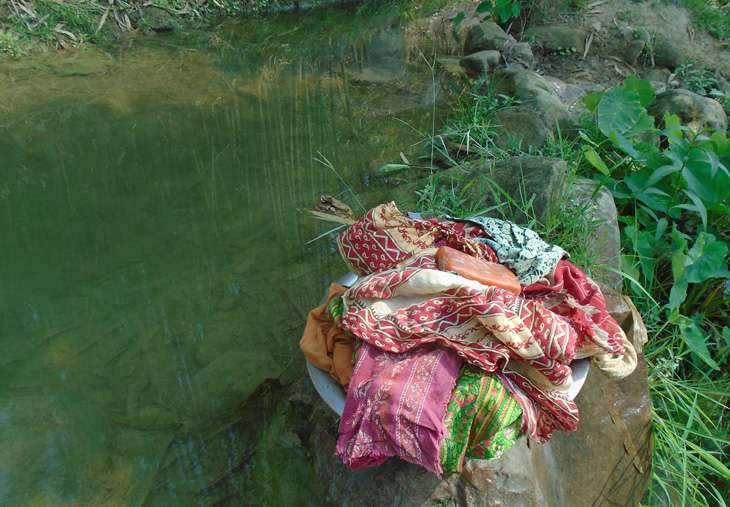 This is the picture of the stream where I bath and clean my pads. In this picture there is a stack of pads that I use and I clicked this picture sometime before I started washing them. During our menstrual cycle it's very embarrassing for us to wash our used pads out in the public place hence, we find nearest corners and isolated streams to clean our pads and wash ourselves. Sirthauli, Sindhuli, Nepal, April 2016 (Manisha Karki)
Karmacharya agrees and says that, "When the girls started with the project, there was a feeling that maybe such ritualistic restrictions were right, but by the time the project ended, they were thinking maybe such restrictions aren't right after all. I can't say if such initiatives cure things but it's definitely been a good start."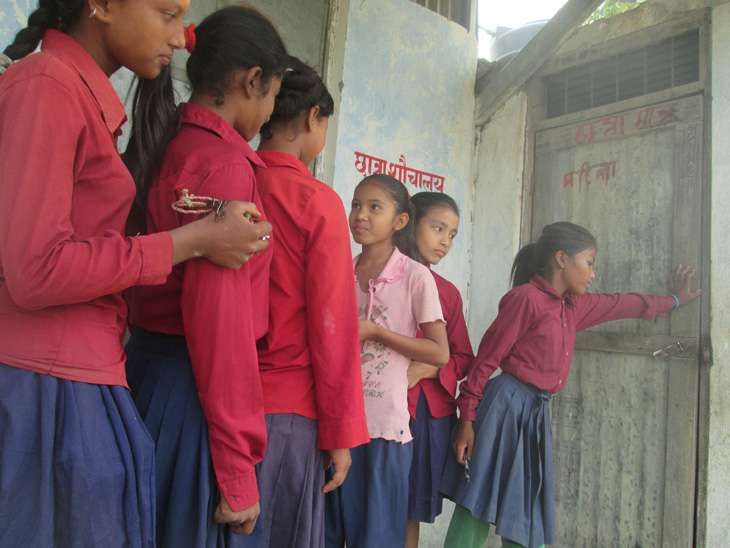 This is the girl's toilet of our school. We are in urgent need of MHM friendly toilet. The one we use doesn't lock properly. If someone is inside, other person has to wait outside pushing the door for her. Because of lack of latrines in our school, we have to wait in the long line. This is very problematic for us and we need of more girls' friendly latrines. Sirthauli, Sindhuli, Nepal, April 2016 (Sushma Diyali)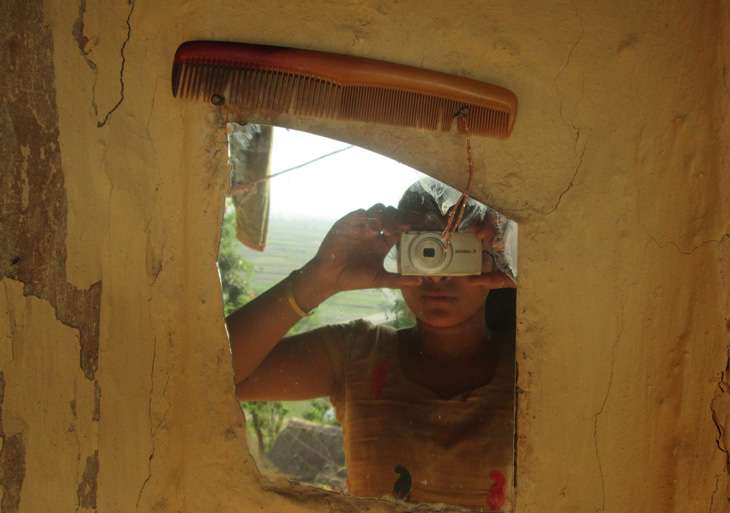 his is the picture of mirror and comb that I use at my house. In our society, when girls experience their first menstruation we are not allowed to look into mirrors or comb our hair. And I think that is the wrong belief that we have in our society. Me and my family do not follow such practice. But, I have many friends whose families are really strict about these practices and as a result, most of my friends were not allowed to look themselves in the mirrors and comb their hair. Sirthauli, Sindhuli, Nepal, April 2016 (Sushma Diyali)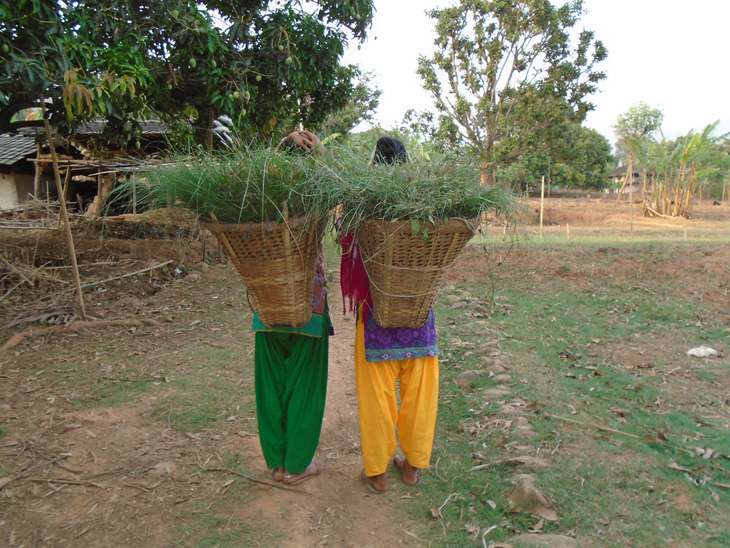 I had gone to collect grass and firewood when I had my first period. I clicked this picture to recollect that particular memory of mine. I never knew menstruation was about bleeding then. When I started bleeding for the first time I got very scared and terrified. There was no one to help me out, I didn't know how to use pads and I had hard time coping up with the changes I had within me. Sirthauli, Sindhuli, Nepal, April 2016 (Rabina Budhathoki)