Kasuri: is he a man of peace or the Pak army's puppet?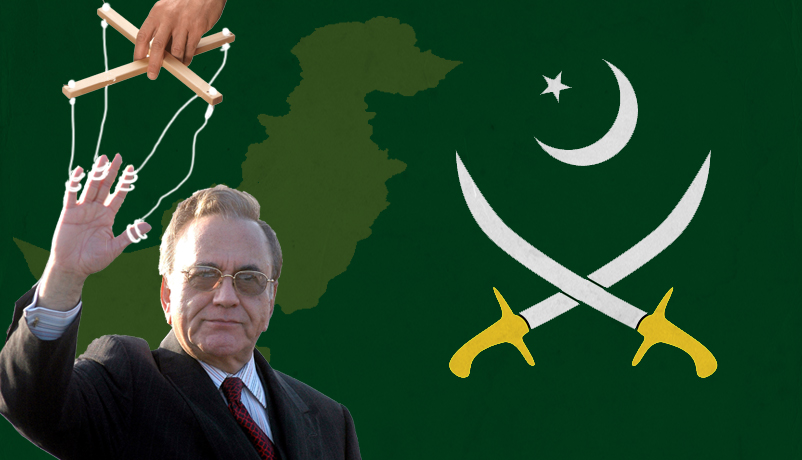 The row
Shiv Sena attacked Sudheendra Kulkarni at Khurshid Mahmud Kasuri\'s book release function
The attack diverted attention from the real issue: Indo-Pak relations
The disclosure
Kasuri, former foreign minister of Pakistan, writes that India and Pakistan had come close to a deal
But Kasuri is by and large uncritical of the Pakistan army
More in the story
What was the deal that India and Pakistan had arrived at?
Does Kasuri actually want peace with India?
Shiv Sainiks smeared Sudheendra Kulkarni's face with black paint for being part of former Pakistan Foreign Minister Khurshid Mahmud Kasuri's book launch. They had every right to protest against the event but its manner was simply wrong. If criminal laws were broken, the culprits must be brought before the courts.
The incident has unfortunately shifted the focus from Kasuri and India-Pakistan relations to the current national debate on the "rise" of intolerance and bigotry. India's ancient intellectual tradition was based on open and fearless debate and the absence of dogma. Intimidation and violence can have no place in its current national enterprise.
But let us come back to Kasuri and his book Neither a Hawk nor a Dove. By serving as a General's Foreign Minister Kasuri showed his true democratic credentials. He is cut from the same cloth as other Pakistani politicians who are ever willing to be in bed with the army when it suits their political purpose. As Pakistan's Foreign Minister, he faithfully followed the agenda set by the army.
The back channel
Kasuri's revelations on the back channel talks during the UPA period raise a number of disturbing issues that require clarifications from the Indian participants in that process. This is especially because at his press conference in January 2014-his last as Prime Minister-Dr Manmohan Singh claimed that an agreement on Kashmir had almost been reached in the back channel talks.
He indicated that final progress could not be achieved because General Musharraf got into domestic political difficulties after he dismissed Pakistan's Chief Justice Iftikhar Chaudhry in March 2007. Kasuri echoes this view.
That intensive and sustained discussions took place in the back channel process is without doubt. That Dr Manmohan Singh had sought to bypass the Line of Control by making it "irrelevant" is also true. Equally true is that Musharraf seems to have agreed not to insist on the UN Resolutions. However what is blurred is the approach that was being adopted to handle the crucial issue of sovereignty.
The agreement
India holds that Jammu and Kashmir is an integral part of the Union. The Parliament Resolution of 1994 reinforces the position by reasserting the national commitment to recover the territories under Pakistan's illegal and forcible control.
Pakistan considers the state to be disputed. Kasuri says that discussions were going on to create "joint mechanisms" on select subjects but no agreement had been reached on them. He also says that discussions were ongoing on the role of elected representatives of the two Kashmirs in this process, also of India and Pakistan.
Kasuri says India and Pakistan prepared a joint mechanism between representatives in both Kashmirs
Indian participants say that "consultative mechanisms" were under discussion. The difference is not only of nomenclature. Joint mechanisms and a role given to elected representatives is a movement in the direction of the dilution of Indian sovereignty. Was this on the cards? Was India moving in this direction? If not, was Pakistan willing to remain silent on its stand on the disputed nature of the state? If no conclusions had been reached on these fundamental issues then how is it being claimed that an agreement had almost been reached?
The Pakistan army
Kulkarni claims that Kasuri is a man of peace. At the book launch in Mumbai this man of peace had not a word to say on 26/11. What he did say was that there was no place for non-state actors in modern states. To show that Pakistan was taking action against them, Kasuri referred to the ongoing Pakistan military action in North Waziristan. He did not say a word against the Lashkar-e-Tayyeba and its use by Pakistan as a part of its security doctrine against India.
Kasuri and Kulkarni made a fervent appeal for continuous dialogue between India and Pakistan. All right thinking people would want the two countries to have good relations and resolve their differences peacefully through negotiations. The question is if the Pakistan army is of the same view. Certainly its actions have never shown that it would like sustained peace between India and Pakistan. That would not serve its corporate interests. At no stage has Kasuri said anything that would meet with the army's disapproval. On the contrary he wishes to correct misconceptions in India about the army!
The Pakistan army uses people like Kasuri to try to project a reasonable picture of the country. It also diverts attention from the actual situation in Pakistan and its sponsorship of terrorism. It would have been appropriate if the Shiv Sena, notwithstanding its justified anger at Pakistan's actions against India, had exposed the true nature of Pakistan's India policy, instead of attacking Kulkarni.
By doing so it has only played into the hands of those in India who are ever willing to condone all Pakistani behaviour in the quest for continuous dialogue and normalised relations. The focus has to be brought back to Pakistani animosity towards India.
The views expressed here are personal and do not necessarily reflect those of the organisation.