Japan appoints first woman commander of Navy fleet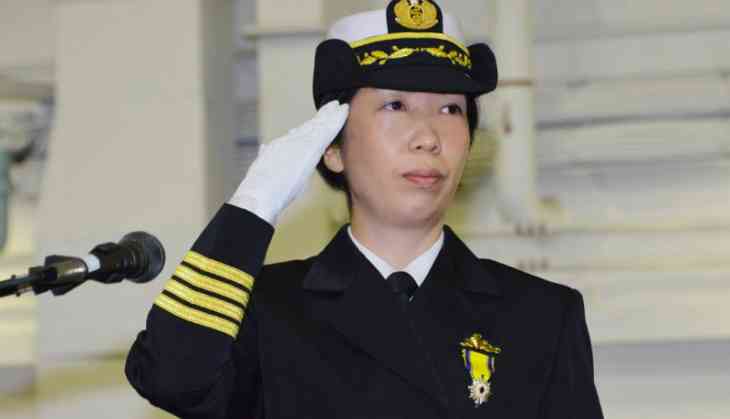 Japan has for the first time appointed a woman as commander of a Navy fleet, the Japan Maritime Self-Defence Force said on Wednesday, at a time when the government is considering increasing female presence in the military.

Ryoko Azuma, 44, will lead the operations of Japan's main escort division, a fleet of four vessels including the largest Japanese helicopter destroyer, the Izumo.

Azuma will have under her orders the fleet's joint crew, a total of 1,000 sailors of whom only 30 are women, Efe news reported.

The appointment of Commander Azuma was officialized at a ceremony on Tuesday aboard the Izumo docked at Yokohama port, south of Tokyo, for maintenance.
Also Read: Bill and Melinda Gates Foundation announces USD 170 million for women's empowerment
Azuma downplayed the moment. Asked about the pressure the position entails, she said: "I cannot say I do not feel pressure, but I will overcome the difficulties by presenting them as a personal challenge."

She said her gender was never an obstacle in developing her military career and added that rank was what mattered as gender and age cannot limit professional growth.

Commander Azuma graduated from the National Defence Academy in 1996, a year when women were still prohibited from serving on warships in Japan.
Also Read: US imposes sanctions on Pyongyang over Kim Jong-nam's death
Japan did not lift the veto on women on military vessels until 2008 and submarines continue to be crewed only by men.

The presence of women in the Japanese Army remains low and only 6 per cent of military personnel are women, a figure far behind that of US and other industrialized countries, where the average is between 10 and 15 per cent, according to Japanese Defence Ministry data.

Tokyo has proposed to double the presence of women among troops in the coming years, at a time when it also seeks to boost women's presence in different areas of work to address the lack of personnel created by a rapidly ageing population and low birth rate.