Is Google manipulating search results to help Hillary?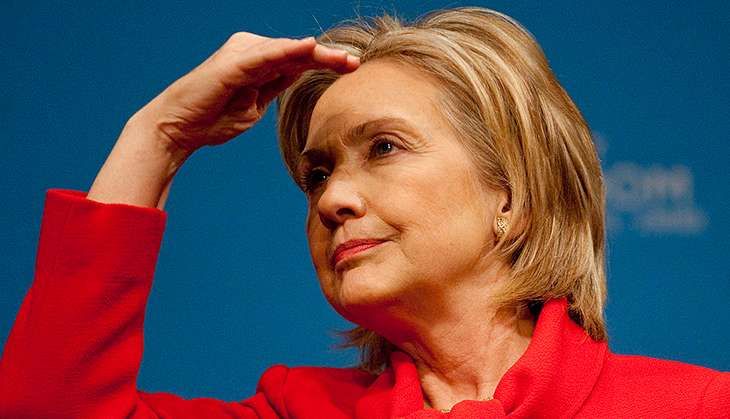 What does Hillary Clinton's Presidential campaign and Google's autocomplete function have in common? They both seem intent on showing Hillary in a positive light. Well, at least according to YouTube channel SourceFed, who posted this video on Thursday, 9 June.
According to the video, Google, the biggest search engine in the world, threw up more positive results for Clinton-related searches. On rival search engines, like Bing and Yahoo Search, the same search results were far more critical.
Just type 'Hillary Clinton cri' and you'll get crime on Yahoo Search and Bing. Type 'Hillary Clinton ind' and this time you'll get indicted (which has to do with her email secrecy fiasco).
Now, go to Google and type 'Hillary Clinton cri' and it'll throw up crime reform. For 'Hillary Clinton ind' it will give you Hillary Clinton and Indiana, India and independents, with no reference to indictment whatsoever. To add to this, the autocomplete results were not showing a negative nickname that Trump had been using for Hillary Clinton.
So what is this about? Are Google's users just more in favour of Hillary than Yahoo Search or Bing? Apparently not. If you go by Google Trends, Google's own data, then 'Hillary Clinton indictment' is more popular than the autocomplete search results like Indiana, India and independents.
On 7 July, Julian Assange had this to say, "[Google] is directly engaged in Hillary Clinton's campaign." Assange was speaking via video (as he is still cooped up inside the Ecuadorian Embassy), and made some startling claims. He said that Google was helping Hillary Clinton. Specifically, Eric Schmidt, executive chairman of Google, had "set up a company to run the digital component of Hillary Clinton's campaign".
According to some reports, Schmidt did create a website in the last quarter of 2015. It's called The Groundwork. The website remains empty, till date, except for a placeholder logo in the middle. Schmidt may be acting independently of Google, but The Groundwork was developed to get Clinton into the White House.
According to Breitbart, "The Groundwork was the highest paid tech service company to the Clinton campaign, receiving $136,131 during the third quarter and $313,349 through the first 9 months of 2015. It was second in total earnings only to digital consultant Blue Wolf Group, according to available federal filings."
Quartz had an even more in-depth take on the issue. "An under-the-radar startup funded by billionaire Eric Schmidt has become a major technology vendor for Hillary Clinton's presidential campaign, underscoring the bonds between Silicon Valley and Democratic politics." It was set up to ensure Hillary has the technological and engineering capacity to win the 2016 Elections. Groundwork's headquarters, initially, was a a couple of blocks away from the Clinton campaign HQ.
Looking into Clinton's leaked email transcripts (each one of which you read thanks to Julian Assange and Wikileaks), one finds many a Google employees name. Jared Cohen is one of the names that comes up repeatedly on the list. He is 'Google Idea's' (now called Jigsaw) head. These leaks went even deeper - saying that Cohen's team was working alongside Al Jazeera and with Clinton in 'attempts to influence the regime change in Syria'. Lastly, Assange pointed out that Google had a close relation with the Obama administration.
"It is the company that visits the White House more than any other - averaged once per week in the last 4 years."
Google for its part has denied it. A statement released by Google read, "Autocomplete predictions are produced based on a number of factors including the popularity of search terms. Our systems are periodically updated to improve search, and our users' search activity varies, so the terms that appear in autocomplete may change over time," she said in an email. "Additionally, our systems automatically filter a small set of offensive or inappropriate content from autocomplete predictions".
What Google is doing isn't the sort of thing that is illegal. It's an unregulated industry. Google is, at its core, a private company and private companies are free to do what they want. Sure they're meant to serve the greater population of the world but first and foremost it serves its stakeholders since it is a publicly traded company.
On a larger level, this is Google, using its majority market share, to manipulate its consumers into thinking one candidate is better than the other. The majority of Google users, blindly trust what's on page one of the search results. That is the problem. But it's also something that isn't going to be changed any time soon.