Indo-Pak relations: try 'trade for peace' approach instead of 'peace for trade'
Manoj Pant
| Updated on: 10 February 2017, 1:46 IST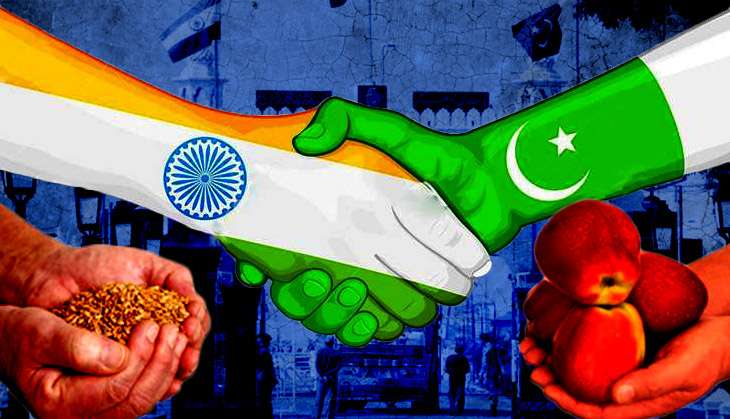 Whatever be the end result, it is clear that Indo-Pak relations have hit a new low. The two armies are at a standoff, people living near the border between the countries are being evacuated, and air travel between the two countries is now more or less over.
It is only a matter of time before people-to-people contact will stop (action against Pakistani artistes in India is being suggested, while Indian films are already off the air and screens in Pakistan).
The call to isolate Pakistan in SAARC has been followed up by the demand to end the 'Most Favoured Nation' concessions to Pakistan.
More generally, it will be a while before either country decides to renew political discussions at any serious level. There seems to be a general consensus on this.
One step forward, two steps back
At one level, the military offensive by the government is to be welcomed. The decades old strategy, which argued that terrorist activity from across the border cannot have a military response on the grounds of the 'nuclear threat', is clearly not working.
Thus, the Lahore Declaration of 1999 was followed by Kargil, while the Agra summit of 2001 was followed by the attack on the Indian parliament.
In 2005, discussions on trade expansion with Pakistan were followed by terror attacks on Mumbai attack, and later, after 26/11, the two countries once again came close to war.
As economic relations improved and the new government under Modi made some fairly serious peace overtures, Pathankot and Uri happened, and the rest is history.
The ground realities in Pakistan
The domestic political issues in Pakistan are now clear thanks to the recent report in The Dawn: the army and the civilian government are again at loggerheads.
One thing, thus, is clear. The usual argument that India's 'Kashmir problem' is the 'core' issue is not true. Kashmir seems to be the excuse by which the army in Pakistan prevents the maintenance of control by the political executive.
My visits to Pakistan over the period 2005 to 2014 for a series of conferences made a number of things rather obvious. For one, the ordinary Pakistani on the street does not think that Kashmir is the 'core' problem. "We have our own serious problems of water, power and housing," seems to be the refrain.
A chance meeting with politicians, lawyers and journalists at a 'Page 3' event in Karachi also indicated that no one takes the civilian government seriously on external political issues, and that the army not only controls politics, but economics as well.
In a brilliant public lecture at a university, the former Foreign Minister in the PPP government, Hina Rabbani Khar, narrated how Chinese leaders once advised that for normalising relations, it is necessary to leave out contentious political issues (read: Kashmir) till the time that improving economic relations makes the other issues irrelevant.
The economic situation
It's true that decades of political attempts to bring peace have totally failed. The Indian government's attempts to promote confidence-building measures have led to a large number of exchanges over the last decade or so; yet, this people-to-people contact does not solve the core problem - the civil-military standoff.
This is because there is no economic constituency in either country which has any stake in the continuation of peace.
It is worth noting that since 2001, formal trade between India and Pakistan increased from about $150 million to around $3 billion in 2014. The informal trade is estimated to be at least double the formal trade, but routed through other countries like Iran, UAE and Afghanistan, due to the problems of non-tariff barriers like payment mechanisms, difficulty in cross-border trade at Atari and Wagah, visa issues etc.
Media reports indicate that trade seems to have continued even through the post-'surgical strikes' escalation of tensions.
Peace for trade, or trade for peace?
For many decades, the policy has been 'peace for trade'. Yet political normalisation seems a distant dream, which is not surprising as only one country seems keen on peace, while the other has domestic political issues which the bilateral political process cannot address.
Maybe it's time to try the 'trade for peace' approach. There was a hint of this in Prime Minister Modi's speech at Kozhikode, where he addressed the common man in Pakistan in arguing that the focus should be on economic development and poverty removal, and not on wars.
This 'trade for peace' approach implies a new strategy. It implies creating an economic constituency in Pakistan (of which the army brass is an important component), which has an interest in normalising relations.
Currently, in formal trade, India has a huge trade surplus with Pakistan. Denial of MFN status, for example, is a waste of time as Pakistan's exports to India are minuscule and no serious constituency in Pakistan is affected.
On the other hand, reducing India's exports to Pakistan will actually alienate the common man in terms of the increased cost of his consumption basket.
The strategy, then, should be to reiterate the demand for MFN from Pakistan.
Actually, the China example shows how this strategy works. Currently, India has major territorial issues with China: from Arunachal to Ladakh to the area it acquired from Pakistan in northern Kashmir.
Over the last decade or so, China has become a major trade partner, with India's trade deficit of around $50 billion creating a lot of economic heartburn in many sectors in India. Given China's current economic downturn, India could threaten to cut imports as a bargaining strategy.
Yet, it is constrained from doing so, as this would shoot up costs of medicines (India imports almost all the basic insulin from China), inhibit growth of India's telecom sector and raise costs of essential power equipment.
The Chinese have a large constituency of Indian importers, who would strongly resist a downturn in political relations. For economic reasons, India has to stay invested in peace with China.
Political isolation of Pakistan is probably a good short-term strategy. Yet, boosting trade for long term peace while reducing frequent political 'talks' might well be a long-term strategy, for which time has come. There are many cases in history where this has worked.
Edited by Shreyas Sharma
More in Catch
Cross-LoC trade & travel rolls on despite Uri attack, but it is no respite for Kashmir
NSG bid: Not Pakistan, China was driven by its own nuclear trade interest
Time for India-Pakistan to display 'maturity' and conduct trade with each other: Sushma Swaraj