Indian diplomats make it clear that BIMSTEC is not an alternative to SAARC
Catch Team
| Updated on: 10 February 2017, 1:45 IST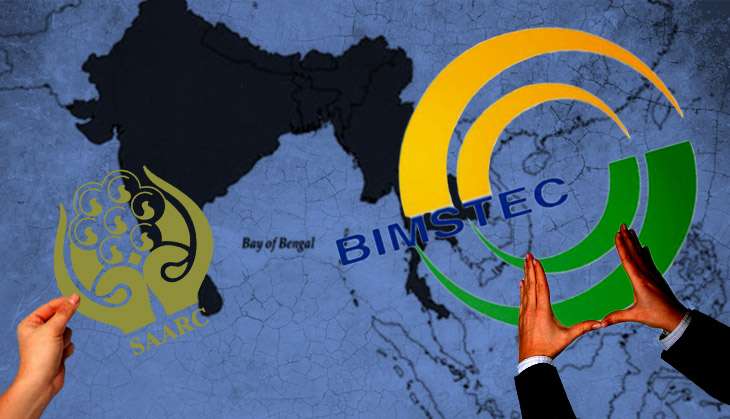 As Goa gets ready to host the two important multilateral events - BRICS and BIMSTEC outreach summits - cautious comments from senior Indian diplomats suggest that it may be too early to write off SAARC. As a responsible regional power, with a "positive agenda", India is not playing up BIMSTEC as an alternative to SAARC.
They say that while India is looking to further its economic and strategic interest and reinvigorate forums like BIMSTEC, every multilateral organisation has its role.
Also read - PM Modi banks on BRICS to support developing countries achieve their goals
The diplomats say that India's interest in BIMSTEC is focused on a positive agenda. The invites for the summit - sent to all heads of state barring Myanmar, which will be represented by Counsellor Aung San Suu Kyi on her first visit to India after NLD joined the government - were sent in April, much before India- Paksitan relations saw heightened hostilities.
"All the member countries are focused on moving the relationship forward in terms of technical and economic cooperation which would lead to poverty alleviation, result in sustainable development, which will lead to prosperity in the region which is a very positive agenda, we would like to stay focussed on the posiitve aspects," Preeti Saran, secretary East, ministry of external affairs said in a media briefing on the summits curtain raiser. She, however, said that "as far as SAARC is concerned, we know the reason why it hasn't moved."
"These are separate organisations with different roles. I don't think one is substitute for other. I won't be revealing a secret that this decision to invite BIMSTEC member countries was taken in April," Amar Sinha, Secretary (Economic Relations) clarified.
The postponed SAARC summit
The SAARC summit in Islamabad had to be postponed over concerns of cross border terror and inaction on the part of Pakistani authorities. After India decided to pull out all other countries, too, followed suit, signalling Pakistan's isolation in South Asia.
However, some member countries like Sri Lanka have expressed concerns over the future of SAARC. Prime Minister Ranil Wikramsinghe, who was in New Delhi, recently, said, "the issues on the table have to be handled otherwise SAARC will become non-functional. It is not an issue of someone leaving or joining. We have to address and find solution acceptable to all."
However, he also said that "present predicament serves as an eye opener for the member states to rethink and reconsider the importance of addressing issues relating to peace and security that are essential for meaningful regional cooperation," the Lankan PM said.
The way forward
In India, there is a growing chorus, and rightly so that India needs to look at sub-regional groupings within SAARC and other regional groupings like BIMSTEC to move forward. Pakistan, in the past has played the spoiler, even in important agreements on connectivity. BIMSTEC, on the other hand, like Saran also pointed out, "is an issue free relationship grouping where all member countries deeply committed to moving the relationship forward in terms of technical and economic cooperation."
Saran pointed out that India is already doing it. "Five members of SAARC also happen to be part of BIMSTEC," she told the media, adding that "within the SAARC framework when we have done sub-regional cooperation including BBIN, where we are cooperating in enhancing connectivity, we don't want to duplicate what is already happening in one forum."
She explains that "when the member countries happen to be the same, and each country works toward the betterment of its own growth and development, positive development in one regional or sub-regional grouping is bound to translate into positive development in the other sub regional grouping as well."
Saran explained India's interest in the BIMSTEC regional grouping which happens to have five nations that are also part of SAARC. She pointed out how it helps in connecting the South East Asian region and how it plays an important part of the government's Act East policy.
"The fact that this region is growing at 6.5% per annum, collectively comprises of 1.5 billion people, has a collective GDP of 2.7 trillion dollars, that is the focus of India's focus being part of BIMSTEC," Saran said.
More in Catch - Uri attack: India wants to diplomatically isolate Pak, but jury's out on it