How Pakistan is testing the US & India by dropping charges against Hafiz Saeed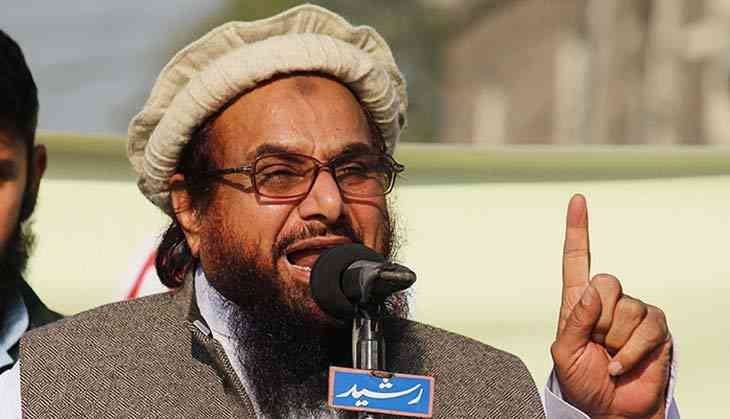 (Rana Sajid Hussain/Pacific Press/LightRocket/Getty Images)
Pakistan's decision to refrain from seeking Jamaat-ud-Dawa chief Hafiz Saeed's further detention once again demonstrates the resolve of its army to maintain the sponsored India-oriented terrorist groups which have become a vital and intrinsic part of the country's security doctrine against a country it considers as an "eternal threat".
It is also a strong signal to the Donald Trump administration that Pakistan will not cooperate on Afghanistan unless its core concerns regarding India's role in that country are met.
Background and context
The JuD chief was put under house detention by the Pakistani authorities in late January 2017. They took this step soon after Donald Trump became President of the Unites States. The timing of the action was clearly a signal to the new US administration that Pakistan was willing to take difficult steps to combat terrorism.
This step also came in the wake of the threat from the Financial Action Task Force (FATF) that Pakistan's international financial credentials were becoming questionable because of its soft policy towards externally oriented terrorist groups.
Pakistan was warned that the continuation of its approach may attract action that would hinder its ability to carry out normal international financial transactions. Such action would have a very adverse economic impact on a fragile economy.
Hafiz Saeed's detention was therefore to show a new Pakistani policy. It obviously did not mean a real change towards groups such as the Lashkar-e-Taiba (LeT), the Jaish-e-Mohammed (JeM) or the Hizb-ul-Mujahideen (HuM).
Hafiz Saeed has been in detention for eight months. Why has Pakistan decided at this juncture to release him?
Pakistani media reports reveal that when a federal review board was last week considering Hafiz Saeed and his associates' detention, the Pakistani authorities informed it that they would no longer seek detention for JuD members, including Hafiz Saeed.
This is intriguing. Earlier, the Lahore High Court had agreed to hear a Punjab government request to conduct hearings in a case relating to the detention in camera. This shows that the decision to release the detainees was taken by the Pakistani federal government (read: the army) while the Punjab authorities were willing to go on with the detention.
In cases of detention, there is always an element of pressure on the authorities to produce solid evidence in support of the detention, but if the government had succeeded in continuing with the detention despite four previous reviews there seems to be no compelling judicial pressure which has led to the decision to release Hafiz Saeed.
The reasons lie elsewhere.
Policy changes
President Trump's announced his Afghanistan and South Asia policy on 21 August. He severely criticised Pakistan for following a duplicitous policy on terrorism and threatened Pakistan with dire consequence if it did not change course. At the same time, Trump praised India's engagement in Afghanistan and asked that it should get more involved especially in the economic sector. Pakistan was enraged, especially because of a higher role sought to be given to India. In its view, India should get out of Afghanistan.
Initially, Pakistan expressed anger at the new US policy, but over the past few weeks it has engaged with the Americans and assured them that it would change course.
It has taken concrete steps to show its willingness to also mend its relations with the Afghan government. Army Chief General Qamar Bajwa visited Kabul on 3 October to give a positive message to President Ashraf Ghani. Bajwa's visit has made an impact. US Defence Secretary James Mattis told the US Congress that the Afghans have been encouraged by the Bajwa visit.
The visit is also leading to a meeting of the Quadrilateral Group of US, China, Pakistan and Afghanistan. The object of the group has been to get the Taliban to the negotiating table.
In addition to assistance in Afghanistan, the Pakistan army has demonstrated that it is willing to influence the Haqqani Network too. It has shown this by securing the release of an American women and her Canadian husband and their three children. The couple was held by the group since 2012 and the children were born in captivity. For this step, it earned the praise of President Trump and Vice-President Pence. Both publicly thanked Pakistan and the former saw in the Pakistani action that his policy towards the region was working.
While demonstrating this cooperation, Pakistan has also made it clear to the Americans that it would not accept increased Indian involvement in Afghanistan. A media report carried in an important Pakistani daily makes this point.
It states that the US-Canadian couple was released while an American official team was holding intensive and unprecedentedly candid discussions in Islamabad. During the dialogue "Pakistan's genuine concerns on the Indian role in Afghanistan" was conveyed to the Americans.
The report notes that the Americans were told that Pakistan would not extend any cooperation on the issue of Afghanistan if India was given any political role in that country. Pakistan had told the US, "in clear terms that this is our red line".
Pakistan has always indicated to the US that it would not accept any restraint on how it deals with India. Despite making the right kind of noises the US really looked the other way on groups such as the LeT, JeM and the HuM. The Americans did increase intelligence cooperation with India on the activities of these groups but did not effectively pressure Pakistan to eliminate them.
The Trump administration, however, jointly with India called on Pakistan to finish these groups. This too Pakistan found unacceptable. It also designated HuM head Syed Salahuddin as an interntional terrorist. All this, the Pakistanis found unacceptable.

The Hafiz Saeed decision is therefore to test the Americans. If they let it pass, only making noises and do not take any effective steps, that will show that they are willing to give Pakistan a free hand on India-oriented groups in return for Pakistan's cooperation in and over Afghanistan. Hafiz Saeed is a UN and US designated terrorist who will now, as before January, be allowed to move freely in Pakistan and pour venom on India.
The international community, instead of censoring Pakistan, has looked the other way. Will Trump follow this course now?
The Hafiz Saeed issue will demonstrate how real are the Trump administration's words on international terrorism. India must hold Trump's feet to the fire for it is surely a test case of its commitment to its relations with India as well. Or is its focus only on securing Pakistani cooperation in Afghanistan despite all its fine joint statement with India?