Watch: When Joe Biden surprised PM Modi with a tap on his shoulder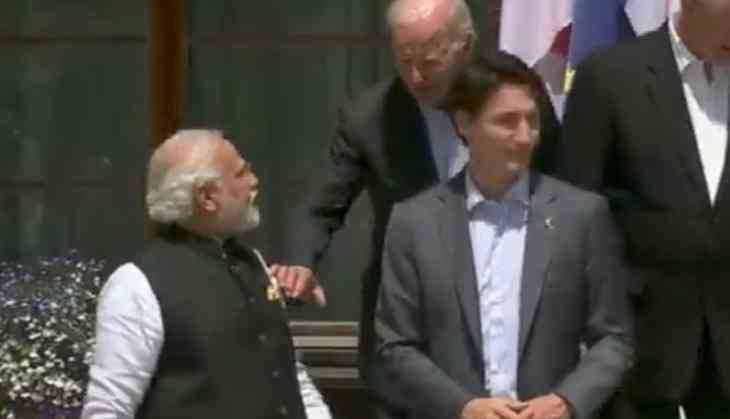 Joe Biden greets PM Modi (ANI)
Schloss Elmau (Germany): Prime Minister Narendra Modi was in conversation with Canada's Prime Minister Justin Trudeau. Suddenly someone tapped on his shoulder from behind. PM Modi casually turned his face back, and it took him a second to realise that it was no one else but US President Joe Biden.
In an instance of bonhomie between the leaders of the two largest democracies of the world that caught the eye of viewers, US President Joe Biden walked up to Prime Minister Narendra Modi to greet him at the venue of the Group of Seven (G7) Summit at Schloss Elmau, Germany on Monday.
Biden walks upto PM Modi at G7 Summit, shows bonhomie between leaders of democratic world

Read @ANI Story | https://t.co/aKIgknrbsW#JoeBiden #PMModi #G7Summit #PMModiInGermany pic.twitter.com/E9DHcgyorT

— ANI Digital (@ani_digital) June 27, 2022
Prime Minister Modi is attending this year's summit being held under the German Presidency. India is among the five partner countries invited to attend the G7 Summit. German Chancellor Olaf Scholz today welcomed the Prime Minister at Schloss Elmau, ahead of the G7 Summit. Before the start of the second day of the G7 Summit, leaders of the member and partner countries gathered for a group photograph.
Besides Biden, PM Modi was seen interacting with the prominent leaders of the group including French President Emmanuel Macron and Canadian Prime Minister Justin Trudeau.
(With ANI inputs)