Donald Trump has announced his 2020 election slogan "Keep America Great!"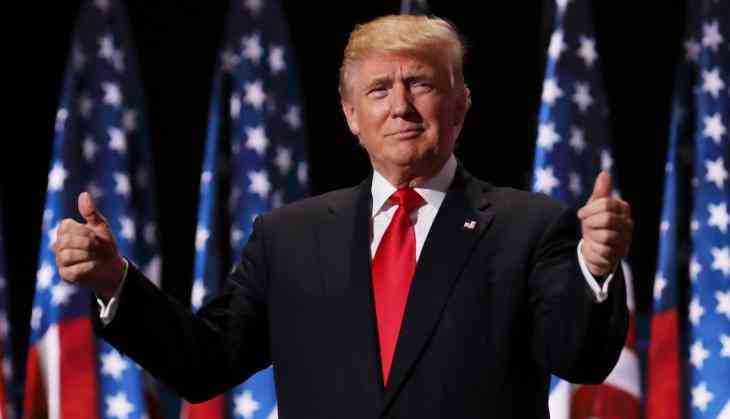 US President Donald Trump held a rally in Pennsylvania to bolster support for state Representative Rick Saccone who will contest in Tuesday's special congressional election to secure a House seat, the media reported.

"This guy should win easily... I hate to put pressure on you, Rick," Trump said on Saturday night at the rally in Moon Township, the heart of America's steel industry where he beat Hillary Clinton by 20 percentage points in 2016.

Trump opened his 75-minute whirlwind of a speech by touting his administration's new trade tariffs -- 25 per cent on steel imports and 10 per cent on aluminium imports -- before wading into the Olympics, previewing his 2020 campaign slogan and again called for enacting the death penalty for drug dealers, reports CNN.

Polls in Pennsylvania's 18th District show a tight race. A loss by Saccone to Democratic Marine veteran and former prosecutor Conor Lamb would be seen as a major warning sign ahead of November's midterm elections.
Also Read: Trump 'personally invited' Putin to Miss Universe pageant 2013
Trump referred to the Democrat as "Lamb the sham", CNN reported.

Trump said he heard the 33-year-old Lamb was "nice-looking" but said: "I think I'm better-looking than him. I do. I do. I do. And he's slightly younger than me."

"He's OK. He's all right," Trump said of Lamb. "Personally, I like Rick Saccone. I think he's handsome."

Trump praised other countries for imposing the death penalty or life in prison for drug dealers, saying the US should consider similar penalties.

"I think it's a discussion we have to start thinking about. I don't know if this country's ready for it."

At the campaign rally, Trump also offered a preview of his own 2020 re-election race, telling the crowd that he has decided on a replacement for his "Make America Great Again" slogan.
Also Read: Kathy Griffin is coming back at ‪Carnegie Hall‬‬ since Trump photo fiasco
"Our new slogan, when we start running, in -- can you believe it, two years from now -- is going to be, Keep America Great, exclamation point," Trump said.

He said the candidate he most wants to run against in 2020 is Oprah Winfrey, predicting the campaign "would be a painful experience for her", CNN reported

"Oh I'd love Oprah to win, I'd love to beat Oprah. I know her weakness," he said.

At the end of the rally, Trump pulled Saccone to the stage, as the candidate exclaimed: "If President Trump's in your corner, how can you lose?" The Washington Post reported

"Go out, vote for Rick. He'll never, never disappoint you," Trump said.

"Vote with your heart, vote with your brains. This is an extraordinary man."
Also Read: VIDEO: Michelle Grattan on the battlegrounds of South Australia, Batman and Adani