Woman sets husband ablaze, paramour drops boulder on his head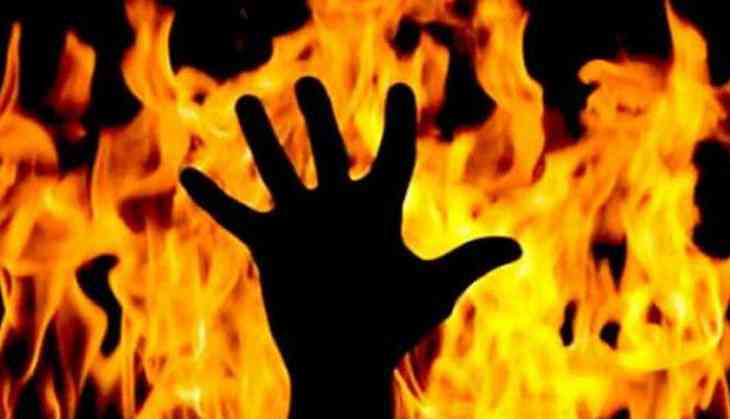 In a blood-curdling incident of crime reported from Karnataka's Tumakuru district, a woman allegedly set her husband on fire using petrol and then her lover dropped a boulder on his head in broad daylight, leading to injuries that caused his demise. The horrifying incident took place in Baddihalli area on Sunday.
The deceased victim was identified as Narayanappa, aged 52, who worked as an electrician at a private company. His wife Annapoorna, aged 36, a labourer, was allegedly having an illicit love affair with another man, identified as Ramakrishna, aged 35. Ramakrishna also made his income by lending money.
According to a report by the Times of India, the couple, Narayanappa and Annapoorna time and time again fought over her alleged love affair with Ramakrishna. One such argument flared up between the two on Sunday. During the argument, Annapoorna, in a fit of anger, set Narayanappa ablaze using petrol she had kept in a bottle for burning firewood. Ramakrishna was also present at the crime spot.
The victim, after being set on fire, rushed out of the house. He fell into a drain in order to put out the fire. When he was trying to get out of the drain, Ramakrishna dropped a boulder on his head, causing critical injuries that resulted in his instant demise.
Following the incident, the cops took Annapoorna and Ramakrishna into their custody. The incident happened when the couple's three minor daughters were present in the house. The eldest daughter, aged 14, saw her father being murdered while the two other daughters, who are twins, aged 12, were in another room.
Also Read: UP woman raped by cop uncle for 2 yrs, attempts suicide by jumping into river
Also Read: Mumbai: 51-year-old man molests minor girl for days in Andheri East, held