Why no mainstream politician will receive a Jayalalithaa-like funeral in Kashmir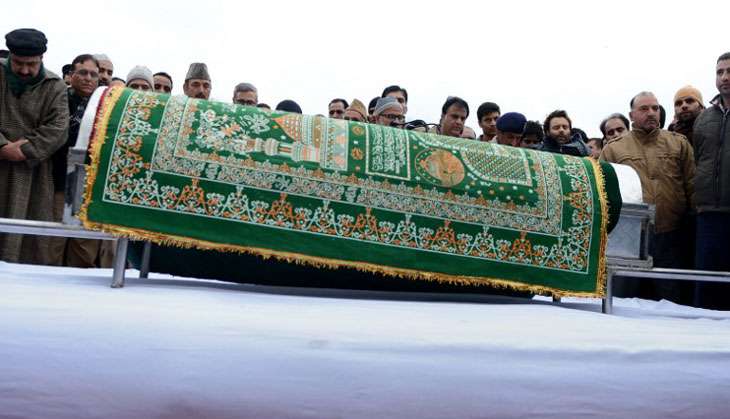 A sea of people joined the funeral of the departed Tamil Nadu Chief Minister J Jayalalithaa at the Marina Beach in Chennai. If one thought about the funeral of former Jammu & Kashmir Chief Minister Mufti Mohammad Sayeed that happened in January this year, the contrast could not be more telling.
A thousand, or thereabout, people, most of them the workers of Peoples Democratic Party (PDP), attended Mufti's Namaz-e-Janaza.
What is more, life in Kashmir went on as a matter of course. In fact, shops in the leader's hometown Bijbehara were open as his coffin was being carried to the grave. There was no chest-beating, wailing or hair-pulling which followed Jayalalithaa's death.
And adding insult to injury, neither the President, nor the prime minister visited Srinagar.
PM Narendra Modi paid his tributes in New Delhi itself, a show of indifference that is believed to be a bigger factor in Mehbooba's subsequent refusal to assume power than the few development-related conditions she wanted New Delhi to fulfill.
And which New Delhi didn't fulfill even when she eventually came round to assume the power.
Deeper issues
However, while the absence of the president and the prime minister was more about their individual choice than a comment on Mufti's political stature, the absence of the crowds certainly had to do both with him and Kashmir's larger political state of affairs.
Mufti was a politician of no small standing. He had been active and in parts had dominated Kashmir's political scene for five decades. He had also been an influential presence at the national level having been a former union tourism and home minister.
Besides, Mufti was the second most important Kashmiri leader after legendary Sheikh Muhammad Abdullah who had managed the troubled relationship between Srinagar and New Delhi at several turning points in the past 70 year history of the state.
But his last fifteen years were politically most productive. From a political pariah who for a better part of his life stood for Kashmir's merger with India, Mufti hurtled to the centre stage of Kashmir's politics as a champion of soft-separatism, advocating a Kashmir solution which was a cross between separatist and mainstream political settlement options.
His newly formed PDP came to rule J&K in 2002 in just three years of its founding with Mufti as the chief minister basking in the reflected glory of the then ongoing India-Pakistan peace process.
Over the next decade or so, Mufti headed-PDP completely dominated the political discourse in the Valley, even while the party was in opposition.
From a politician who was seen to represent New Delhi in Kashmir, Mufti became a politician who represented Kashmir in New Delhi.
His party had successfully edged off the rival National Conference from its once-dominant position and could bring people in droves to voting booths in defiance of the separatist boycott call.
A leader versus a militant
But none of this perceived public following was visible in his death. Mufti's jinaza at the family's ancestral graveyard at Bijbehara was a political embarrassment for the party. More so, when thousands of people in the same area attended the funeral of an obscure militant killed during an encounter on the same day.
The paradox is at the heart of the political conflict in the state. The disappearance of the funerals of the mainstream politicians in Kashmir is reflective of not only their continuing low credibility but also of the progressive alienation of Kashmiris from New Delhi.
It brings to life in gripping detail what is wrong with today's Kashmir: a mainstream leader who gets votes but no spontaneous public support, a Centre which holds fast to Kashmir but is reluctant to reach out to its people and people who might overwhelmingly participate in the polls but prefer not to engage with the system.
"The reason for the modest funerals of mainstream leaders is that they are seen more as the representatives of the will of the state than the aspirations of the people," says political analyst and Kashmir University Professor Dr Gull Wani.
"Mufti despite his apparently successful attempt to change his political location and positioning could not alter his long-standing image."
Last great funeral of a mainstream leader was that of Sheikh Abdullah in 1982, just seven years shy of the outbreak of the militant separatist movement.
More than a million people were estimated to have participated. The road all along the journey of Sheikh's coffin to his grave on the banks of Dal lake was clogged with mourners. But this devotion turned out to be temporary. Sheikh's five-decade long mystique soon wore off. Eventually all of Kashmir's ills came to be traced to him.
He was blamed for selling Kashmir off to New Delhi for personal power. What is more, Sheikh's tomb is under 24X7 security protection to safeguard it from the threat of vandalisation.
No-shows and poor shows
The mainstream leaders who have since passed have attracted a trickle of mourners. This includes Sheikh's wife Begum Akber Jahan who passed away in 1999 and his son-in-law Ghulam Muhammad Shah, a former Chief Minister, who died in 2009.
Similarly, the former J&K Prime Minister Mir Qasim had to be buried hurriedly in 2004 with a very few people in attendance lest his funeral be attacked by militants. However, on Jahan's demise, both the then Prime Minister Atal Bihari Vajpayee and the Deputy Prime Minister LK Advani visited Srinagar, something that Modi didn't do for Mufti.
Jayalalithaa's funeral has now exposed the difference and it has been noticed not only by the people but also by the mainstream leaders.
"It is true. The modest funerals are a result of the lingering political conflict in the state," said a PDP leader.
"Once the conflict is over, everything will fall into place. A politics free of the conflict will lead to a wholehearted participation of the people in democratic process and connect them to their leaders."
Edited by Jhinuk Sen