Why it is senseless to celebrate the 1965 Indo-Pakistan War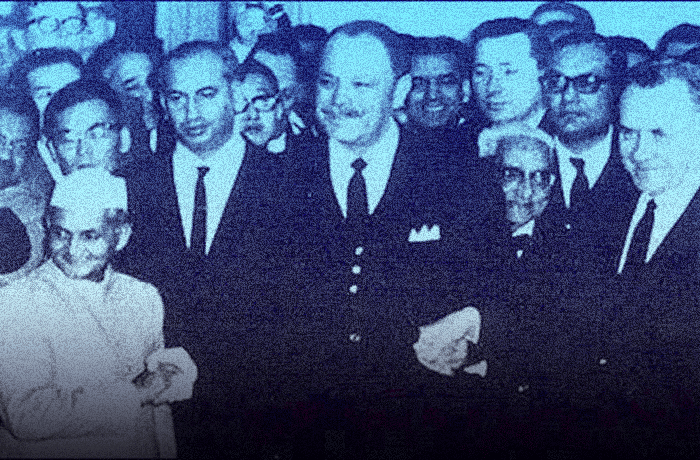 The celebration
The government plans to celebrate 50 years since the 1965 War with Pakistan with a parade on Rajpath.
But by most accounts the war wasn\'t a decisive victory for either side.
Individuals like Major General Ashok Mehta, who fought in the war feel that a carnival is no way to honour martyrs.
The war
Pakistan attacked first by occupying the Kanjarkot area in Kutch. It subsequently opened new theatres of war in Jammu and Kashmir.
The aim was to capture Muslim majority areas of the state.
Indian forces managed to reverse the Pakistani offensive.
The war ended on 22 September in a ceasefire negotiated in Tashkent between PM Lal Bahadur Shastri and President Ayub Khan.
The wounds
There were atrocities against locals in the Indian Army recapture of territories in Rajouri and Poonch.
Nearly 85,000 people are estimated to have fled to Pakistan Occupied Kashmir in this period.
A celebration of the 1965 War would reopen old wounds for the survivors.
Pakistan stopped celebrating the 1965 War with India some time ago, after some of its generals questioned the triumphalism being built around the debacle. India, however, it seems, has taken over from where Pakistan left off.
To celebrate India's military victory over Pakistan, a month-long 'commemorative carnival' and a 'victory festival' topped with a victory parade is to be held on Rajpath in Delhi on 20 September. A total of Rs 35 crore will be spent to celebrate the 50th anniversary of the 1965 War with Pakistan.
There are good reasons for India not to hold such a public celebration.
Celebrating a draw
Major General (Retd.) Ashok Mehta who fought in the Poonch-Rajouri area in 1965 rightly points out, "You celebrate victories not draws. What is there to celebrate about the 1965 War? The war to celebrate is the 1971 War, not 1965."
AS Dulat, former Chief of Research and Analysis Wing (RAW) who served as Adviser to the Prime Minister on Kashmir between 2001 and 2004, also feels that the idea of celebrating the 1965 War "is completely unnecessary. It may upset some in Jammu but it will certainly provoke the Kashmiris in the valley. It is an unnecessary provocation from which you gain nothing."
A former bureaucrat and a keen student of the Kashmir issue, Wajahat Habibullah, also advises against carnival-like celebrations. "My own belief is that one does not celebrate a war because of the people who lost their lives in it. Are you honouring those who lost their lives? I don't think a carnival does that," he says.
Sushobha Barve, who works with the people of the districts adjoining the Line of Control (LoC) says, "If you want to celebrate giving up the Haji Pir Pass to Pakistan, then that is best done in a seminar room. Why call it a 'commemorative carnival'?"
The war
The 1965 war was provoked by Pakistan by crossing the international border in Kutch and occupying the Kanjarkot area in April. The Indian Army did not put up any significant defence and withdrew. Although this dispute in Kutch was sought to be resolved through ceasefire negotiations, an emboldened Pakistan simultaneously activated the Ceasefire Line (as it was then called) in Jammu and Kashmir.
By May, it had launched operations to cut-off the Srinagar-Leh highway and Pakistani infiltrators had captured some strategically important hill features astride the highway. They were evicted by the Indian Army around 27 May.
However, undeterred and convinced that J&K was ripe for picking the Pakistan Army launched its infamous Operation Gibraltar in August 1965. The aim was to send infiltrators and precipitate an uprising in Jammu and Kashmir and separate the Muslim dominated areas of Jammu and the Kashmir Valley from India.
After suffering initial reverses, on 28 August, the Indian Army captured the Haji Pir Pass. This was eight kilometres into Pakistan Occupied Kashmir. In response, Pakistan activated the second prong of its strategy called Operation Grand Slam in the Chhamb-Jauriyan sector. It wanted to capture Akhnoor to cut off communications in the Poonch sector.
Pakistani tanks crossed the Munnawar Tawi River and were halted only four kilometres from Akhnoor at Fatwal Ridge. The Pakistan Army thinned out from this sector only because India opened a new front in the Lahore sector, crossed the Ichchogil canal to reach within range of Lahore International Airport.
There were atrocities by Indian Army during the War. About 83,000 Muslims crossed over to PoK in this period
Formally, the War ended on the night of 22 September. In a meeting in Tashkent between Prime Minister Lal Bahadur Shastri and President Ayub Khan, under UN advice, both sides decided to go back to pre-August ground positions by 10 January 1966. India returned the 1,920sq km of Pakistani territory, which it had captured, while Pakistan returned the 550 sq km of Indian territory it had occupied.
India gave up Haji Pir Pass and Pakistan withdrew from the Chhamb sector. If India had held on to the Haji Pir Pass, that would have cut the distance between Jammu and Srinagar through Poonch by more than 200 km.
Strategic affairs experts argue that the decision to withdraw from the Haji Pir Pass was made by Indian policy makers perhaps because they could not afford to have Pakistan sitting on Fatwal Ridge near Akhnoor in the Chhamb-Jauriyan sector. But perhaps they also did not foresee how the Poonch Bulge would continue to be used for infiltration.
However, the point is that even though India had demonstrated its superior military strength, there was no decisive victory.
The aftermath
Habibullah recalls, "General JN Chaudhuri was the Commander-in-Chief at that time. The war destroyed the Pakistani notion that they were a superior military power. India asserted its supremacy. However, even General Chaudhuri , who we knew as he was a classmate of my father's, looked at the war not as a victory but at best a draw."
Any assessment of the 1965 War will also have to evaluate the decisions made by Prime Minister Shastri and his compulsions for signing the cease-fire agreement. It might be a good idea to exhume Shastri's decisions and conduct yet more post-mortems of the 1965 War. However, academics and war historians may do this better than chest-thumping politicians.
Another good reason for not holding a 'victory festival' should be India's desire not to re-open the wounds of the residents of Rajouri and Poonch. Its Muslim population is decisively pro-India today. This is a remarkable change from August 1965 when Pakistani infiltrators or Razakars were actively sheltered in this area although it was later claimed that this was done under duress.
"Infiltrators did get public support in Rajouri and Poonch. That is a known fact. They did not get such support elsewhere in Jammu and Kashmir," says Habibullah.
The Razakars were able to establish 'local governments' in the area and many government employees gave up their jobs to join them. Hindus and Sikhs fled from rural areas while the supporters of the Razakars grabbed their properties.
The locals in Poonch and Rajouri today do not want to be reminded of the events of 1965
The infiltrators, who had come in the first week of August, left suddenly on the night of 16 September 1965. Perhaps they were ordered to withdraw because by then Pakistan was engaged in a full-blown war with India.
On 17 September the Indian Army launched Operation Clearance to hunt for the remaining infiltrators in Poonch and Rajouri. According to witnesses the Indian Army in its zeal burnt crops and houses of those suspected to have sheltered the infiltrators. Local Hindus and Sikhs helped the Army in targeting individuals who supported the Razakars and their properties.
Reopening old wounds
'The arrival of the Army was announced by with burning of crops and gutting of houses. Along the roadside from Bhimber Gali to Poonch every house was set on fire," Zafar Choudhary records in "Locating Jammu Muslims in the Kashmir Conflict" (published by Centre for Dialogue and Reconciliation) based on evidence gathered from survivors many years later. It is estimated that nearly 2,000 people were killed during Operation Clearance in 1965.
Another local account reproduced by Choudhary notes that about 83,000 Muslims crossed over to PoK during this period. Of these, 65,000 were from the Poonch and Rajouri areas of Surankote, Mandi, Mendhar, Balakote, Thana Mandi, Darhal, Budhal and Kalakot. At the same time 9,000 Hindus and Sikhs shifted from these areas to Jammu and elsewhere. After the cease-fire agreement was signed only about 20% of those who had crossed over to Pakistan returned and a large number of families have remained divided by the Line of Control till today.
"Unfortunately, there were atrocities. The civilian casualties were very high in Rajouri and Poonch," admits Habibullah.
However, today the local residents of Poonch and Rajouri, who have now totally rejected Pakistan, do not want to be reminded of the events of 1965.
"I have talked to my Hindu brothers. They also say that if the 1965 War is publicised and celebrated, a lot of bad things that we have forgotten will come out again. We in Rajouri and Poonch see India as our country and we want to live in peace here. The 1965 War divided us. Many atrocities were committed. Let those memories remain buried," advises an elderly Muslim resident of Rajouri.
Asked about the atrocities, he says, "My father-in-law, for example was killed by a Sikh. What can we do about it now? It is a story that is over. Do not remind us of such things again. We have moved on. Even those who crossed over to Pakistan see the development on this side and regret migrating. But nothing can be done now," he says.
A Hindu community leader of Poonch, who witnessed the events of 1965, says, "Those in Delhi might think that there is something to celebrate. None of us here thinks so. The majority community saw large-scale migration to Pakistan. The minorities were forced to run away to cities. Most did not return. Both the communities continue to be disturbed. So what is there to celebrate?"
No one is opposed to commemorating those who laid down their lives in 1965; but carnivals seem unnecessary
Barve, who runs the Centre for Dialogue and Reconciliation in Delhi, says that the Hindus, Sikhs and Muslims of Rajouri and Poonch have terrible memories of 1965; of displacement and family members killed. After talking to people in the area she says, "Celebrating the 1965 War may create tensions once again. The Muslims of Jammu region are very sullen suddenly and they are watching the turn of events."
"Let us not unsettle the LoC districts. We don't know how they will react," she warns.
Major General (Retd) Ashok Mehta agrees that the local people suffered during the war. "I have been in Poonch and Rajouri and I know that a lot of people suffered during the war in 1965. Although I am not sure whether the celebrations of the 1965 War would impact the local people negatively, overall I don't think it is a good idea. I wonder why the government is doing this," he asks.
Dulat also wonders what the government is doing. "What are you celebrating in any case?
Meanwhile no one is opposed to commemorating the servicemen who laid down their lives during the war. "Release histories of the war, honour those who participated in the war and hold seminars and discussions. But don't use public spaces to re-enact battles or for holding carnivals. Can't the government see the implications of what it is doing?" asks Barve.