West Bengal: Female teacher brutally assaulted by group of men including TMC leader [Video]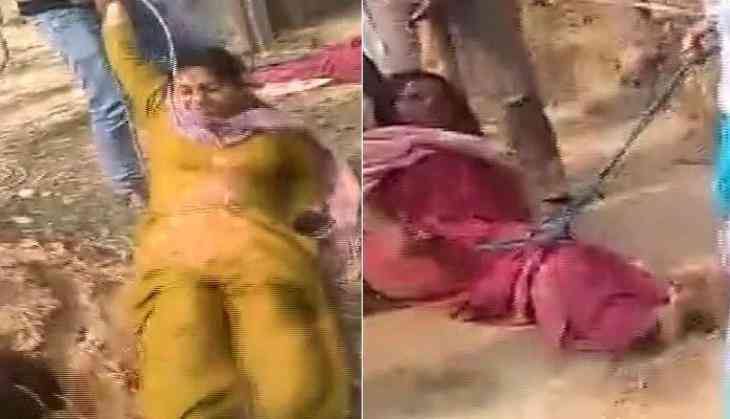 In yet another shocking incident, a female teacher in West Bengal's Dinajpur district was brutally assaulted by a group of men led by a Trinamool Congress (TMC) leader Amal Sarkar. In a horrifying video of the alleged incident, the women is seen tied at her knees with a rope and dragged over a country road.
The victim identified as Smritikone Das has claimed that the men assaulted her as she objected their attempt to acquire her land by force for construction of a road. Her sister who was present at the scene, shouted at the miscreants after which the group of men dragged her too to the ground where Smritikone was lying.
"In the beginning, we were told that the road being constructed in front of our house would be 12-feet wide. We agreed to give land for that. But we opposed when the panchayat decided to widen the road to 24 feet. After the objection they attacked up", the women claimed.
The primary school teacher has registered a police complaint against 5 people. Investigation is underway. District TMC leadership has expelled Amal Sarkar, who was accused of being a part of the group which assaulted the teacher. (02.02.2020) #WestBengal https://t.co/IbH8PTClpB

— ANI (@ANI) February 2, 2020
Both women were taken to a nearby hospital. According to reports the elder sister Soma Das was discharged after first aid.
On Sunday, Das filed a police complaint against five people following which a probe has been initiated but the police are yet to make any arrest. With that being said, the South Dinajpur TMC leadership has ousted Amal Sarkar, for his alleged role in the incident.
Also Read: Swara Bhaskar targets central government over awarding Padma Shri to Pakistan origin singer Adnan Sami
Also Read: Congress slams BJP's Anantkumar Hegde for calling Mahatma Gandhi-led freedom movement a 'drama'