Thakur-Dalit clash in Saharanpur: big blow to BJP's Hindu consolidation dream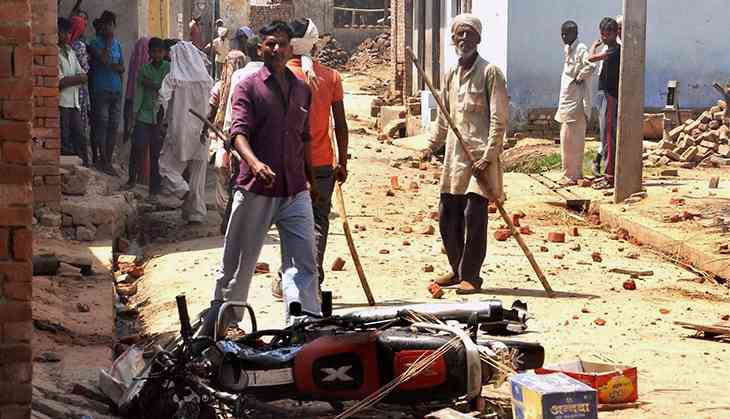 The situation in Saharanpur's Shabbirpur village remained tense following Friday's clashes between Thakurs and Dalits, in which one person was killed and 16 injured.
Sulkhan Singh, the Director-General of Police, is scheduled to visit the area on Sunday to take stock of the situation, which threatens to derail the Bharatiya Janata Party's pro-Dalit agenda.
The clash occurred when Dalits of Shabbirpur, a Dalit-dominated village, objected to the loud music being played by a procession of Rajputs that was passing through the village. The procession was headed towards Simlana village to garland a statue of Maharana Pratap.
Truce was reached between the disputing groups after police intervention, but as word of the procession being stopped reached the Thakurs, scores of them descended on Shabbirpur.
The argument got heated, and both sides allegedly threw stones and bricks at each other. In the melee, a stone hit a 25-year-old Thakur man, injuring him fatally. This led to Thakurs from nearby villages descending on Shabbirpur and torching at least 25 Dalit homes.
Not the first time
The incident comes hot on the heels of similar clashes back in April, when the BJP took out processions celebrating the birth anniversary of Dalit icon Dr BR Ambedkar. The BJP MP from Saharanpur, Raghav Lakhanpal Sharma, was reportedly injured in the attack, but was also among 300 people against whom FIRs were filed.
Soon after the incident, Saharanpur SP Love Kumar was transferred to Gautam Buddh Nagar as SSP, as part of a major reshuffle.
History of Thakur-Dalit animosity
According to Prof. Rajesh Mishra, former head of the sociology department of Lucknow University, clashes between Thakurs and Dalits could become a problem now that they symbolise power.
Even before the first vote was cast in the Uttar Pradesh Assembly polls earlier this year, the Thakur mindset towards Dalits was on display when Dayashankar Singh, BJP's state vice-president, made derogatory remarks against Bahujan Samaj Party supremo Mayawati, describing the former CM as "worse than a prostitute". The uproar that the remark caused forced Finance Minister Arun Jaitley expressed "personal regret" to Mayawati in Parliament.
To control the damage, the BJP expelled Dayashankar Singh, and a criminal case was registered against him.
That the expulsion was eyewash became apparent when his expulsion was revoked a day after his wife Swati Singh won the Assembly election from a constituency in Lucknow. To rub salt into the wounds, Swati Singh was made a minister in the Yogi Adityanath cabinet.
Prof. Mishra said Thakurs were the dominant castes in Saharanpur and Bulandshahr, while Jatav Dalits were also present in good numbers. "As Brahmins in the region are not economically influential, conservative Hinduism is less prevalent in the region," he explained.
Uttar Pradesh has 20% Dalits, and accounts for 17% of the crimes against them. Data for the years 2013, 2014 and 2015 released by the National Commission for Scheduled Castes shows that the state recorded 8,066 cases of atrocities against Dalits in 2015. The figure for 2014 was 7,078.
When present Union Home Minister Rajnath Singh headed a BJP government in UP in 2001, there was a sudden upsurge in atrocities on Dalits. In an article, noted journalist Subhashini Ali wrote in 2001: "As far as Dalit women are concerned, UP accounts for more than half the number of rapes of Dalit women that take place in the country. In the last year, there were more than 400 such rapes."
Though Phoolan Devi, the dacoit-turned-MP, was an OBC, she too was a victim of atrocities by the Thakurs of Behmai village near Kanpur. She took her revenge in 1981, when her gang massacred 22 Thakurs of Behmai. She was eventually shot by a man named Sher Singh Rana, who claimed that he had avenged the Behmai carnage.
Blow to BJP's plans
At a time when right-wing outfits and their political face, the BJP, are talking in terms of a "vrihad Hindu samaj", a larger Hindu society, comprising of Dalits and Most Backward Classes, the Saharanpur clash has put into sharp focus the faultlines that exist in the caste-ridden state.
The incident has come at a time when Union government is mulling providing quota benefits even in promotions.
The BJP's Dalit outreach plan before the UP elections paid rich dividends, as it won a sizeable percentage of Dalit votes, and demolished Mayawati's hegemony over the Scheduled Castes.
However, by flexing their muscles, the Thakurs and Rajputs of Saharanpur have given a jolt to the BJP's plans of bringing all Hindus under one umbrella.
The Saharanpur clash is an example of what Prof. Mishra calls "structural contradiction in our society that can be managed, but not resolved".