Stunning photos of Diwali celebrations from across the country
Sehar Qazi
| Updated on: 20 October 2017, 11:33 IST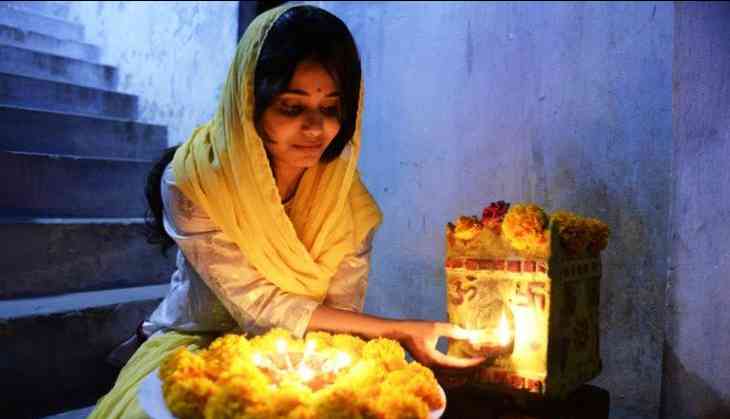 An Indian woman Rishitha places earthen lamps or 'diyas' at her home on the eve of Diwali Festival in Hyderabad. (AFP PHOTO / NOAH SEELAM)
Ahmedabad. Siliguri. Amritsar. Chennai. Bhubaneswar. People across the country have begun celebrating Diwali. Diwali, the festival of lights, is a celebration of the triumph of good over evil and to protect from spiritual darkness. It is a festival which brings hope, health and happiness to the people. It is also known as Deepavali.

Preparations begin in advance and people start cleaning and decorating their homes. They also use this as an opportunity to go out and buy themselves new clothes, jewellery and lots of sweets. It is believed that Goddess Lakshmi - the Goddess of wealth - resides only in the clean areas and hence the custom of cleanliness is considered the most important part of the Diwali celebrations.

This year, the sacred festival will be celebrated on 19 October. The date changes every year as it is determined by the position of the moon.
Check out some amazing photos of Diwali celebrations from around the country.
Hope you all have a joyous Diwali this year!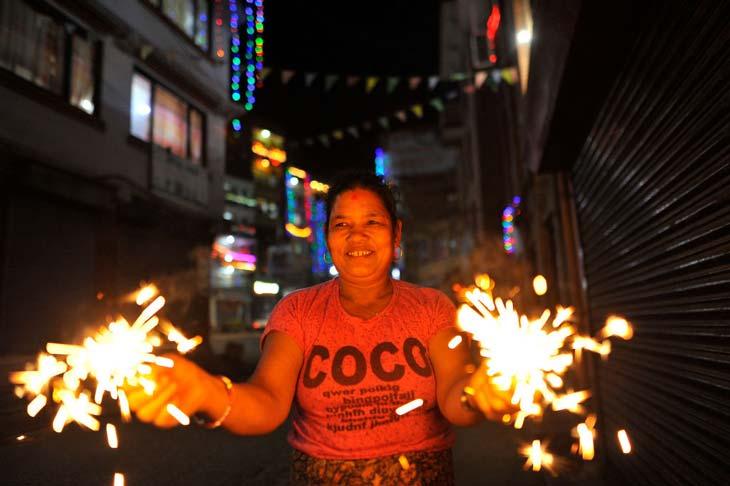 A woman smiles as holding beautiful sparklers (fire crackers) in hands during Diwali celebrations at Kathmandu, Nepal. (Narayan Maharjan/NurPhoto via Getty Images)
Border security force (BSF) soldiers light candles near the International border fence at Pargwal about 40 kms from Jammu. (PTI)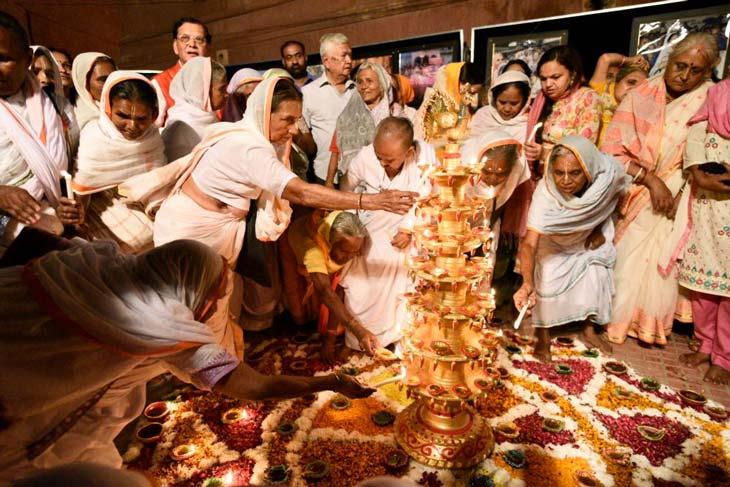 Widows light Diyas and sing religious songs on the eve of Diwali at Gopinath Temple, in Vrindavan. (Burhaan Kinu/Hindustan Times via Getty Images)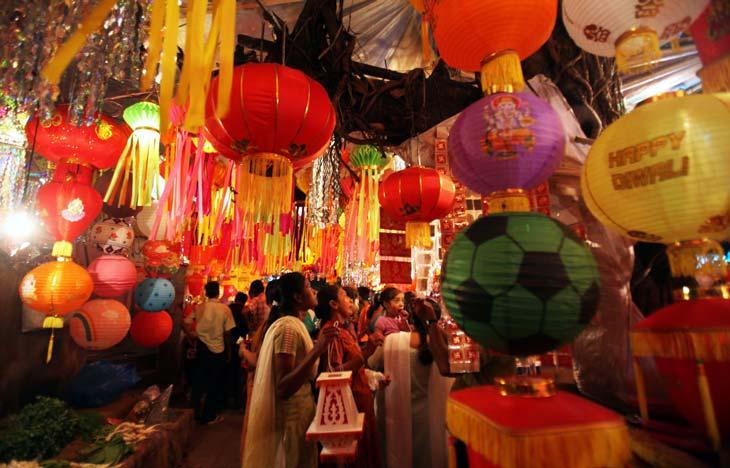 Citylight market in Matunga flooded with buyers for purchasing lanterns for Diwali. (Kunal Patil/Hindustan Times via Getty Images)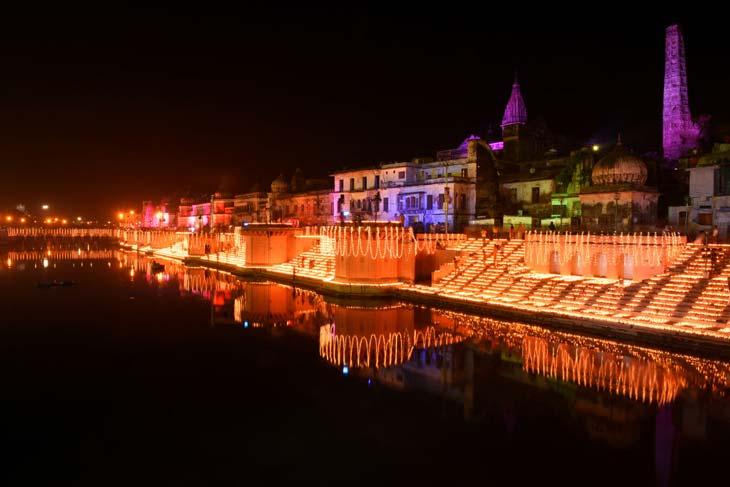 On the occasion Choti Diwali 1.7 Lakhs earthen Diya's illuminated megastic ghats of Ayodhya, Ram ki Paisi, as part of Diwali celebration (Deepak Gupta/Hindustan Times/Getty Images)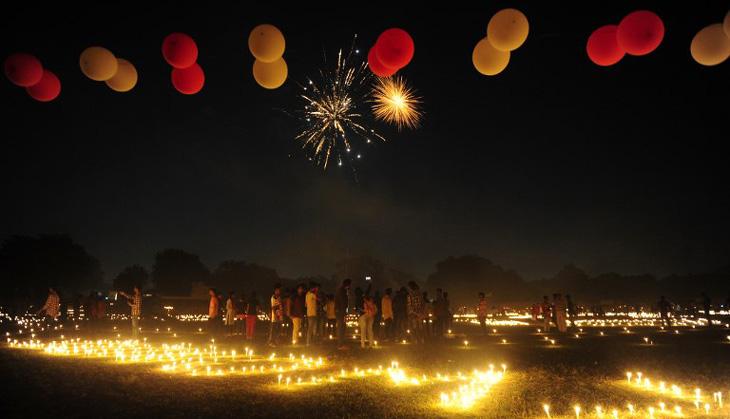 Indian residents watch fireworks at the Madan Mohan Malviya stadium on the eve of the Hindu festival of Diwali in Allahabad. (AFP PHOTO / SANJAY KANOJIA)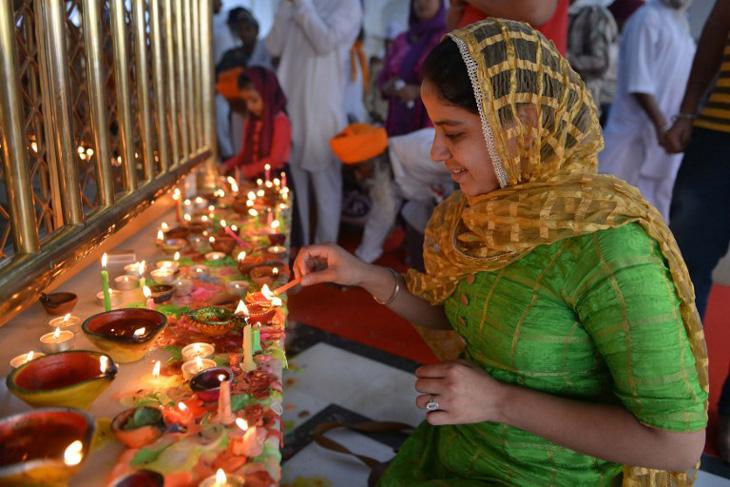 An Indian Sikh devotee lights a candle in the early morning during Diwali Festival at the illuminated Golden Temple in Amritsar. (AFP PHOTO / Narinder NANU)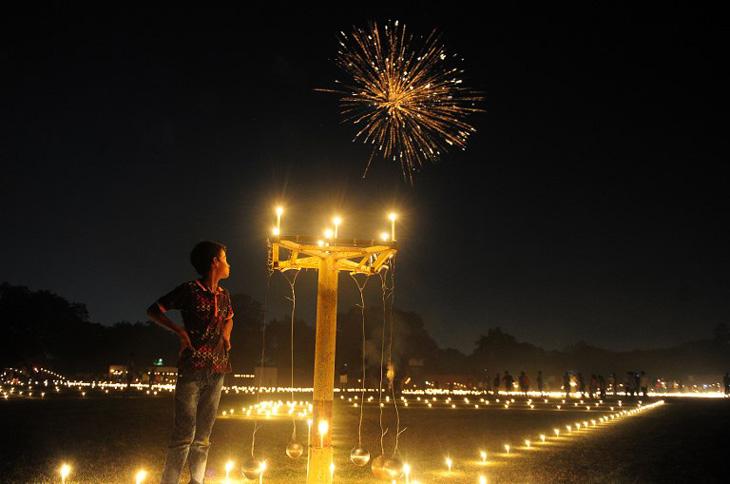 An Indian child watches fireworks at the Madan Mohan Malviya stadium during Diwali Festival in Allahabad. (AFP PHOTO / SANJAY KANOJIA)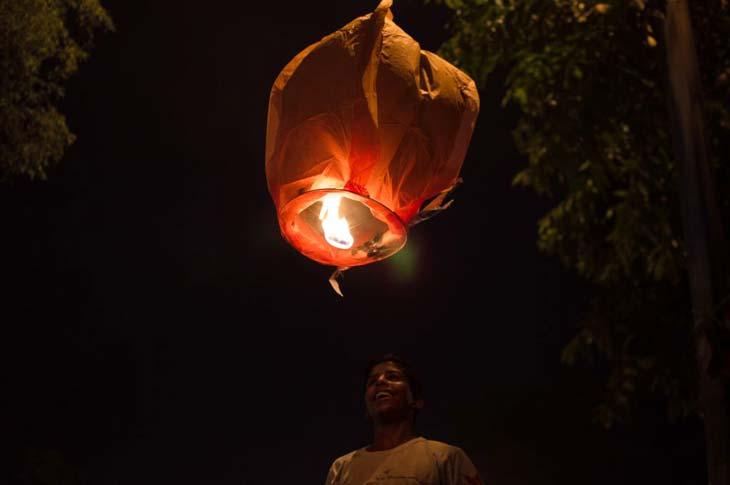 A man released a sky lantern during the celebration of Diwali in Delhi. ( Javed Sultan/Anadolu Agency/Getty Images)