Skill India: Is Rs 1,500 crore enough to train 40 crore Indians?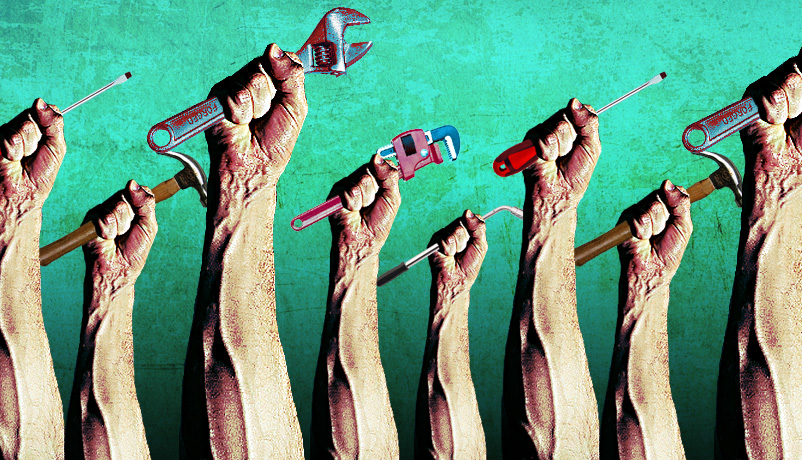 The UPA government had an ambitious "skill India" initiative. It did not yield the desired results.
However, Prime Minister Narendra Modi has also made it one of his big ticket programs. On 15 July, he launched his Skill India campaign, the National Skill Development Mission and the Pradhan Mantri Kaushal Vikas Yojana, besides revising the National Policy for Skill Development and Entrepreneurship.
The government also flagged off 150 skill vans that will move around Delhi and the NCR, creating mass awareness about its skill-development initiatives.
But is this new campaign really going to get off the ground? How big is the challenge of skilling India's youth?
To start off, here is a shocker: only 27% of candidates enrolled in five national level skill development programmes in Assam, Odisha, Andhra Pradesh, Rajasthan and Madhya Pradesh found employment, according to a study by the World Bank conducted between April and October 2014.
Here are some other numbers that sum up the challenge:
Or 10.5% of the total youth population in India was unemployed as of 2013. This is approximately equivalent to the total population of three Kolkatas
1 in 3 youths in India holding a graduation degree was unemployed in India in 2012-13, according to a report by the National Sample Survey Organisation
Globally, around 7.4 crore youths (15-24 years age) are unemployed. This means that India accounts for more than 15% of the world's unemployed youths
Skill mismatch is cited as one of the primary reason for youth unemployment in India. The present unemployment figures are alarming because by 2020 India is set to become the country with the highest population in the working age group. Over 60% Indians will be between 15 and 64 years of age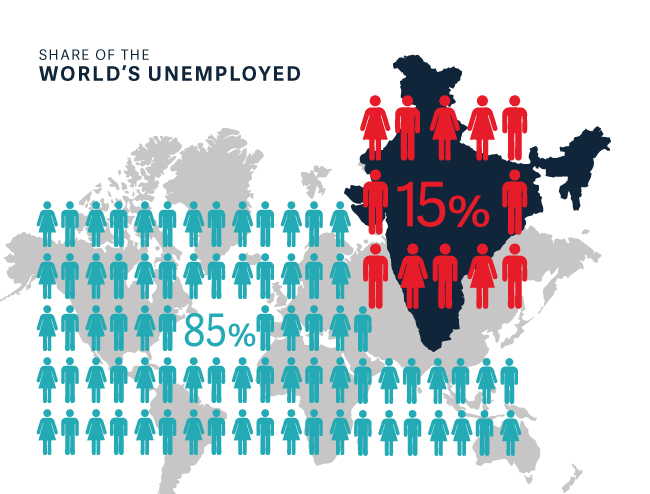 The number of people that the government of India had initially aimed to skill by 2022
This ambitious target is double the population of Indonesia, which is the fourth most populous country in the world
The total requirement of skilled workforce by 2022 will be 30 crore, according to a study by the Confederation of Indian Industry, with the construction sector needing the maximum personnel
To achieve its ambitious target, the government set up the National Skill Development Corporation. It has 211 training partners and 3,026 training centres
Prime Minister Narendra Modi has scaled this estimated skilled workforce down to train 40 crore
Or nearly the total population of Afghanistan is the number of people who were targeted to be trained on different set of skills by the government from 2011-12 to January 2015
There are nearly 70 skill training schemes currently operated by around 20 central ministries/departments to achieve this target
However, till now only 2.23 crore - or twice the population of Delhi - have been trained, which denotes a 25% shortfall
The biggest defaulters in skill training are the ministries of food processing industries and road transport and highways. While the former had a 0% achievement rate in skill training the latter could attain a meager 9%
The amount of money budgeted for the Ministry of Skill Development and Entrepreneurship, a new ministry created by Modi after he came to power
Out of that, Rs 1,350 crore has been set aside for Kaushal Vikas Yojana, which aims at training 24 lakh youths and paying them an average amount of Rs 8,000 after completion of their training. However, the scheme does not guarantee any kind of employment
The prime minister also plans to launch a 'skill loan' initiative that will offer loans from Rs 5,000 to Rs 1,50,000 to over 34 lakh youths who plan to attend skill development programmes
Strangely, the allocation for supporting skill-based higher education in community colleges for underprivileged students, and scholarships and apprenticeship training for 10 plus 2 vocational pass-outs, isn't part of this ministry.
The fund set aside for this is 500% lesser than the ministry's allocation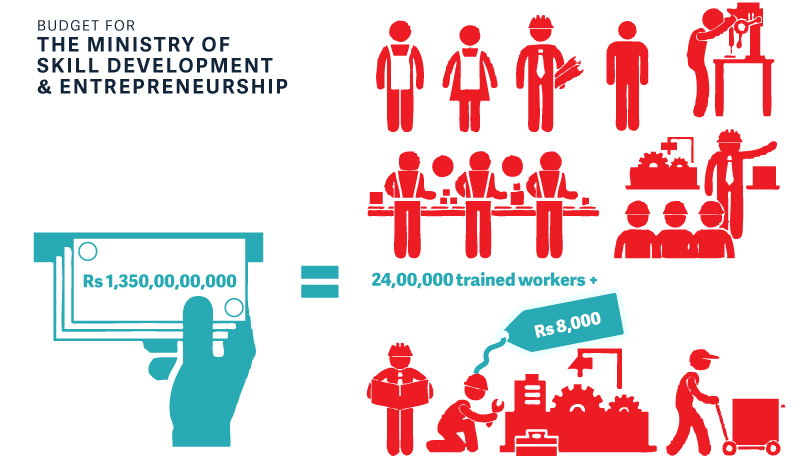 Or more than half of the total population of Europe was the requirement of skilled workforce that India had in 2013 across all sectors
Out of these, recruitment is projected to be the highest in organised retail, around 10 crore, followed by the construction sector -- around 8 crore
At present there are around 21,820 Industrial Training Institutes, both public and private, operating in the country which has a seating capacity of only 30 lakhs, a number which surely needs to be scaled up if we want to increase our skilled workforce
Many of those who get training aren't getting jobs. According to the NSDC website, it skilled around 52 lakh people but only 23 lakh, less than half, got placed
The proportion of India's workforce that is employed in the unorganised sector
Even worse: less than 2% of our workforce has any kind of formal training. As against this dismal number, around 80% in Japan, 75% in Germany and 68% in the United Kingdom receive formal training
Moreover, around 40% of Indian workforce is illiterate and another 40% is made up of school dropouts, according to a study by the Boston Consulting Group. Those who are vocationally trained and graduates comprise only 10%
Additionally, around 2.6 crore enter the workforce every year in India. The government estimates that 1.7 crore out of them need to acquire skills
This would mean that in addition to the target of 30 crore, another 12 crore will have to be skilled by 2022
It is clear from the above figures that training such a huge number of people is indeed a daunting task, but extremely important given India's bulging youth population and high youth unemployment.
There are no strong statistics that show that government training programmes translate into employment. Perhaps the government must understand that in addition to skills, India's youth also need a good education.
And with increasing government interventions in higher education and slashing funds in primary education, only vocational training will not reap desired benefits.
Watch this space for a deeper analysis later today.