'Saffron terrorist' for some, 'martyr' for others: Ravi's death polarises Bisara
Catch Team
| Updated on: 10 February 2017, 1:46 IST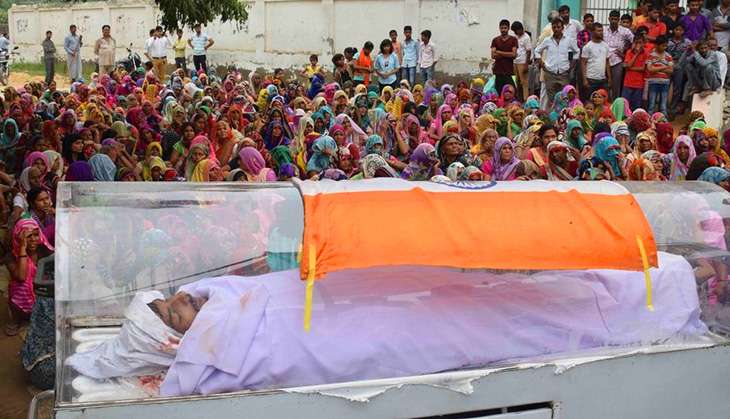 Tensions are still simmering in Bisara village, even a week after the death of Ravi Sisodia, one of the accused in the murder of Mohammad Aklhaq last year.
Last Friday, Union Tourism Minister Mahesh Sharma and BJP MLA Sangeet Som came to attend his cremation. Sharma was widely condemned for paying respects to a murder accused. The local Muslims at the village were deeply offended to see Sisodia's body draped with the national tricolour.
To add fuel to the fire, a message declaring Ravi a "saffron terrorist" is doing the rounds on WhatsApp. The message also has pictures of Akhlaq and Ravi alias Robin.
Apparently this is said to be an attempt to counter BJP's efforts to project Sisodia as a martyr. It has already incensed many Hindus in the village and adjoining areas.
The police has reportedly promised to take action against those who are circulating this message.
Apparently, the message originated from the mobile of a resident of Jewar.
Another Jewar resident - Ashok Chhokar - has filed a complaint against the sender of the message.
In his complaint, Chhokar stated that "Ravi had died in hospital after contracting an illness in jail. Under such circumstances, the feelings of people have been provoked by terming Ravi as a saffron terrorist on WhatsApp".
The police have started investigating the matter after receiving the complaint.
Various entities appear to be trying to create a communal polarisation in the run-up to the upcoming Uttar Pradesh Assembly elections.
The Muzaffarnagar riots on 2013 had caused a similar polarisation, which helped the BJP win 71 seats out of 80 in the 2014 Lok Sabha elections.