Recent Kashmir encounters turn focus on IS, al-Qaeda. Do they have support?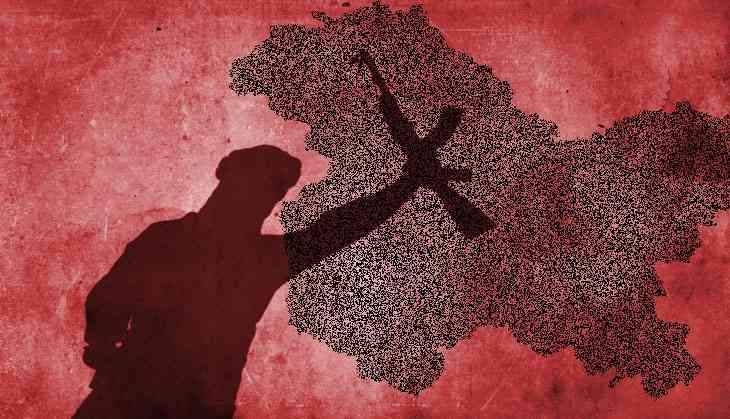 (Arya Sharma / Catch News)
The Jammu and Kashmir Police sounds confident "there is no social approval to the radical Islamic State (IS), Daesh, or al-Qaeda groups in the Kashmir Valley", but it is taking no chances either; just in case.
The debate over the possible presence of ISIS (The Islamic State of Iraq and the Levant), al-Qaeda, AQIS (al-Qaeda in the Indian Subcontinent) or other radical global Jihadi groups in the Valley has intensified after three armed rebels were killed in an encounter with government forces in Hakora-Badasgam hamlet in Dooru area of south Kashmir's Anantnag district on 12 March.
Two of those killed in Hakora encounter were locals, identified as Mohammad Eisa Fazili from Ahmednagar, Srinagar and Syed Ovais Shafi from Vailoo, Kokernag in Anantnag district. Both were owned by an indigenous militant organisation Tehreek-ul-Mujahideen (TeM), an affiliate of the Pakistan-administered Kashmir-based United Jihad Council (UJC) headed by Syed Salahuddin.
After it became known that the third youth killed in the encounter was from Hyderabad, the narrative that a Muslim youth from another part of India had come to Kashmir to fight government forces created unease in the Valley.
Shesh Paul Vaid, director general of J&K Police, posted a press release on his Twitter handle that identified the third militant as 26-year-old Mohammad Toufeeq alias Sultan Zabul Al Hind aka Abu Zarr Al Hind, a resident of Hyderabad, Telangana.
Al-Qaeda in a statement in al-Nasr bulletin on the Jihadi group's Telegraph channel claimed that Toufeeq belonged to their armed outfit. Paying rich tributes to his "sacrifice", the group described Toufeeq's "martyrdom" as "a cry for truth for the Muslims of India".
"Toufeeq started his jihadi journey in 2017 after making hijrah (migration) from India's Hyderabad city to the mountains of Kashmir and was among the first in the ranks of Ansar Ghazwat-ul-Hind," the statement said.
Speaking to Catch, Inspector General (IG) of J&K Police Swayam Prakash Pani said "we have contacted our counterparts in Hyderabad Police in this regard. Further investigation in this case has been taken up."
"This individual (Toufeeq) was in their (Hyderabad Police's) knowledge. We will inspect the trend and take appropriate steps how to arrest the same," he said.
Highly placed sources in the police admitted that "today's age is an age of anger, globally" and that "the use of internet and social media were one of the key factors behind luring educated youth to militancy to fight perceived injustices". They added that it was difficult to establish the presence of IS, Daesh, al-Qaeda etc in Kashmir but cautioned that because of the anger against the state the facilitation and shelter to possible new recruits cannot be ruled out.
Is it a worrying trend for J&K Police and other government forces in Jammu and Kashmir that a non-Kashmiri Indian youth came to Kashmir to fight them? Did Mohammad Eisa Fazili belong to al-Qaeda, Ansar Ghazwat-ul-Hind or Tehreek-ul-Mujahideen? Or, it is just a handful of youth trying to hijack the Kashmir's new age of armed rebellion?
Mood at the funeral
On 12 March, Naeem Fazili wrote a post on his Facebook timeline that his son Md Eisa has "left for heavenly abode" and informed about his funeral prayers. Defying curfew-like restrictions, an estimated 10,000 people reached there.
Interestingly, most of them did not respond to pro-Zakir Musa or pro-Caliphate slogans. Instead, slogans in support of Kashmir's independence (Hum Kya Chahate, Aazadi , We Want: Freedom) and "Jeeve Jeeve Pakistan (Long Live Pakistan)" were passionately responded to, though.
Wearing masks or hiding their faces with a handkerchief or a piece of cloth, a tiny group tried to create a scene at the funeral by parading Eisa's body from one place to another without seeking the family's approval.
A male family member who tried to prevail upon this group of boys holding black and white flags told Catch that he was ruthlessly beaten up in the process. Showing his injury marks to this writer, he alleged that "these boys dishonoured Eisa's body, paraded the body against the wishes of the family, created indiscipline and indulged in hooliganism."
A cousin of Eisa too expressed her anger over the fact how a tiny group of masked boys could give a spin to a narrative.
"Heartbreaking narratives and stories being told by government agencies supporting ISIS for maligning the family (Eisa's). Stooping so low was never ever expected," she wrote on her Facebook timeline.
She confirmed that the boys waving two black flags "created (a) lot of hue and cry at that time. Despite repeated pleas that Eisa will be handed over to them but the family must spend some time with him, they said that Eisa didn't belong to the family alone and he belonged to them, so they have a right over his body. We couldn't resist much after that and let them in to take Eisa."
Wasim Khalid, a Srinagar-based journalist, said: "The scenes created by hooligans were presented before the UN to project Kashmir as a would-be hub of global terror, thus making a case for the Indian state to hold on to the territory and use every brutal method to crush it. Far from resolving the Kashmir (dispute), the so-called ISIS hooligans are making it sure (that) Kashmir remains as it is. Now people are wise enough to understand on whose agenda they are working."
Who was Eisa?
Mohammad Eisa Fazili was an engineering student at Rajouri's Baba Ghulam Shah Badshah University (BGSBU) before joining ranks of the armed rebels last September. At that time, an emotionally broken Naeem made a passionate call to his son to return home.
Along with posting a picture of Eisa, Fazili wrote this message on Eid: "Eisa, your innocence is being exploited by some vested interests. You are being used as a pawn or a poster boy. I swear you are not on the right track in the light of Quran and Sunnah (practices of the Prophet). Please don't play with fire. Return as early as possible. Your mum is wandering hither and thither with your belongings in hands. Mind it one can never succeed in (the) absence of prayers of his parents."
The post was later taken off Facebook.
Eisa had gone missing from his hostel room in BGSBU in Rajouri on 17 August, 2017. After joining militancy, a few days before Eid-ul-Azha, Eisa passionately talked about jihad. Like Zakir, he also talked about problems faced by Muslims in Iraq, Yemen, Syria, Palestine, Pakistan, Kashmir and Burma (formerly Myanmar). But he never joined Zakir's group on record.
In the later part of his video message, he said: "I know what is happening in Kashmir, what happened in Kunan Poshpora (the alleged mass rape of 23 Kashmiri women by Army officials in 1991), the Pathribal 'fake' encounter and many such incidents like in India's Muzaffarnagar and Gujarat. I felt as if sisters of my Ummah were calling for my help to come forward to protect their honour."
Because of this content, the police suspected Eisa may have joined the extremist group Ansar Ghazwat-ul-Hind, headed by Zakir Rashid Bhat alias Musa. Not long ago, Musa parted ways with the pro-Pakistan militant group Hizb-ul-Mujahideen.
At that time, Yougal Manhas, senior superintendent of police in Rajouri, told Catch Eisa joined Zakir's group.
According to a top police officer Ansar Ghazwat-ul-Hind, IS and AQIS are diametrically opposite to each other, ideologically.