Plight of a banker: 'note ban has left us helpless to ease human misery'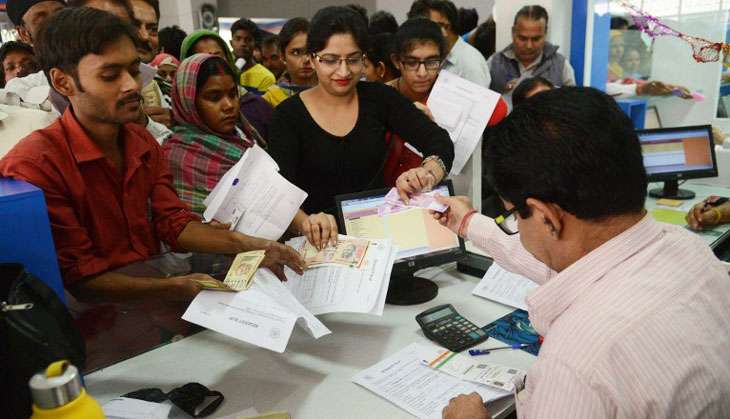 It's 1:30 PM on a Saturday afternoon at one of India's premier private sector banks in Noida. The bank staff have a dreaded announcement to make to the long queue of irate customers: the bank is out of cash.
Ever since Prime Minister Narendra Modi kicked off the demonetisation drive on the night of 8 November, banks have had to bear the brunt of human frustration and anger from the rich and poor alike.
Not much has changed between Day 1 and Day 11. Frustration levels are at a peak, and after the 'no cash' announcement, people are at their wits' ends.
The two queues, one of senior citizens and one with women, scramble towards the cashier, creating chaos.
Surely the bank has enough money to take their last requests for cash withdrawals.? How can Rs 15 lakh get over in one and a half hours? The money arrived only at 12 noon!
Arun Kumar has been the manager of this branch for the past four years. His cabin wall is lined with prestigious awards and certificates. But since 9 November, his job has demanded different skills from him requiring to become a 'manager of crowds'.
"Each morning I'm up, and the first thought that comes to my mind is how to make it easier for the queues of people. What can I do today that will make the atmosphere less angry?"
Adjust karna padega
Manmohan Singh, 65, came especially on Saturday because it was announced on TV that it was senior citizens' day. But the women's queue was hogging the space meant for senior citizens.
Yesterday, Singh had waited in Kumar's bank for two hours to deposit Rs 45,000, but when he reached the queue, he was turned away to go get a photocopy of his PAN card. He waited again in queue, and when his turn finally came, the bank accepted his deposit, but had run out of cash to allow him to withdraw his limit of Rs 24,000 per week. Today, Singh is in, determined not to leave without withdrawing cash that is rightfully his.
Kumar, now standing behind the counter manning the disbursals, requests him to take half his limit. "We don't have enough to give everybody their limit. Please reduce this amount to 10,000," he says.
"You're not fit to be a manager! You're unfit, you hear?" Singh shouts angrily, his self cheque quivering in his hand.
Kumar asks him to calm down and get back in line and take what they can give at this point. When he walks back into his cabin, another irate customer is waiting.
"Boss, this is the third day I'm visiting your bank. Each time I reach you're out of cash. What do you want me to do? Quit my job and live outside your bank?"
Kumar mumbles that he has to be in by 12 to withdraw cash, because it runs out around this time everyday.
"This has been my worst experience with your bank. This is my home branch. Shouldn't I have the right before other customers?" he asks.
"This is a rough patch for everybody. We have to serve all our customers the same way. You must adjust as everybody is," comes Kumar's response, avoiding eye contact.
"I'll make sure you guys are hauled up," the customer threatens before storming out.
Kumar gets in at 9am on the dot, and leaves the bank at 9pm on weekdays. The daily abuse and anger directed at him and his team sometimes gets to him.
But what gets to him more is how, ironically, the anger is directed at bankers instead of the man who orchestrated the policy.
"Modi ji ko kyun gaali nahin padti? Gaaliyaan aur gussa sirf hum logon pe nikalna hai (Why doesn't Modi ji get abused? Why do we have to face all the abuse and anger?)," he says.
Since the 9th, Kumar has only been home for dinner and sleep. The rest of the time, he's at the bank. Family time and a personal life has undoubtedly taken a hit. But that's not the worst part.
Helplessness
If you ask Kumar what's been the toughest part of the job post-demonetisation, it's having to turn away people with legitimate requests for money.
A woman had come wanting to withdraw a lakh from her account because her husband was undergoing chemotherapy. She had all the medical papers. When Kumar asked his supervisor if an exception could be made, the request was turned down.
Men and women in their 80s stand in snaking queues outside his bank and ask for help when the bank runs out of money.
A poor woman showed up late, asking to withdraw money. She said she had run out of the last morsel of food at home, and her kids were starving. The bank was out of cash then and Kumar asked her to come back the next day. She never did.
"I wonder what happened to her and if her kids got food. The hardest part is seeing genuine poverty or need and having to turn them away," he says.
Sometimes, their faces haunt him at night. It feels a bit like being forced to be the executioner of misery, being made to feel all the guilt for no fault of his.
Chandan Bisht, 26, is a junior level customer care executive and echoes the same sentiments. He leaves his home at 8am and heads back by 11pm. "I spend 12 to 14 hours at the bank these days. When I'm back, I'm exhausted, and my voice is hoarse from all the shouting," he says with a weak smile.
"The hardest part is watching so much misery in the poor, old or sick, and not being able to help."
Cashier's torture
But his job, he says, is definitely better than when he used to be sitting behind the cash counter a few days ago. Then he wouldn't have the time to eat or sip water for eight hours at a stretch. "Your neck hurts and your eyes lose focus from all the note counting," he says.
Bisht has been lucky to not have money deducted from his pocket for errors in note counting. His colleagues have lost money.
A friend of this writer's was recently given Rs 44,000 in 2000 rupee notes, when he was actually withdrawing Rs 22,000. When he pointed it out to the cashier, the cashier thanked him, saying he would have had to pay from his pocket when the error was noticed.
Kumar says such instances are rare in his bank, but yes, it has been happening more frequently now, from the stress and pressure on the bankers.
The news of a bank manager in Rohtak dying of a heart attack three days ago has led to a tremor of caution among bank employees. How much more can they endure?
"We had no idea it would be this rough on everybody. Nobody doubts this is the right thing to do. Better planning could have hurt us all much lesser," says Bisht.
(Names have been changed to protect identities)
Edited by Shreyas Sharma
More in Catch
No cash, no plastic: India's demonetised economy rushes towards cryptocurrency
Economists think note ban will hurt much more than help
'Exasperated by impractical currency ban': Thomas Franco, bankers' union