Other view: on Hamid Ansari's passionate defence of dissent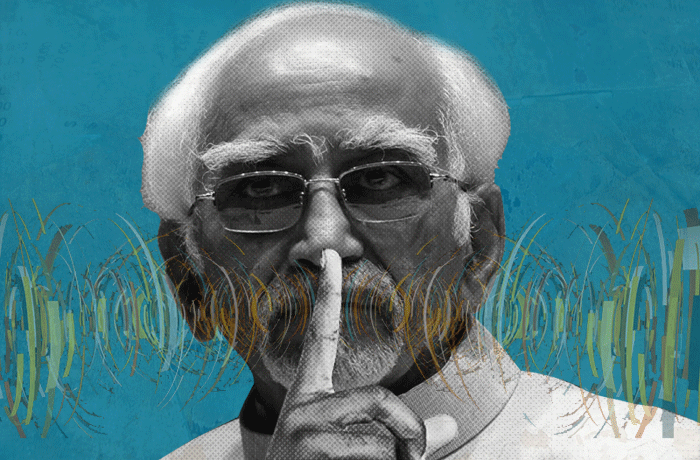 In a time of time of universal deceit, George Orwell said, telling the truth is a revolutionary act. Ours is such a time: intolerance is peddled as virtue, assault on personal freedoms is spun as security and absolute devotion to the state, as opposed to the nation, is demanded of all.
In such an age, it takes extraordinary courage to articulate a case for dissent, to question prevailing wisdom. Yet, Hamid Ansari has done just that.
Read more - Indispensability of Dissent: A citizen's right and duty to judge democracy
"In a democratic society, including ours, the need to accept difference of opinion is an essential ingredient of plurality. Tactics to suppress dissent tend to diminish the democratic essence," he said in a lecture at ITM University, Gwalior, on 23 September.
"Dissent can and does play a role in preventing serious mistakes arising out of what has been called 'social cascades' and 'group polarisation'," he added.
"The idea that anyone who disagrees with my views must be the carrier of someone else's subversive agenda is, in some ways, deeply anti-democratic."
The speech was particularly remarkable because as the Vice President, Ansari sits at the heart of the country's establishment - which prizes loyalty to its consensus above all else.
And also because he has already suffered at the hands of the ruling BJP and their ideological allies in the Sangh - for "disrespecting" the flag, for making a case for affirmative action for Muslims.
Catch caught up with some prominent thinkers to find out how they felt about Ansari's speech and his defence of the right to dissent.
Ashis Nandy
Sociologist
"I agree with him. I think the right to dissent is on decline. But I wouldn't account this decline to this present regime. It began with laws adopted by the Congress regime. The BJP has not introduced a single new law, the earlier ones have been enough to suppress dissent."
"For an opinion article I had written in the Times of India about the Gujarat government, I was slapped with two charges under the IPC - promoting communal disharmony and making imputations, assertions prejudicial to national integration."
"Arresting people on grounds of sedition is comical. But the states love these old British laws. Its easy now to frame charges against Naxals, terrorists."
"I think for the last 20 years, there has been this idea that politically, we can't handle dissent. Both political regimes have had very few stalwarts who could handle dissent. So they do it by enforcing stringent laws and through paramilitary forces, newspapers, media."
"We even have low tolerance for sharp humour today. Irony, wit and sarcasm were never the strong points of Indians except among three communities: Parsis, Bengali babus and Tamil Brahmins. The cultural acceptance of these qualities was found only in these communities. In the Indian context, real subtle humour is confined to very few people and the cultural acceptance of it is dwindling."
"Harsh Mandar told me that, 'while you were speaking in Jaipur, I felt like rushing up to you on the stage and telling you, Stop! These people are not going to be able to take it. You'll be in trouble!'. And sure enough, he was right."
Zoya Hassan
Political scientist
"Dissent is an essential component of any democracy. If all members of the society were to agree on social and political questions, democracy would not exist. In fact, the history of democracy is the history of informed dissent."
"The role of dissent as one of the principal agents for promoting discussion, dialogue and, therefore change, is most needed today. A citizen's right to dissent acts as a check on the rulers."
Seshadri Chari
Social activist/BJP
"Informed and genuine dissent is better than consent or agreement through fear or coercion. It is only through dissent that we progress in philosophy."
Chandan Mitra
Journalist and BJP MP
"I entirely agree with the honourable Vice President. India must have an embodied right to dissent, but this right already exists. Freedom of speech is guaranteed and honoured and there is no reason for concern."
Biraj Patnaik
Supreme Court's Commissioner for Right to Food
"The shrinking of the space for dissent is the first step in the shrinking of democracy itself. This should serve as a timely warning to the present regime."
D Raja
Secretary, CPI
"I agree with him. India is a democracy. Citizens have the right to dissent. This right has been granted by the Constitution. But today, certain monolithic illiberal forces are suppressing this right."
"India now wants to arrest people on vague sedition clauses. Maharashtra wants to arrest people for beef eating. Fascist forces threaten to cut your tongue for criticism. There are extreme fundamentalist factions which are pursuing sinister designs to implement a monolithic socio-political order."
"As a communist, I dissent with everything the present government does. But that's not a bad thing. I have the right to record my dissent in parliament and I diligently do."
Sanjiv Chaturvedi
Anti-corruption crusader and Magsaysay Award winner
"Being a government servant doesn't mean you forfeit your fundamental right to expression as a citizen. In the recent case of Vijay Shankar Pandey, the Supreme Court quashed the UP government's charge sheet against him for criticising the state while being an official."
"The court upheld an official's right to criticise maladministration. The only exception is that your criticism shouldn't cause embarrassment to India on foreign soil."
"I am a government official, but I am also a citizen of the country. Other than the restriction of causing embarrassment to the government on foreign soil, I am allowed to criticize maladministration. The Vice President is right. Being a democracy, the right to dissent is our most essential right."
Swati Maliwal
Chairperson, Delhi Commission for Women
"I have been an activist and realise the importance of the right to dissent and protest. The establishment should encourage independent voices and disagreements in order to strengthen democracy as it helps keep a check on government and its functioning."
Swapan Dasgupta
BJP ideologue
"Its not necessary to react to every piece of information. I haven't read or heard his speech and would rather not comment on it."