Note ban: Migrant labourers flee Delhi, only to find little NREGA work back home
The area around Delhi's Nizamuddin railway station is home to tea stalls, intricate clusters of roadside hotels, and home to India's migrant labourers. Under and around the Sarai Kale Khan flyover, a stone's throw from the station, is where they settle, bringing out their blankets and kerosene stoves and cookware; eating, bathing, washing and sleeping right there. The most coveted spots are tucked under the ascent and descent of the flyover; in winters, the concrete makes for a cozy roof.
On a normal day, you would find hundreds of migrant labourers sitting on their haunches waiting to be picked up by contractors. All kinds of skills up for sale: painting, plumbing, masonry, tile laying.
But demonetisation has cleared the footpaths of people and jobs. Just a few faces are left, hoping less competition would bring them work. But the faith is wearing thin.
Also Read: Bundelkhand refugees find shelter and wait for hope under a Delhi flyover
Santosh and Kalpana have their stuff packed and covered with a coarse grey blanket. Their four kids are roaming around - the winter shade of the flyover is their familiar home for a couple months every year. The youngest, who is four, is eating cold leftover rice out of a steel bowl with her dirty hands. It is been 15 days since the family arrived from Panipat, Haryana. They had left their home in Madhya Pradesh's Damuh district early last month, taking the train to Panipat. Santosh does Beldaari and his wife helps with mixing and laying the cement. After being paid in counterfeit notes for their labour, they decided to leave Panipat and head to Delhi.
"I have been here for 14 days with no work. I just wait till tomorrow. If I find nothing, I am taking my wife and kids back home," says Santosh.
Back home, Santosh and Kalpana, who are landless, make beedis for a living. Rolling thousands of beedis earns them about Rs 4,000 a month, all of which is spent away. Their only chance of making something extra is their yearly sojourn to Delhi. But this year, even that option is closed.
"In a normal month in Delhi, we would at least have got wage work for half a month. This time there is not a single day's job we can find," says Santosh.
Reality of rural jobs
November-March is the peak migration season. It is the time when few have farm work. Those who don't have access to irrigation can't sow rabi crops and so migrate to Delhi and surrounding cities to find wage labour. But demonetisation has seen a trend of reverse migration.
The Indian Express reported Monday that demonetisation has led to a significant hike in MGNREGA workdays across India. "In December, the average numbers went up to 50 lakh per day. And on January 7, 2017, the labour turnout for the day was as high as 83.60 lakh - approaching three times the daily pre-demonetisation average of 30 lakh," the report states.
The labourers at Sarai Kale Khan don't agree. Santosh says even last month when he left Damoh, he could not get more than 20 days of work out of the guaranteed 100 days.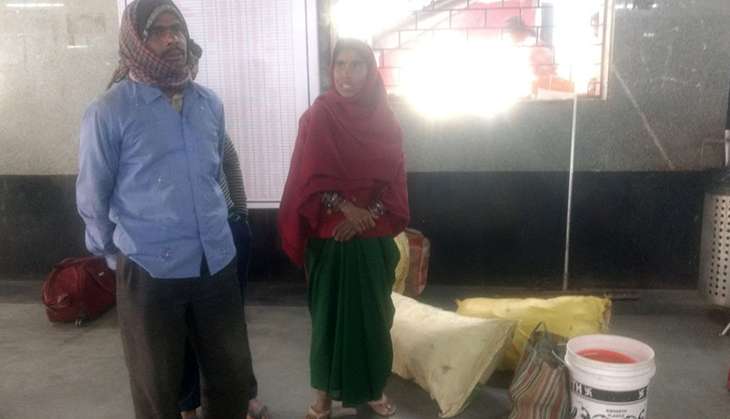 Shriya Mohan/Catch News
Raja Bhaiya, who runs Vidya Dham Samiti, a non-profit that works on livelihood issues in Bundelkhand's Banda district, says the situation is bleak. "Migrant labourers aren't getting work and when they do, they aren't paid proper wages. They are being shortchanged in places like Delhi and news travels home fast. Everybody in Bundelkhand has seen labourers coming back shortchanged or empty-handed and are refraining from traveling," he says.
Also Read: Bundelkhand farmers on note ban: We survived the drought but Modiji broke our back
What makes matters worse is that MGNREGA isn't working as it should in Bundelkhand, no matter what the number indicate. "The numbers might be at all-India level but I can speak for Bundelkhand and I can tell you that nobody has got a day's MGNREGA work in the last six months. Not only that, they are yet to be paid for their earlier work. The pathetic job situation has resulted in hunger, indebtedness and dire poverty," Raja Bhaiya explains.
Abhishek Mishra, who runs the NGO Arunoday in Mahoba, says the migrant workers of Mahoba are yet to return from Delhi and other parts. "They aren't finding any work but are sticking it out because there isn't anything for them back home," he says.
Asked about the data showing a spike in NREGA work, he lets out a laugh. "Every time we come to know from the media of the glorious performance of the MGNREGA and increase in man days, we see how different the reality is here in the fields of Bundelkhand. MGNREGA has become a joke nobody believes in anymore."
"Demonetisation has brought more debt than ever to migrant workers and the landless. This can't go on very long," he adds.
Swaraj India leader Yogendra Yadav says that since his party went to the Supreme Court seeking that the MGNREGA be demand driven and not supply driven as it has been, the government seems to have gone out of its way to prove that they are taking the programme seriously. "The numbers surprise me very much. One speculation could be that when the note ban came down to a local level, MGNREGA could have been a quick channel for those wanting to get rid of their black money. This unprecedented surge in the work days demands scrutiny," he says.
Note ban not to blame?
At the booking counter at Nizamuddin station, three families are waiting for a family member to buy them tickets.
Kamlesh does plastering and is from Mahoba. Druv Singh is a mistri from Chhattisgarh's Andhiarkor, and Siya Ram is a mistri from Jabalpur. They are all married, with wives and children. While Kamlesh is ill and has blisters in his neck, Druv is going back because it's cold in Delhi and Siya Ram is going back for a break.
Demonetisation, they clarify, has nothing to do with why they are heading back. "The prime minister has done right," they insist. "It is a tough time for us. But when has it ever been easy to be a wage labourer? Our problems were always there."
Also Read: Lack of MGNREGA funds adds to distress in drought-ridden states