Nitish makes a spectacle of his prohibition policy. What's he aiming for?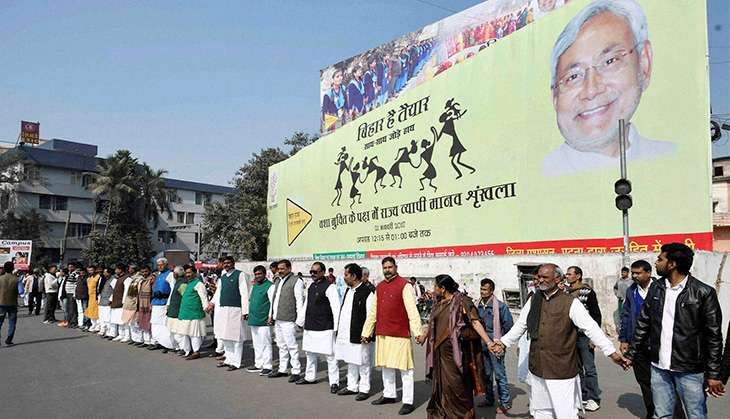 If you ever doubted Nitish Kumar's commitment to the liquor ban he imposed last year, it is time to put your doubts to rest. The Bihar chief minister did not just launch the second phase of the prohibition campaign on 21 January, he organised a massive spectacle to signal his seriousness in implementing it.
Bihar CM Nitish Kumar thanks everyone for their participation in spreading awareness on de-addiction & prohibition of liquor in the state. pic.twitter.com/5KDh2URMO4

— ANI (@ANI_news) January 21, 2017
Nearly 2 crore people joined hands across Bihar's territory to form a human chain in support of prohibition. The chain stretched across over 11,000 km and included the chief minister himself along with his alliance partners Lalu Prasad of the RJD and Ashok Choudhary of the Congress. The opposition BJP too extended its support to the event, albeit with a grudge.
BJP's bitterness
The ruling JD(U) claimed that the event broke the Guinness World Record for the longest human chain, as helicopters, drones and even ISRO satellites watched and filmed. The BJP, however, said it was supporting the event in spite of Nitish opposing and mocking Prime Minister Narendra Modi's advocacy of yoga. Senior BJP leader Sushil Modi said Nitish must now match the interest he has shown in turning this into a world record with seriousness in implementing prohibition.
नीतीश ने योग का विरोध किया, भाजपा पूर्ण शराबबंदी के साथ......https://t.co/4JRYh4EFmF
Click on the link to read full Press Release:

— Sushil Kumar Modi (@SushilModi) January 20, 2017
Union minister Giriraj Singh, who particularly miffed with the event, boycotted it, branding it Nitish's "political ploy". Lalu's son and Deputy Chief Minister Tejashwi Yadav took Giriraj head on, claming his protest meant he supported alcohol consumption.
इसका मतलब वो शराब के पक्षधर है। ये तो मोदी जी की सामाजिक परिवर्तन की बात का पुरजोर खंडन करना हुआ। बीजेपी की असलियत सामने आ रही है। https://t.co/ApYieUDj7M

— Tejashwi Yadav (@yadavtejashwi) January 21, 2017
The event had drawn over reports that schoolchildren were being forced to stand in the chain. The matter even reached the Patna High Court, where the state government was forced to assure that it won't force children. However, schoolchildren were seen in large numbers and there were reports of at least 15 children collapsing during the event.
Bihar: 15 school students lost consciousness during Bihar govt's human chain event on liquor prohibition in Nalanda district

— ANI (@ANI_news) January 21, 2017
The Congress proudly participated in the event, with Choudhary standing shoulder to shoulder with cabinet colleagues Tejashwi and his brother Tej Pratap Yadav, in Patna's iconic Gandhi Maidan.
गांधी जी के #नशामुक्त भारत के सपने को साकार करने के लिए कांग्रेस का हर एक कार्यकर्ता मानवश्रृंखला में शामिल हुआ। pic.twitter.com/9jXafB9Gyx

— Bihar Congress (@BPCCofficial) January 21, 2017
Despite its scale, the event failed to resonate outside the state, possibly indicating a lack of appeal for prohibition in other parts of the country.