Move over Vyapam, another scandal may be brewing in Madhya Pradesh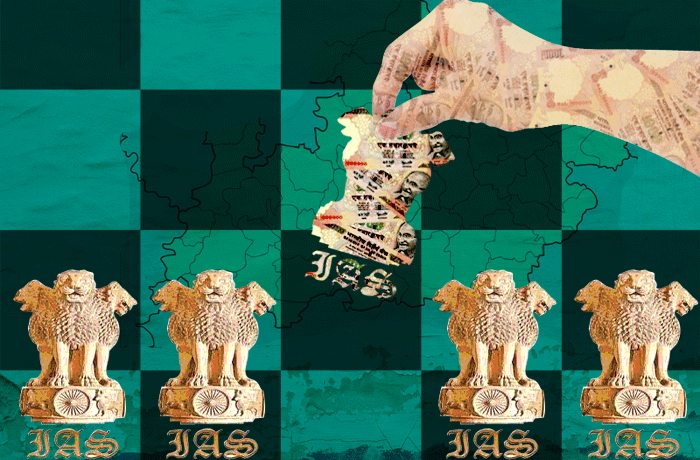 If claims made by whistle-blowers who exposed the Vyapam scam are true, Shivraj Singh Chouhan is presiding over another scandal in Madhya Pradesh.
Former independent legislator Paras Saklecha and RTI activist Ajay Dubey alleged that Chouhan's government has nominated several "corrupt and politically-connected" Non-State Civil Service, or NSCS, officers for promotion to the IAS. At least one of them is also an accused in the Vyapam scam.
In all, 20 officers have been nominated and all but one are from the capital Bhopal.
Moreover, according to Saklecha and Dubey, the state committed a series of irregularities in selecting and nominating them. These include:
The selection process was selective. A secret letter was sent to the chosen few while officers outside Bhopal had no clue about it. The search committee's meeting was also secretive. Ideally, the meeting should have been notified a week in advance, but it was suddenly called on 12 August and names of these officers were selected and sent to the central government.

Seniority was compromised. So far, only officers from the State Civil Service have been promoted to the IAS. This time, they were ignored in favour of NSCS officers.

According to the IAS Recruitment Rules of 1954, NSCS officers can only be promoted under special circumstances. The government did not specify what the special circumstances were this time.

The best among SCS officers get promoted to IAS after 24-25 years of service. So, promoting NSCS officers secretively without defining "special circumstances" is unfair.

The IAS (Appointment by Selection) Regulations, 1947, specify that only NSCS officers who have served for 8 consecutive years in a post declared equivalent to that of the deputy collector can be promoted to the IAS. Madhya Pradesh though has not listed any specific posts as such. It, in fact, selected the officers first and then issued formal orders on 12 August to declare their posts equivalent to that of deputy collector.
If this wasn't troubling enough, the whistle-blowers alleged that fake documents were submitted and approved, Confidential Reports were furnished by superiors who are not the officers' departmental heads, and these CRs were arbitrarily upgraded.
Saklecha named nine of the officers who, he claimed, were nominated under pressure from current and former ministers whom they have served.
Rajiv Nigam: Urban Administration and Development department officer, he is posted as OSD to Finance Minister Jayant Malaiyya.
Vishal Nadkarni: He was OSD to former Women and Child Development Minister Ranjana Baghel. Currently, he's special assistant to the minister Maya Singh.
Sanjay Gupta: From the jail department, he was special assistant to former finance minister Raghavji.
Amitabh Awasthi: A Women and Child Development department official, he was for a long time special assistant to Food Minister Kunwar Vijay Shah.
Pragya Awasthi: Also from the Women and Child Development department. She is the wife of Amitabh Awasthi.
Suresh Gupta: He was posted as a public relations officer at the chief minister's residence.
Shameemuddin: He is with Technical Education Minister Umashankar Gupta as OSD.
Sooraj Singh Sikarwar: From the Rural Industry department, he was a special assistant to former minister Govind Singh.
Mayank Verma: The Urban Administration and Development department officer was a special assistant to former minister Narendra Singh Tomar.
Shameemuddin, the whistle-blowers claimed, is accused of illegally buying a 50-acre plot in Bhopal in collusion with the jailed Vyapam accused Pankaj Trivedi. There are also serious charges against Sikarwaar as well as two other officers in the list, Raghavendra Upadhyaya and HS Parmar.
Saklecha and Dubey demanded that the nominations be canceled and the entire affair probed. They also sought strict action against officers "who have issued fake certificates and selected unworthy officers" in violation of rules and procedures.