Modi says no to Jallikattu ordinance. Will protests turn violent now?
S Murari
| Updated on: 11 February 2017, 5:46 IST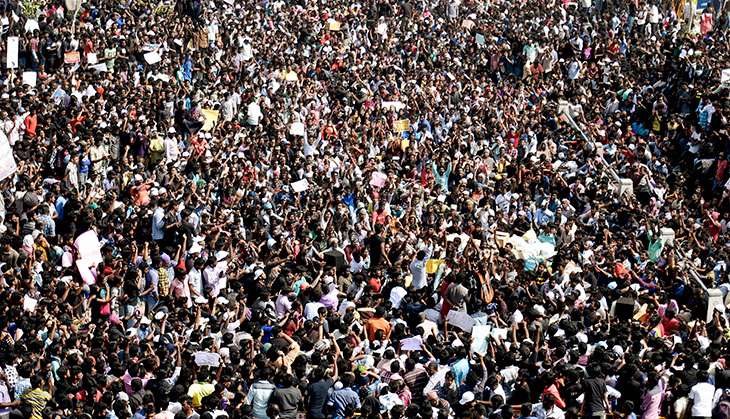 Students who have been agitating to get the Supreme Court-imposed ban on Jallikattu lifted have now turned their anger against the Central government. This comes after Prime Minister Narendra Modi, in his meeting with Tamil Nadu CM O Panneerselvam, refused to get an ordinance promulgated.
Modi told Panneerselvam at their meeting in New Delhi on Thursday that any ordinance would meet the same fate as the 8 January 2016 notification issued by the Centre, which was stayed by the Supreme Court.
Pon Radhakrishnan, the BJP MP from Kanyakumari who is the Union Minister of State for shipping, road transport and highways, told reporters that while the Centre was all for Jallikattu, it had to tread with caution, since the issue was pending before the Supreme Court.
Jallikattu is a traditional bull-taming sport that is conducted during the harvest season of Pongal in Tamil Nadu.
The 2016 notification, which removed bulls from the list of 'performing animals', thus effectively overturning the Supreme Court ban on Jallikattu, was stayed by a two-judge Bench comprising Justice Dipak Misra and Justice NV Ramana.
The Bench granted stay on a petition filed by the Animal Welfare Board and other bodies, on the grounds that it was in conflict with Sec 22 of the Prevention of the Cruelty of Animals Act of 1960, Article 51(a) of the Constitution (compassion towards animals), and Article 21 (Right to Life, which the court held includes animals considered essential for human life).
Petitions filed by the Union Ministry for Environment and Forests and the Tamil Nadu government have been pending before the same bench, which, earlier this month, refused to be hustled into a decision, providing the spark for the student agitations.
The court also rejected Tamil Nadu's plea for a review made in November last year.
Arguments against the ban
According to those agitating against the ban, the court has allowed itself to be swayed by the exaggerated allegations of cruelty to animals during the game made by organisations like People for Ethical Treatment of Animals (PETA). This is the reason that Jallikattu has been banned altogether, and the court is refusing to even agree take a second look.
Former Supreme Court judge Markandey Katju says the pendency of the issue before the apex court is no bar for promulgating an ordinance.
In a letter to President Pranab Mukherjee, Justice Katju asked: "There has to be a balance in such matters. An animal cannot be placed on the same footing as a human being. For instance, in fishing, the fish is taken out of the water, and it dies by asphyxiation, as it cannot breathe in air. Is this not cruelty to the fish? And so, should fishing and eating fish be prohibited? A bull is castrated to make it a bullock. Should this be forbidden? Should halal meat be banned?"
Art of Living founder Sri Sri Ravi Shankar says Jallikattu symbolises Tamil culture as much as sumo wrestling is part of Japanese culture, and banning it on the grounds of cruelty isn't right, since, on the contrary, cattle are revered in Tamil culture.
Will protests remain peaceful?
Thousands of students have been protesting at Chennai's Marina Beach, Madurai's Tamukkam Maidan as well as in Coimbatore and Erode. They have now come together through social media to draw attention to the issue through platforms like WhatsApp, where there's a raging debate on Jallikattu.
An activist in Erode said that thanks to PETA and the Supreme Court, even the people of western Tamil Nadu have rallied in support of agitators. These areas earlier had little to do with Jallikattu, which is centred around Alanganullur near Madurai.
Another activist, who has been protesting for the past four days in Madurai, says he has organised food and water from nearby villages for his fellow protestors.
The same pattern is visible in Chennai, where volunteers have organised food and water for the protestors on the Marina.
The students, well-informed and apolitical, and bonded by a common identity of Tamil pride, have kept the protests peaceful so far. The disciplined protests, as noted by Pon Radhakrishnan, have drawn widespread support.
But emotions are running high, and the situation may spin out of control.
A group of youth blocked trains in Salem and shut the level crossing gate, but allowed it to open to let an ambulance pass.
Bandh on Friday
In effect, there will be a bandh throughout Tamil Nadu on Friday.
Traders' associations have announced that shops will remain shut, while government transport workers unions say they will not ply buses. As the government cannot take part in any bandh, it will have to maintain skeleton services with the help of transport workers affiliated to the AIADMK union.
The film fraternity has also said that it will observe a one-day strike on Friday. Cinema houses will be shut, and shootings will be cancelled for the day.
What can Panneerselvam do?
With his New Delhi trip having been a failure, Panneerselvam will have to ensure that the agitation does not get out of hand.
The government, for its part, is likely to get a resolution passed in the Assembly when it meets on 30 January.
The agitation is expected to continue until the Supreme Court pronounces its judgement on the issue. When the last mention was made, Justice Misra had said that the draft was ready.
The ball is now firmly in the judges' court.
Edited by Shreyas Sharma
More in Catch
Jallikattu protests grip Tamil Nadu. But is it really a cruel sport?
In pictures: Is Jallikattu about cruelty or culture?
Panneerselvam knocks PM's door as protest over Jallikattu intensifies