Made villains of #NIT row, J&K cops ask: whose war are we fighting?
In the wake of the NIT controversy, senior officers of the J&K police find themselves caught between a rock and a hard place.
One one hand, the police are disparaged as "collaborators" and "killers" by the local population for fighting the popular indigenous militancy. On the other, New Delhi just made obvious its distrust of the police – or so the officers believe – by replacing them with the paramilitary CRPF to provide security at the NIT.
Some Indian political leaders and TV anchors have even doubted the J&K police's "loyalty" to the Indian state for allegedly failing to provide security to non-Kashmiri students at the NIT. The police had lathicharged some of these students when they tried to take out a protest march a few days ago.
The questioning of their "competence" and "patriotism" has visibly angered the police, much to the worry of the newly installed PDP-BJP government. A few top ranking officers have gone public saying they feel "let down" and "demoralised".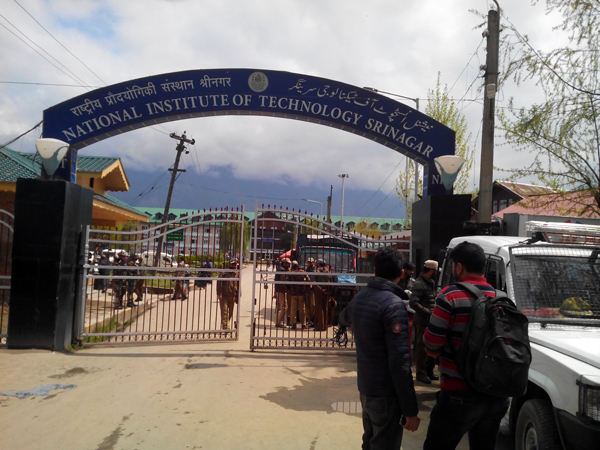 Photo: Gowhar Geelani/Catch News

Firoz Yehya, a deputy superintendent of police, wrote on his Facebook page, "Many of my colleagues have been asking and many more must be thinking, 'whose war are we fighting?' All I can tell them is that this is just another phase and will pass. Further, the J&K police doesn't need any certificates from people like Mr. Arnab Goswami."

"The #Jammu and #Kashmir Police is a nationalistic and patriotic force, its men, regardless of religious affiliations and regional affinities have sacrificed their lives and blood for this nation and made it possible for peace to return to the state," Yehya continued. "Those people who are questioning the ability and patriotism of our police force should think thousands of times before making any ridiculous comments and stop politicising the NIT issue."

Yahya added, "We have a DGP in K Rajendra Kumar who has received a bullet here, he is from Andhra; another DGP SP Vaid has received a bullet while fighting; an IGP in Javed Mujtaba Gilani who is revered by people across the board... and dozens of other IPS officers from the state and outside who have contributed to nation building, maintenance of peace and return of normalcy in the state, who have given their sleep, their days and nights for our better tomorrow."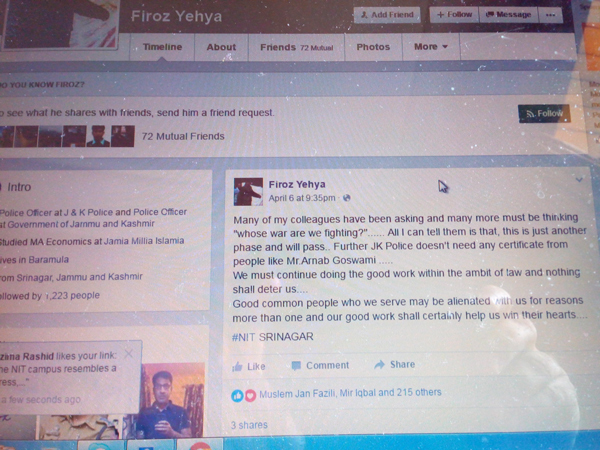 The officer, however, acknowledged that the Kashmiris aren't really fond of his force. "Good common people who we serve may be alienated from us for reasons more than one, and our good work shall certainly help us win their hearts. #NIT SRINAGAR," he wrote.
Mubassir Latifi, SSP, Crime, seemed particularly miffed at how the entire controversy was being covered by the media. "#JKPolice doesn't need any certificate of nationalism or impartiality from those who whose valour doesn't extend beyond their keypads. J&K Police is a saga of sacrifices and courage and has brought this State out of a madness called terrorism," he wrote in a Facebook post that was later removed.
Other officers privately expressed their disappointment over "the manner in which the police was discredited and replaced by the CRPF to deal with the NIT issue". "It is a double-edged sword for us. Our society, by and large, dubs us collaborators and killers. We are stigmatised and ostracised. And now we are anti-nationals for people outside Kashmir," said an officer.
:We have killed thousands of militants, local and foreign. And see the irony: thousands of people attend a slain militant's funeral, but when a policeman is killed in a militant attack, hardly four to five go to his funeral," the officer added.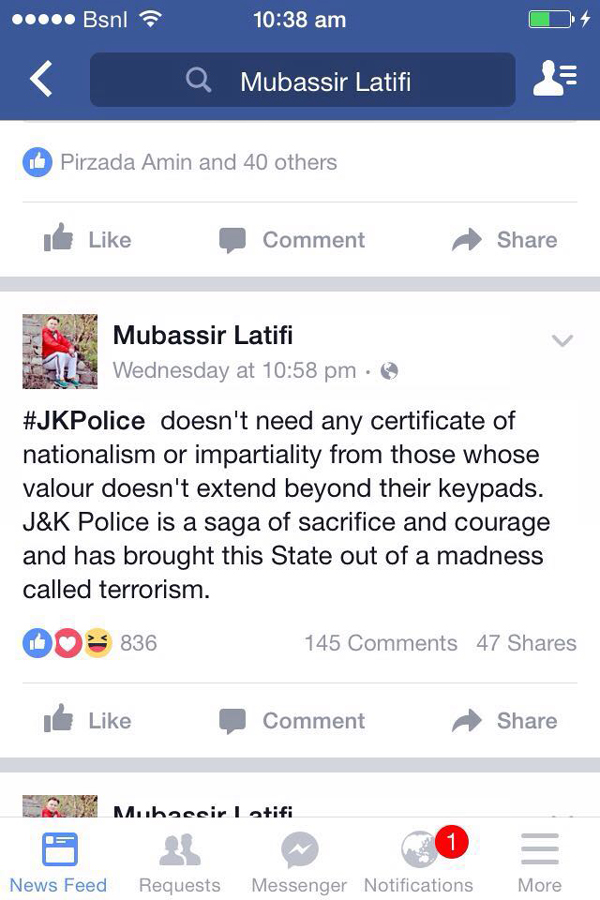 The comments of public figures have also ruffled the feathers of the police. Responding to the allegation by academic and activist Madhu Kishwar that "police in Kashmir are heavily infiltrated by secessionists", a senior officer asked, "Do these spin doctors want a repeat of the 1993 police agitation?"
In April 1993, the vast majority of J&K policemen had launched a protest, which went on for six days, against the killing of a colleague, Riaz Ahmed, during a search operation by the army in Hazratbal, Srinagar. Brandishing weapons, the agitating policemen held demonstrations shouting anti-India and pro-Azadi slogans. The army had to be called in to take control of the Police Control Room in Srinagar and disarm the protesting cops. The "mini mutiny" was eventually resolved through negotiations.