Sori's nephew fears his next meeting with Chhattisgarh Police will be his last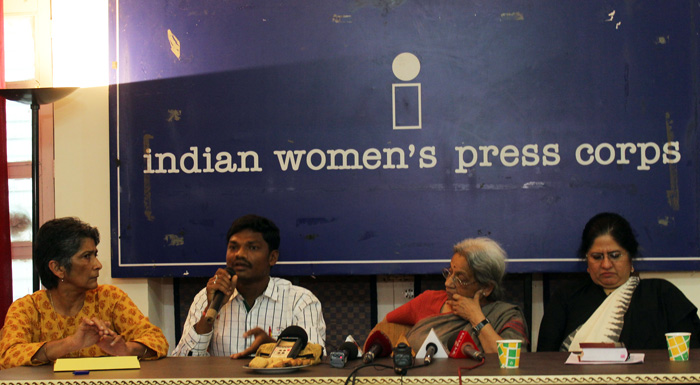 Lingaram Kodopi wanted to talk more before he was taken away by the volunteers. These were his last few hours in Delhi. By evening on Monday he was put on a plane out to Raipur, the nearest airport to his hometown in Geedam, Dantewada. It is here that he has promised to set himself on fire on Wednesday.
And because of this threat he has now been called back from Delhi, where he spent 4 days narrating his plight, to sign a bond back in his hometown of Geedam, to not disrupt the public order by committing suicide.
Kodopi is an independent journalist based out of Dantewada and is the nephew of the human rights' activist Soni Sori. Since the time Sori was attacked with a corrosive chemical by unknown people, Kodopi has been receiving threat calls.
Also read - Own family attacked Soni Sori? 'Cops trying to extract confessions out of kin'
Several family members and friends of Sori have been repeatedly picked by the police, some of them claim to have been tortured during their detention, in the name of investigating the attack on Sori.
Even her sister was detained. In an interview to Catch, the sister claimed to have been verbally abused by the police officers who were asking her to admit to having plotted an attack on Soni Sori. Almost all the people who were picked up by the police, said that they were also given an option of pinning the blame on Kodopi.
He says that the calls that he receives are mostly abusive in nature, in which the callers ask him to come to the nearest police control room with some clothes.
Having been a victim of police torture, Kodopi says he understands too well what such an order means. He has spent a month in illegal police custody and knows some people who left with a set of clothes when called, and never returned.
"I am quite certain that this is the end for me. Every other police officer I have approached has that there is nothing he can do. I have been told by other IPS officers that nobody can touch Kalluri. And he's junior to several of them. Kalluri himself says that he doesn't care about international and national media. It is the local media that counts, which he keep in his pocket," Kodopi says.
SRP Kalluri is the Inspector General (Bastar).
He added that what made matters worse was a culture of impunity of rapes and murders and incarceration of other journalists in the state.
Also read - #WomensDay2016: If bravery has a name, it is Soni Sori
"One rape on 16 December caused a flutter in Delhi. But I've recorded as many as 10 rape incidents on one day and no one speaks about it. Several people are being murdered or are disappearing and nobody has a clue. A fellow journalist Santosh Yadav has been put in jail and nobody's asking any questions."
He has also written to the President of India asking for his intervention in the systematic violence that he claims local adivasis are being subjected to.
Vrinda Grover, who is his lawyer in a case, says that his fears of being killed by police are not unfounded.
Soni Sori's nephew Kodopi has threatened to take his life, protesting against police harassment
"In 2009 he was detained illegally for over a month when they wanted to enlist him to fight naxals. He held out and it was only after a habeas corpus was filed in a court that he could get out. He has suffered illegal detention, he has been falsely implicated in a murder case, and he's being implicated in another case. He faces clear threat of being eliminated," said Grover.
She added that adivasis like Kodopi living in Chhattisgarh were under an imminent and serious threat of being eliminated by the state's forces.
"Mass atrocities are happening at the behest of security forces and police. That's why Soni and Linga are being targeted repeatedly. And the institutional silence on these atrocities isn't limited to the state of Chhattisgarh, it goes right up till the centre," she said.
More in Catch - Soni Sori attack: How will the police arrest its own men?
Don't know about Soni Sori. But Rupa Subramanya wins worst tweet of the year