JNU Violence Protest: After Mumbai, 'Free Kashmir' poster spotted in Mysore University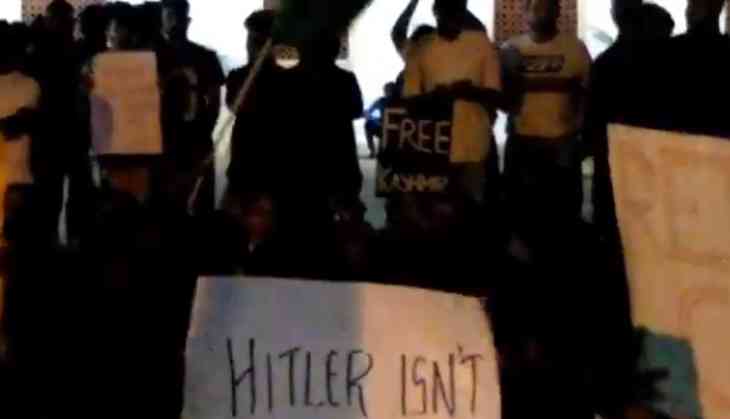 JNU violence protest has been spread across the country and people are coming to the street to show their anger against the mob attack at JNU students. During the protest, people are coming with different slogans against the incident and the Modi-led government. Recently, a woman was seen holding a 'Free Kashmir' placard at a protest in Mumbai, now, a similar incident has happened in the protest organized by the University of Mysore against the violent attack on Jawaharlal Nehru University (JNU) students and teachers.
As per the media reports, one of the protester at Mysore University was seen holding the poster which has the message 'Free Kashmir'. However, it was removed after a few minutes.
The protest in the varsity was organized by the members of UoM Researcher Association, Bahujan Vidyarthi Sangha, Dalit Vidyarthi Okkuta, Students' Federation of India, and All India Democratic Students Organisation, to express solidarity with the JNU students and also condemning the attack on students on January 5, 2020.
A few days before a woman with the same text was spotted during a protest at the Gateway of India in Mumbai which sparked controversy. Later, the woman took to her Facebook account to issue an apology and clarified that she was referring to the restrictions in the Valley.
She also shared her video message and said, "The picture created by entire social media came as an absolute shock to me. The placard meant 'freedom to express themselves, freedom from the Internet lockdown which many people have been voicing for. I was voicing my solidarity for basic Constitutional rights. No other agenda or motive whatsoever."
Also Read: 'No ulterior motive': Woman who held 'free Kashmir' placard during protest against JNU violence