Jharkhand: Opposition calls for bandh over Land Acquisition Bill row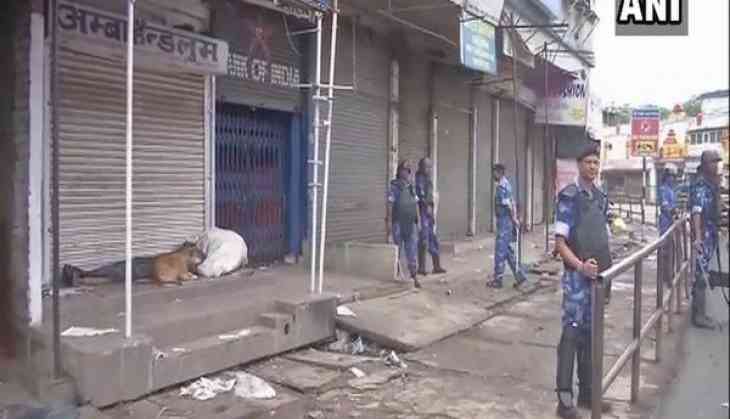 Amid strict security arrangements, Jharkhand Mukti Morcha (JMM) and other Opposition parties of the state called for a shutdown across the state on Thursday against the amendments in the Land Acquisition Bill 2013.

Visuals coming from Ranchi showed that traders have kept their shutters down and heavy security deployed all around. Party workers and others were seen holding protests with flags and banners on the streets against amendments to the bill.

The bandh across the state received support from Congress, Rashtriya Janata Dal (RJD) and Jharkhand Vikas Morcha (Prajatantrik) (JVM). In view of the bandh, schools across the state are also closed today.

Banners across the states have been put up announcing a peaceful demonstration on July 16 at the Governor's residence.

"This is a fight for Jharkhand because the people of Jharkhand have always been neglected. There was no need for any amendments to the bill," said state CPI Secretary Ajay Kumar.

The Right to Fair Compensation and Transparency in Land Acquisition, Rehabilitation and Resettlement Act 2013 (Jharkhand Amendment) Bill was introduced by the Raghubar Das government. According to the bill, acquiring land in the state for educational institutes, home and other infrastructure developments will not require social impact assessment (SIA) which was mandatory in the LARR act, with exceptions for special cases. However, the amendment got away with the impact assessment clause of the bill.

According to the state government, SIA delays project and development.

DGP D K Pandey in his media brief on Wednesday said that about 5,000 policemen and magistrates had been deployed all over the state to maintain law and order.

Speaking to ANI, Ranchi Deputy Superintendent of Police (DSP) Shyama Nandan Mandal said actions will be taken if there is any case of violence during the strike. "Peaceful protest will definitely be allowed. However, if we see violence anywhere strong action will be taken," he said.
--ANI