India Tales: how this Madhya Pradesh farmer found himself 'dead'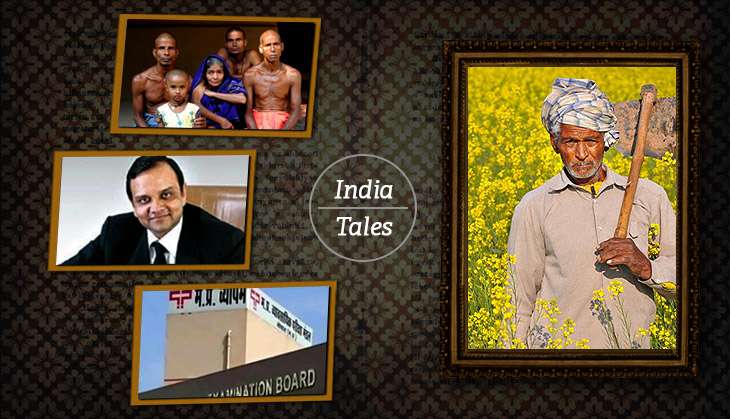 01
Madhya Pradesh farmer won't do officer's bidding, declared dead
Nawal Singh, a farmer from Gandwani town in Dhar district, Madhya Pradesh, received Rs 30,000 under the One Roof Tribal Development scheme for purchase of pipes.
Gajrajsingh Chauhan, the officer who sanctioned the money, allegedly told him to buy the pipes from a particular shop, Khandelwal Traders. Nawal refused.
A few days later, Nawal went to the bank to collect the money. He was shocked to learn he had been declared dead in state records. His money had been transferred to "some other account".
Also read - India Tales: kept from school by father, Andhra kids go to police
Nawal has since complained to Gandwani's collector, who has ordered an investigation.
Nawal said he had refused to buy the pipes, used for irrigating farmland, from the store "suggested" by the officer because it sold them for Rs 500 when the rate elsewhere was Rs 250-300.
"There is fraud going on in Gandwani in the name of giving irrigation pipes to farmers and a lot of officials are involved in this," Nawal said. "How else could they have prepared a death certificate for me. They should investigate this also."
Yogendra Singh Jat, CEO of Janpad, Gandwani, said he will do just that. "I will investigate. Send him to me. I will investigate the matter."
02
NSSO survey: More than 6 in 10 Rajasthan farmers under debt
A survey conducted by the National Sample Survey Organisation in Rajasthan has found that 62 of every 100 farmers are burned by debt.
It also found that despite toiling in the fields, an average farmer family in the state manages to save only Rs 203 per month.
The survey involved 35,200 farmer families in 4,529 villages across Rajasthan, and collected details on income, expenditure, assets, crop production and debt. Rajasthan has nearly 9.02 crore farmers.
Among other findings, the survey revealed that 60% of the pending or unresolved debt was institutional, that is, obtained from formal lenders such as cooperatives and nationalised banks.
Close to a hundred farmers commit suicide in Rajasthan every year, but the state government has denied any of these are "debt-related".
03
Debt to pay: why MP hasn't invited JP Group for Investors Summit
Slowly but surely, corporate defaulters are facing the music. The latest instance: the Madhya Pradesh government has decided not to invite the debt-ridden JP Group to its Global Investment Summit in October.
JP Group has an unpaid debt of Rs 4,460 crore, and has been declared a defaulter by its lender banks. The group had pledged to invest Rs 35,000 crore in Madhya Pradesh but the government seems to have realised that the promised money isn't coming.
At its Global Investment Summit in 2014, which was attended by Prime Minister Narendra Modi, the Madhya Pradesh government had received investment pledges worth Rs 6.89 lakh crore. JP Group chairperson Jai Prakash Gaur had promised to invest Rs 35,000 crore for the production of semi-conductor chips in Bhopal. Gaur has claimed that an agreement to set up a production unit for the chips had already been signed with a Japan company. The group "identified" some land near Bhopal for the unit, but nearly two years on, no progress has been made.
Also read - Cabinet approves India Post payments bank, hikes MSP for kharif crop
"The Industry department has decided not to call controversial names. JP Group has a huge debt to repay and has not made good on its investment promise," said an official involved with preparation for the summit. "The final decision on inviting big name corporates, however, will be made by Chief Minister Shivraj Singh Chouhan."
04
IB officer killed in 'road accident', many suspect Vyapam scam link
Ajay Kumar Khare, Senior Inspector, Intelligence Bureau, was run over by a car early this week. He died on the spot. Khare's death has sparked suspicion that he was killed "because he was investigating the Vyapam scam". Indeed, the police have said they will probe "whether it was an accident or murder".
"Khare was collecting information in the Vyapam case and was probing many leads," said a police officer. "This matter is being examined."
The incident took place around 2 pm in Shahpura area, where Khare had gone to check on his under construction house. Khare, 58, was originally from Hamirpur, and had been posted in Bhopal two years ago.
"He was going on his scooter to see his house when a fast moving black car hit him from behind near Shahpura police station. He was dragged by the car for quite a distance. He sustained serious injuries on his head and died on the spot. The passersby took him to Kolar Primary Health Centre but he was declared brought dead," the police said in a statement.
Khare, who had joined IB in 1983 and was retiring in about two years, was to receive a Police Medal in "recognition of his meritorious service" on 15 August. Khare is survived by his sons Varnit and Hardik.
A senior police officer said Khare's death's has "also exposed the utter carelessness of Shahpura police station". "Although the accident took place close to the police station in the afternoon, they didn't send any information to the higher authorities. Many senior officers had no knowledge of the accident till late at night. The higher officers are secretly having this aspect of withholding information looked into."
More in Catch -India Tales: Meet the Chhattisgarh villager who lives with over 100 pet pythons
Afrophobia is widespread in Delhi. Let's not pretend otherwise