India Tales: how a Jalore school dropout rescued a child from borewell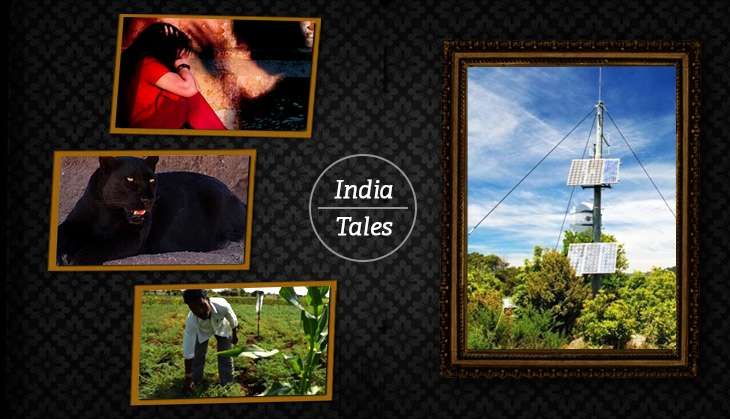 01
Scorched earth: wild animals succumbing to hunger, thirst in Rajasthan
Overcome with thirst and hunger, a panther strayed into Jaipur. It wandered around seeking water, but there was not even a drop to be had. It eventually collapsed near Khole Ke Hanumanji temple, and died.
The postmortem report revealed that the panther's stomach was "completely empty", and concluded that it had not had "a piece of food or water for days".
In recent months, according to wildlife department officials, several hyenas have similarly died wandering around for food and water. A hyena came out of the forest of Kukas and down to Richppal Ki Dhani near Sai Baba temple in search of food and water. "People ran and shut themselves indoors, fearing it might attack them. Someone informed the police and forest officials and they tranquilised it," said Dr Arvind Mathur of the wildlife department. "We examined it and found that its stomach was empty. We had to administer glucose to keep it alive. It would be released in the jungle after two-three days."
Another hyena from the forest of Vishwakarma and Vidyadhar Nagar wasn't so fortunate. It went looking for water as far away as the mines of Todi, only to be found dead.
"The wildlife in the forests of Jhalana, Chulgiri, Nahargarh, Amer, Kukas and Galta continues to go thirsty. The forest department has spent lakhs of rupees to build ponds but they soon cracked up and turned into useless pieces of concrete. Some that are still intact have no water. All these ponds seem to have been built with poor-quality material," said a wildlife official who did not want to be named for fear of reprisal. "As a result, animals are forced to leave their habitats and come to the city looking for water."
Some volunteers have now taken it upon themselves to provide water to the animals in the forests of Galta and Nahargarh "because the forest department is shamelessly ineffective". They have been taking barrels of water to fill up the ponds "as a temporary measure".
Still, the officials are unmoved, "In summer, it is normal for wildlife to come to human settlements," said Mahendra Agrawal, DFO, Jaipur. As for the dead panther, he said it "must have come from the jungles behind the temple".
02
Last mile connectivity: solar-powered mobile towers for the red corridor
The central government is working to install "solar-powered mobile towers" to provide "greater connectivity in the Naxal-dominated regions of Gujarat, Chhattisgarh, Maharashtra and Madhya Pradesh".
"Most of these areas aren't receiving signals on account of mobile towers not getting electricity. Some towers in far-flung areas were powered by diesel but every now and then, availability of fuel becomes a problem. As a result of all this, information does not reach there in time. The Naxalites take advantage of this," said an official in the Ministry of Communications & IT, which is helming the project.
The ministry plans to set up as many as 854 solar-powered towers, and each "will cover up to 15 villages within a 5-km perimeter". "As far as possible, these towers will be installed at secure locations - near police stations and CRPF camps, or in small markets," the official said. "And their monitoring will be done by the home ministry."
03
Genius at work: how a school dropout rescued a child from a borewell
Madharam Suthar, a resident of Meda village in Rajasthan's Jalore district, slogged for over two hours to rescue a little girl from a 366-ft deep borewell. In the process, he displayed such intelligence and tenacity that villagers and officials alike were compelled to stand up and take notice.
"He is a school dropout but his mind works like that of an engineer," said an admiring villager. "He is sort of an expert at fishing things out of borewells, you know motors, pipes and suchlike. He has even developed his own set of equipment for this - hammers and ropes."
But when confronted with the unenviable task of taking a small girl out of the well, Madharam realised he could use any of his usual equipment. But he was not one to give up. "He put his mind to work and with the help of his two sons, he managed the necessary things. He did this while district officials were watching. It took him about an hour to make the 'rescue tool'."
The tool, Madharam said, was essentially an "iron log with tongs at one end and a rope at the other, and four plates at various lengths". "I lowered it into the borewell and the tongs clasped around the child. Then, we slowly pulled the rope up and brought the girl out."
04
Gang trading in bonded child labourers from Assam busted in Indore
The police in Indore, Madhya Pradesh, have busted a gang that brought girls from Assam to work as "bonded labourer".
According to Avinash Verma, the coordinator of Child Line, it all began when he learnt about a 13-year-girl working in the home of Ramesh Chandra Gupta at Piplyapala. Child Line then coordinated with the Labour department to raid the house. "The girl had been working in the house for six months. She had been brought from Delhi by an agent, who had taken Rs 24,000 from Gupta. He had also taken back another girl who was worked there before her," said Verma.
"The girl was told by her neighbour in their Assam village that she would take her to Guwahati. Instead, she took the girl to Delhi and sold her to an agent. In Delhi, she was taught Hindi and trained in doing domestic chores. She has not allowed been allowed to meet her parents all this time," Verma added.
In the police investigation that followed, it was discovered that several such girls had been brought to Indore from Assam, mostly via Delhi, and sold as bonded labourers. The police have so far registered cases against three men, who are alleged to be part of the gang. The rescued girl, meanwhile, has been children's home.