India's human rights shame: Amnesty report highlights problems galore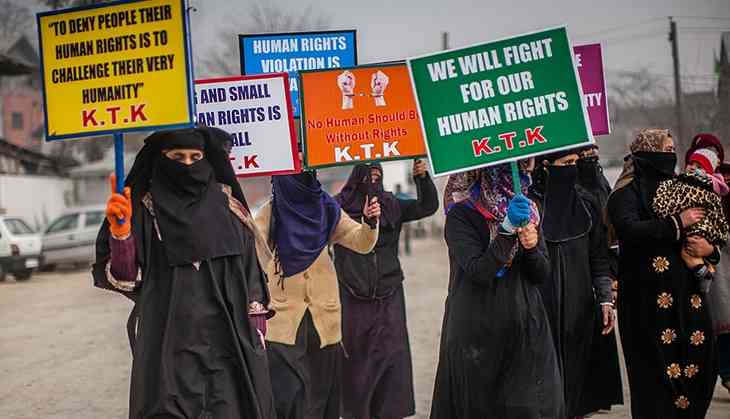 (Yawar Nazir/NurPhoto/Getty Images)
Amnesty International has published its annual report, which provides the most comprehensive overview of the state of human rights globally, including reports from 159 countries.
The report documented war crimes committed in at least 23 countries in 2016. In 22 countries, people were killed for peacefully standing up for human rights.
Examples of the rise and impact of poisonous rhetoric, national crackdowns on activism and freedom of expression were also highlighted in the report.
The report also gave details on how authorities used repressive laws to curb freedom of expression and silence critics.
What happened in India
While talking about human rights violations in India, the report summarised how millions were opposed to changes to labour laws, and how the marginalised communities continued to be frequently ignored in the government's push for faster economic growth. It also brought forth the ongoing tensions between India and Pakistan following the Uri attack in Jammu and Kashmir, and how demonetisation affected the lives of millions.
While bringing up the suicide of Rohith Vemula, the report showed that as per government statistics released last year, more than 45,000 crimes were reported against members of Scheduled Castes, and almost 11,000 against Scheduled Tribes in 2015. Dalits were also denied entry to various public and social places in several states, and had to face discrimination in accessing public services.
The report also talked of change in legislation, including the Scheduled Castes and Scheduled Tribes (Prevention of Atrocities) Amendment rules, which specified relief mechanisms to victims of caste-based violence, the amendment to the Juvenile Justice Law, which allowed for conviction of those in the age group of 16 to 18 as adults in cases of serious crimes, and amendments to labour laws, which allowed for children in the age group of 14 to 18 to work in 'non-hazardous' occupations.
The report also talked about cow protection vigilantes wreaking havoc in various states, bringing up the case where two Muslim men in Haryana were forced to eat cow dung, and another case in the same state where a woman and her 14-year-old cousin were gang-raped on suspicion of consuming beef. In May, the Bombay High Court had ruled that preventing people from consuming a particular type of food was a violation of their right to privacy.
The report also brought up incident of racism, where a Tanzanian woman was stripped and beaten by a mob in Bengaluru, and a man from the Democratic Republic of Congo was beaten up in New Delhi.
Other human rights violations the report brought up included the abuse of the Coal Bearing Act, which allowed for the acquisition of Adivasi land without consent. The Ministry of Environment, in February, approved the expansion of a coal mine in Kusmunda, Chhattisgarh, operated by the state-owned company South Eastern Coalfields, despite authorities not having obtained the free, prior and informed consent of affected Adivasi communities, as is mandatory.
The report also talked about extrajudicial executions in Manipur and brought up cases of a Adivasi man being killed by the Chhattisgarh police in Bastar, and the extrajudicial killing of an Adivasi man in Rayagada, Odisha, where the police claimed the victims were Maoist.
In July last year, an infant was also shot dead in Kandhamal, Odisha, which the police claimed was a result of crossfire during an encounter with Maoists.
In July, the Supreme Court, hearing a case related to over 1,500 extrajudicial executions in Manipur, ruled that armed forces personnel should not enjoy "blanket immunity" from trials in civilian courts, and that the allegations needed to be looked into.
Defenders of human rights targeted
Those defending and reporting on human rights were also threatened.
The report also highlighted how the government refused to renew the FCRA licences of 25 NGOs without offering valid reasons, while cancelling the licences of seven NGOs, including Greenpeace India, Navsarjan, Anhad, and two NGOs run by human rights defenders Teesta Setalvad and Javed Anand, which the government stated acted against 'national interest'.
The report also mentioned the fact that numerous journalists and lawyers were harassed and attacked. Some examples the report mentioned include journalist Karun Mishra, who was shot dead by gunmen in Sultanpur, Uttar Pradesh. The state police said he had been targeted for his reports on illegal soil mining.
In May, Rajdeo Ranjan, a journalist in Siwan, Bihar, who had faced threats from political leaders for his writing, was shot dead. In February, journalist Malini Subramaniam was forced to leave Bastar following an attack on her home and pressure from police on her landlord.
J&K violence
The report talked about the violence in Jammu and Kashmir separately.
With the killing of Hizbul Mujahideen leader Burhan Wani in July, protests erupted in many parts, with more than 80 people killed in clashes and thousands injured.
Hundreds were also blinded by security forces, who used pellet-firing guns.
Security forces in the state used arbitrary or excessive force against demonstrators on several occasions.
In August last year, Shabir Ahmad Monga, a lecturer, was beaten to death by army soldiers.
Homosexuality and transgender Bill
The report also referred to the reinstatement of Section 377 of the Indian Penal Code, which criminalises consensual same-sex relations. The Supreme Court, last year, had referred to a larger bench a petition challenging Section 377.
In addition, the transgender people's rights Bill found mention. It was passed last year, and was criticised by activists as being severely flawed, and not addressing various issues faced by the transgender community.