India looks set to buy those Rafales. But it's not a good idea
Pushan Das
| Updated on: 14 February 2017, 5:30 IST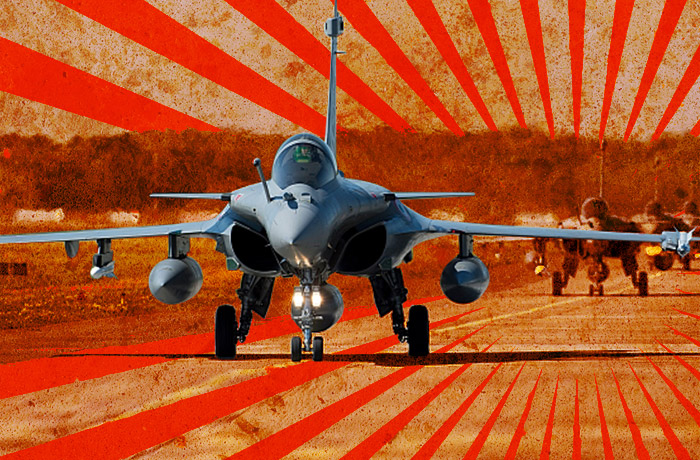 Little sense
The Rafale deal brings out the laws of India\'s defence acquisitions
PM Modi announced the deal to buy 36 fighter aircraft last year in Paris
An inter-government agreement was signed recently
More in the story
How 36 jet won\'t suffice
Why the deal may be unaffordable
The much-talked about Rafale fighter aircraft deal brings out how absurd defence deals in India can be.
Last year, Prime Minister Narendra Modi announced in Paris that India would directly buy 36 Rafales. And recently an inter-government agreement (IGA) was signed on the deal without any consensus on the pricing.
Read- Rafale: how the "mother of all deals" ended up like an "unplanned child
The Union government scrapped the $20 billion Medium Multi-Role Combat Aircraft (MMRCA) project for 126 aircraft for Indian Air Forces's (IAF) 'critical operational necessity' and the need to cut time and costs.
Instead, it opted to buy 36 Rafales, directly through a government-to-government contract.
The IAF has insisted that it needs the Rafales to shore up its depleting fleet. It has projected a need for 45 fighter aircraft squadrons to be ready to fight a two-front war. That threat perception stems from a Defence Ministry directive.
But, given the paucity of funds, where will the money to buy 45 squadrons come from? This was not taken into account while drawing up plans.
The IAF needed a multi-role fighter soon soon after the Kargil War to replace its ageing MiG 21s and hold fort until the indigenously built Tejas Light Combat Aircraft (LCA) could be inducted.
Govt needs realistic strategic assessment of nature of conflicts India is likely to face
The IAF was set to buy 126 Mirage 2000-5 jets. But instead of a follow-on order, the Centre floated a request for proposal (RPF) in 2005 and invited manufacturers from the United States, Europe, Sweden and Russia to participate.
Dassault withdrew the Mirage 2000 from the contest and fielded the newer, pricier Rafale instead.
The IAF changed it requirements from a single-engine aircraft to a twin-engine heavier one. As a result, a competition for a $8 billion interim solution morphed into $20-25 billion deal before it was scrapped.
Price and upkeep
Media reports put Dassault's opening commercial bid quote for 36 fighters at as high as $11 billion (Rs 80,000 crore), including the cost of an initial scale of weaponry and spare parts, as well as hangar facilities. But India is pushing for a price of $8 billion (60,000 crore).
Recently, Qatar had to pay $6.9 billion for 24 Rafales, roughly about $262 million per plane.
Also read: IAF desperately needs more jets; but the Rafales may be a while coming
In 2014, the French Senate estimated that the Rafale programme would cost 46.4 billion euros for 286 aircraft.
The Rafale is exponentially expensive than aircraft with similar capabilities. Some estimates put it at five times the price of Sukhoi 30 MKIs and 10 times that of Tejas.
Buying Rafales at such exorbitant costs will clearly be a setback for Modi's 'Make in India' pitch.
IAF already operates seven fighters - Sukhoi-30MKI, MiG-29, MiG-27, MiG-21, Mirage 2000, Jaguar and Tejas LCA. An eighth fighter will add strain on depots, maintenance and training infrastructure and spare-part stocks.
Why 36?
How the number 36 was reached before Modi's Paris visit is anybody's guess.
True, on a technology-intensive platform like the Rafale, capability can't be measured in numbers, but 36 jets will not fufil IAF's requirement. After setting aside some plans for maintenance and availability of parts, and training requirements, only a few aircraft will be available operationally.
The cancellation of the original tender for 126 Rafales and the never-ending price negotiations shows the unaffordable nature of modern weapons platforms in the numbers the IAF wants to acquire.
IAF has a projected need for 45 fighter aircraft squadrons
The government needs to make a realistic strategic assessment of the nature of conflicts India is likely to face, given two of its adversaries are nuclear-armed states. That will help India's acquisition capacity and avert fiascoes like the Rafale deal.
India is yet to sign any binding agreement for the 36 jets, but signing the IGA in the presence of President Francois Hollande and Modi will exert political pressure on the success of the negotiations.
Edited by Joyjeet Das
More in Catch:
Shani Shingnapur: women on the warpath demanding their right to worship
The new Nostradamus: Baba Vanga predicted a 'great Muslim war' in 2016
President's rule imposed in Arunachal Pradesh: 10 facts you must know