I am a Troll is impatient journalism, but a much needed conversation starter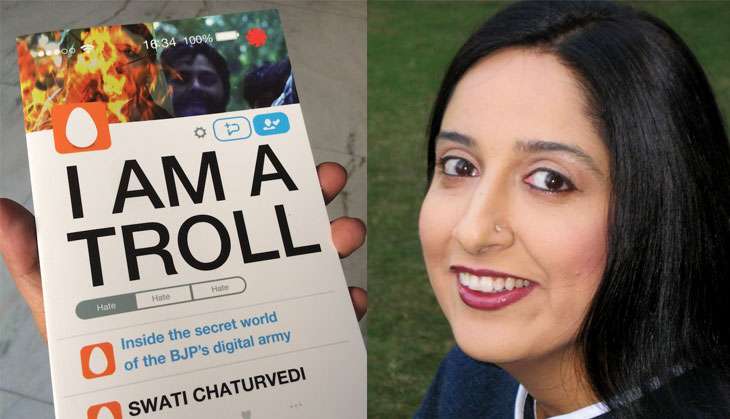 There are many methods journalist Swati Chaturvedi could've employed to make her inroads into the world of online trolls. She could've disguised herself as an online troll through a fake twitter ID to get access into their murky social media wars and trace their leadership. She could've become an underground social media volunteer for the BJP's IT cell (difficult, but not impossible). She could've worked to identify disgruntled insiders within the PR machinery and former social media volunteers willing to speak on record. She could've conducted a sting operation at one of the social media agencies that she alleges are employed to troll. With proper evidence, she could've basically questioned the BJP's social media cell at gunpoint.
Also read -India's troll menace: How they broke Aamir Khan's spirit
Instead, in her book I am a Troll, published by Juggernaut, Chaturvedi's only nail to hang her "investigative" story on is former BJP social media volunteer Sadhavi Khosla, who, upon receiving an invitation from the Prime Minister to join the social media team, quit her post-MBA job in the US and returned to India in 2013.
She did this to help elect the "only man" she knew who could rid India of corruption and bring development to the masses in the 2014 elections. Apart from Khosla, Chaturvedi's basis for the book are three anonymous trolls that sound very unconvincing.
A theme that hits gold
Twitter is a battlefield. There are minimal rules and you can get away with inflicting the most personal, vulgar, psychologically, morally wrecking online abuse under the protective garb of anonymity. Some of this hate mongering, if played right, can snowball into a full blown communal war. Twitter, Chaturvedi's book makes you realize, is a new age weapon of destruction.
The book begins with showcasing the gory side of trolls and their mortifying attacks. These twitter screen shots will make you wince.
Chaturvedi herself was a target and, in June 2015, she decided to file two FIRs at South Delhi's Vasant Vihar police station against an anonymous Twitter handle @lutyensinsider who had systematically targeted her over six months, insinuating that she had a sexual relationship with a politician. Other right wing twitter handles have threatened her with 'Nirbhaya style rape' and other sexually loaded abuse.
Although the cases were left unresolved, these incidents became the trigger for her book.
Early on in the book, Chaturvedi establishes that to fight the 2014 elections, Narendra Modi needed social media because national media was against him. He needed a way to reach the masses and Twitter and Whatsapp provided a panacea.
Also read - 'Don't feed the trolls' really is good advice - here's the evidence
No political party in India has used social media as aggressively as the BJP to carpet bomb dissent, even in its mildest form. And no amount of this slander gets the whip either from the Election Commission (EC) or the party itself. The trolls are not just ignored, but actually followed by the Prime Minister himself on Twitter. In some cases, allegedly, they are even invited to his residence to discuss the influence of the party's social media propaganda.
Chaturvedi's allegation that the BJP has employed trolls to crush dissent made headlines even before the release of the book. While it made for great PR, the book fails to factually provide evidence to support the claim.
Source is everything
'Main prayischit karna chahati hoon', I want to atone for the sin that I have committed, says Khosla, approaching Chaturvedi to tell her story. In the two years she spent as a volunteer, Khosla reported to Arvind Gupta, the head of BJP's social media cell. Gupta also helped run the biggest social media campaign in 2014 called Mission 272+, employing 2000 paid and unpaid techies as social media volunteers.
These volunteers were given a 'hit list' of mainstream journalists who needed to be constantly attacked. This included Barkha Dutt and Rajdeep Sardesai.
'If there was even an unfavourable mention of Modi ji anywhere, Gupta's digital tracking tools would pick it up and the pack of hyena-like trolls would descend,' Khosla recalls.
Khosla reported to Vishal Gupta and Nitin Kashyap, both of whim still work for Gupta. They would send out what to tweet and target trends each day.
The single point brief to all whatsapp groups was 'troll the Gandhis and mock them'. Khosla trolled Rajdeep Sardesai as instructed until he eventually blocked her.
"Every day some new person was a target and they would attack like a swarm of bees with vile sexual innuendos, slander, rape and death threats. It made me feel sick and suffocated as a woman. I had not signed up for this," she says.
But Khosla still comes across as wide eyed and confused - a pawn in the larger game, unable to use her agency and redraw the limits of the permissible.
What would make Khosla come through as an individual with more conviction is hard evidence of communication that prove organisation-backed trolling. On that front, the book falls flat.
Also read - How to deal with hyper-nationalist trolls? Tennis legend Martina Navratilova shows us the way
Apart from a single email sent in early September by Pari C, with the twitter handle @D_KohlEyedChic, to a team of people promising to pay 40 rupees for every 7 tweets sent with the hashtag: #KejriKeHeereActivity, to defame Kejriwal for hiring corrupt members, there is no further evidence. This too was information given by AAP, given that they publicly responded with hashtag: #BhaktsellsforRs40.
Where is the investigation?
The book also talks to three trolls who are "portly" looking, "sexually frustrated", speak "bad English", are derogatory to women and are Muslim haters. The conversations really reveal very little about "the secret world of the BJP's digital army," as the book promises on its cover.
The anti-thesis of Spotlight
I am a Troll could have been the body of investigative journalism that shook and stirred India's ruling party and demanded the resignation of India's most polarising Prime Minister. It could have been that watershed moment of investigative journalism that elicits more stringent cyber crime laws to make trolling a recognised form of criminal harassment. Sadly, it will fall short.
Perhaps what the book will succeed in doing is creating more dialogue on the largely unregulated cyberspace. For now, even that is a start.
"BJP encouraging trolls is rubbish. We are victims of trolling," says Ram Madhav to Chaturvedi in the book. Whether there is enough evidence against the BJP or not, we are, as Madhav states, victims of trolling. And this book begins a conversation that we can no longer afford to postpone.