Gujarat government still intent on tearing down Rahul Sharma?
Catch Team
| Updated on: 10 February 2017, 1:50 IST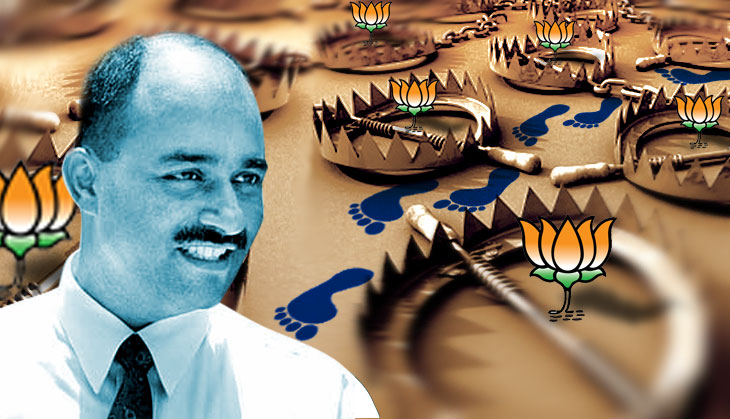 The BJP-ruled state of Gujarat is clearly obsessed with Rahul Sharma. It has previously tried to and failed in framing the former officer of the Indian Police Service from the state in a case of 'misconduct'.
In a recent show cause notice issued to him, the Gujarat government asked Sharma why action should not be taken against him for making an "unnecessary" payment of a little over Rs 3,000 to his driver and gunman.
The Gujarat government then approached the Union Ministry of Home Affairs, seeking permission to launch another round of disciplinary proceedings against Sharma. And now this permission has reportedly been granted.
Read- My pain is nothing compared to that of the 2002 riot victims: Former Guj cop Rahul Sharma
For Sharma, who voluntarily retired from the police force last year and is now a practicing lawyer, this could mean another long- drawn legal battle with the State.
Sharma made news soon after the infamous riots of 2002 by saving more than 380 children trapped in a madrassa that had become the target of thousands of rioters.
He is known to have taken the Gujarat government and some right-wing Hindu groups head-on for their roles in the riots of 2002. And the State government's anger was reflected in a series of arbitrary transfers, chargesheets and show cause notices against him until 2015, when he took voluntary retirement after 23 years of service.
He supplied the government-appointed Nanavati Commission with a CD carrying call data records of the important State functionaries and leaders of right-wing groups such as Bajrang Dal and Vishwa Hindu Parishad, which described the movements of those leaders during the violence.
Previous cases
In fact, it was because of his deposition before the Nanavati Commission that he was served a notice by the State of Gujarat.
In March 2002, Sharma was made DCP (control room), Ahmedabad. While investigating the violence at Naroda Patiya and Gulberg Society, he collected data from mobile service providers of calls received and made in Ahmedabad during the riots.
This data, containing incriminating call records of senior ministers, police officers, RSS and VHP members was handed over to the Crime Branch in the form of CDs, which were subsequently reported as "lost". However, while deposing before the Nanavati Commission that was set up in March 2002 to inquire into the riots, Sharma submitted a copy of this data that he had preserved.
The government had launched a departmental inquiry and filed a chargesheet against him in 2011 for allegedly misplacing the CDs containing incriminating evidence and taking them with him without ever returning them to investigators.
Then in early January, the Central Administrative Tribunal quashed the chargesheet and passed a scathing order against officers of the Gujarat government.
Also read: Meet the 23 cops who embody Gujarat's carrot-and-stick policy
CAT had remarked that, 'had the CDs been put to good use, the actual offenders would have been apprehended and the issue of conspiracy as alleged could have been set at naught. Why this great opportunity is given a go-bye, was not explained by the State.'
Apart from the missing CDs, the chargesheet against him accused him of "giving cash awards" to drivers and subordinates and committing "spelling mistakes" in official government records.
After CAT dismissed these charges, the Gujarat government issued him with another round of show cause notices earlier this year.
The Home department officials while "going through the files of Sharma" came to the conclusion that in 2012 there were several instances where he allegedly violated service rules.
For instance, Sharma while on leave, remained in Gandhinagar and kept his official vehicle, the driver and the gunman with him. This had reportedly cost the exchequer a loss of Rs 3000 for which an official explanation was demanded of him.
Senior police officers like Rahul Sharma, along with RB Sreekumar and later Sanjeev Bhatt, had provided inquiry commissions, like the one that was headed by former Supreme Court judge Nanavati, with incriminating evidence against several people in power in the BJP party and the State. And arguably all these police officers have suffered vengeance by the State since then.
More in Catch:
Exclusive: Indian at risk of bioterror as food regulator looks away
New Sunrise in IPL: Hyderabad exposes RCB Achilles' Heel
Udta Punjab censorship: politics, not expletives, behind the move
India may pay a huge price for adopting GM crops. Here's why