Geelani chooses Sehrai as his successor. Why the succession might be far from smooth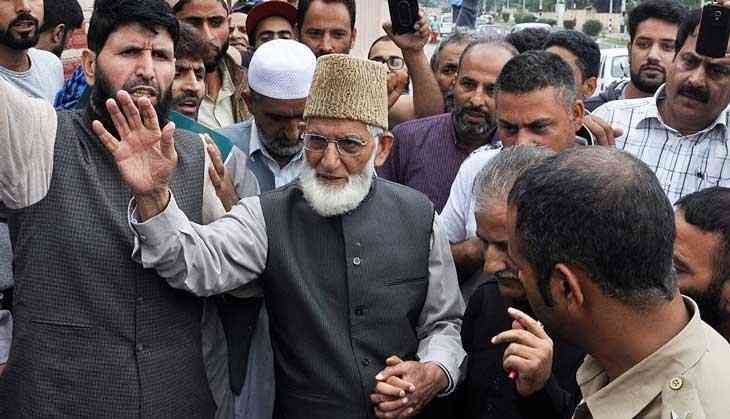 For the first time in the separatist camp in Kashmir, the leadership of a party has changed hands. And that too in an outfit as important as Tehreek-i-Hurriyat (TeH), which was founded and led by the patriarch Syed Ali Shah Geelani.
On Sunday, in a surprise move, the party appointed Mohammad Ashraf Sehrai as its acting chairman until the party elections later this year. Although Geelani continues to be the chairman of the Hurriyat (G), a hawkish multi-party separatist alliance, of which TeH is a constituent, it hardly detracts from the significance of the Sehrai's takeover.
By making way for him, Geelani has settled the long raging debate about his political successor. If Sehrai has Geelani's blessings to take over his party, he will in time be called upon to succeed the latter in Hurriyat (G) too. At 78 years, Sehrai is a decade younger than Geelani.
The two share a decades-old relationship going back to their days as the members of the J&K's leading politico-religious party – Jamaat-i-Islami. But in 2004, following differences with Jamaat over it's reluctance to play an active role in separatist politics to the detriment of the party's professed "primary role of propagating Islamic teachings", Geelani floated TeH. Sehrai, then a high-ranking Jamaat member, went along with Geelani, whom he sees as his political mentor and guide.
But Sehrai has always preferred to work under Geelani's shadow, hardly known for taking a conspicuous position on an issue, or least of all stoking a controversy. But like his mentor, he has been staunch supporter of Kashmir's merger with Pakistan.
Speaking at a seminar in memory of the poet Iqbal in November last, Sehrai slammed those criticising Pakistan. "Why should we question the nation that came into existence for the betterment of Muslims as a nation? The two nation theory is a reality and nobody should question it," Sehrai told the audience. "The existence of Kashmir is integral to the existence of Pakistan".
He said Indian Muslims had betrayed "Quaid-i-Azam" (Jinnah) by not supporting him and were now suffering for it. "Muslims of India termed the idea of Pakistan 'vague'," Sehrai said. "Today, when they are asked to prove their loyalty to their country, Quaid's visionary leadership as ever is proving right".
In his speech, Sehrai had also revealed the visit to his home of "a man from RSS headquarters in Nagpur," who had refused the offer of tea.
"When I asked him the purpose of his visit, he told me that his organisation wanted to make Kashmir a part of Hindu Rashtra," Sehrai said. "I responded, J&K never was nor is any part of India. Your idea of Hindu Rashtra must be realised beyond Pathankot (Punjab town along the J&K-Punjab border)."
Sehrai's election as the TeH head is a foregone conclusion in the party election but he is certain to face tough hurdles in his potential nomination for the leadership of the Hurriyat (G). Geelani's faction has more visible and popular leaders who will seek to take on this role, most prominent of them being Shabir Shah who joined the grouping in 2015 and was its General Secretary until his resignation from the post last year. He, however, didn't exit the faction.
Shah, currently in NIA custody, is counted among the tallest separatist leaders with a pedigree that dates back to early eighties when there was no armed Azadi movement in the state. Mirwaiz and Malik were kids and Geelani a legislator of Jamaat-i-Islami in the state Assembly.
Another contender for the role of the hardline Hurriyat faction is Masarat Alam Bhat, the leader of the Muslim League, also a constituent of Hurriyat (G). In 2015, Alam's release from the prison after an incarceration of five years had triggered a political storm in the country, threatening almost the collapse of the then fledgling coalition between PDP and BJP. He was subsequently re-arrested following the waving of Pakistani flag at a rally and has since been in jail.
Alam shot to fame through the five month long 2010 unrest which he is believed to have organised by creating a well-knit network of the stone-throwing youth and issuing week-long protest calendars.
With his enhanced political profile which has now made him the top hardline separatist voice of Kashmir, Alam has become a serious contender as a Geelani successor. But even he won't have it easy. Though Geelani made him a general secretary of Hurriyat (G) during 2010 unrest, Alam's appointment as the Hurriyat faction's future chief faces an internal resistance from many former. Jamaat-i-Islami leaders who make its ranks.
It will, however, be difficult to stop Alam who can now boast a support base of his own. With the unprecedented media spotlight on him in recent years, Alam has also become a permanent separatist pin-up for the media. This has made him the only other widely known leader in Hurriyat (G) besides Geelani, which only further cements his case as the legitimate successor to his hawkish mentor.
So the road ahead for Sehrai as the future leader of the powerful Hurriyat (G) will be rocky. With separatist leaders like Shah and Alam as his rivals, the separatist amalgam would find it hard to put up a united front should a succession battle break out.