'We don't want someone with a limited worldview': FTII fight comes to Delhi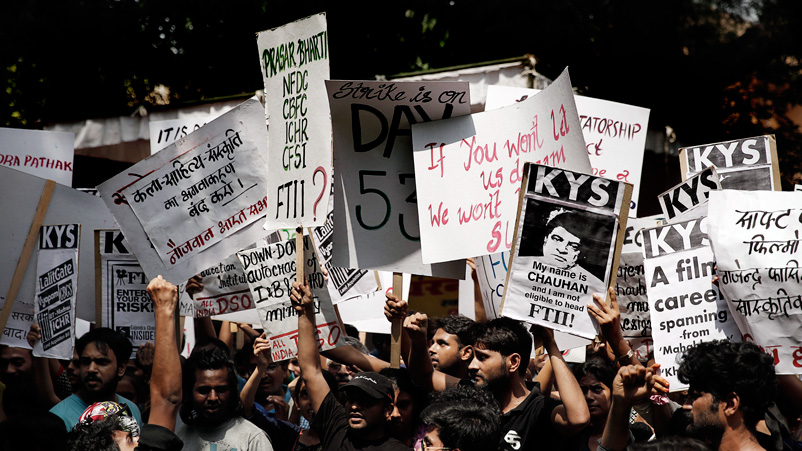 For the past 53 days, the students of the Film and Television Institute of India in Pune have been on strike. "Not a single person is attending classes," final-year film direction student Ameya Gore told Catch.
The strike, as described by an email circular, is "against the questionable appointments made in the apex decision-making body of FTII - the FTII Society".
It's not just that they are protesting the appointment of Gajendra Chauhan as Chairman of the Governing Council, and a few other members who do not seem to be qualified for the post.
This could well be a harbinger of things to come - as the government interferes in educational institutions and how they are run, students wary about the detrimental effects of such orders or appointments can do little but protest.
Which is why on 3 August, a group of FTII students, alumni and supporters marched from Jantar Mantar to Parliament Street in Delhi to reaffirm their objection.
As they prepared for the next round of protests, Catch spoke to a few of the students at the forefront of the protests about their objections to the appointments, their hopes for FTII and their vision of art and cinema in India.
Also read: Prayaag Akbar: Nationalism and the art of killing cinema
Neel Mani Kant, Sakshi Gulati and Ameya Gore are final year students in film direction at FTII.
Why are you protesting the appointments to the FTII society?
Ameya Gore: We believe the appointments are due to a faulty process. FTII students are selected through a very rigorous selection process. However when it comes to [selecting] the governing council, the rules are so loose. They only say that the person should be a person of eminence in film, television, art, culture and so on.
When we went to the Information & Broadcasting ministry on 3 July, we made it a point to speak in terms of policy. We asked them to put a transparent procedure in place for these appointments, so that no party can push their own people through.
We asked them to keep the FTII Society in a passive state while the process is revised. A new society should be appointed based on new, transparent guidelines.
We have written letters asking for a constructive dialogue based on our demands. Last time we approached them, we were told these appointments cannot be discussed.
The ministry has said nothing about their credentials. They have simply said that these appointments were the government's prerogative and the government has the right to do this.
Is this the first time this process has resulted in objectionable appointments?
Sakshi Gulati: If we look at the kind of appointments that have been made, usually they have been done with a fair amount of discretion, even under the previous NDA government.
It was this time that we felt there is something fundamentally wrong in the process if it can result in these kinds of appointments.
The government should form a committee of experts, which can draw a set of guidelines for the setting up of the FTII society.
What kind of FTII Society would you like to see?
Sakshi: One with some artistic vision.
The FTII Society handles a lot of key administrative appointments at the institute. They can also be inspirational, and the ambit of their exposure can be very wide. We are looking for a society that is more diverse in terms of the kind of art it picks up.
It's not about high art and low art. When a person like Vinod Khanna comes into the institute, he has wide exposure.
We don't want someone with a limited world-view and knowledge.
Are you only protesting the appointment of Gajendra Chauhan, or is there more to it?
Neel Mani Kant: It's not about Gajendra Chauhan only. We are also protesting the appointments of people like Anagha Ghaisas, Narendra Pathak and Rahul Solapurkar - all those whose credentials do not support their appointment.
The same government that appointed Mr Chauhan has also appointed Shyam Benegal, UR Ananthamurthy and Saeed Mirza. We are just trying to understand this process, which can appoint people like them and also Chauhan.
Sakshi: If education had been a priority [for the government], these appointments would not have happened in the way they have happened.
One thing we've realised is that we are not alone in this discomfort. If you go to Delhi University, students are frustrated with ad hoc appointments there. There is a reason why IIT and IIM directors are resigning. Tata Institute of Fundamental Research found a director, and the PMO sent them a letter asking them to revise the appointment.
There's a pattern here. The whole country can see it. By calling protestors ideologues or kids, you're disrespecting their intelligence.
The average age of FTII student is 25. There are people who have done Masters degrees. They've voted at least twice. They're quite aware of what's going on in the country.
'By calling protestors ideologues or kids, you're disrespecting their intelligence'
Perhaps we are naive to believe that the right to protest and ask questions is a right given to us by democracy. We are not engaging in character assassination. We are simply raising questions about the process of appointments.
Why do you think these people are unsuited to their positions?
Neel Kant: What is Chauhan's background? He has acted in a TV serial and some soft porn films. He does not show any vision or cinematic knowledge. If a person does not show any understanding of cinema, any vision for cinema, how can he head this institution?
People like Jahanu Baruah and Saeed Mirza have been associated with FTII as chairmen. These people have worked extensively in the world of cinema. They have been associated with bringing a certain type of cinema to India.
Ameya: Anagha Ghaisas was taken to court. She had stolen someone's work. The court said she had no knowledge of shooting, editing and direction and no sense of the difference between documentary and fiction. Someone like her would have been eliminated in the first round of the FTII entrance exam.
Ms Ghaisas has continuously referred to an incident where Mr Mahesh Bhatt [a former chairman of the FTII governing council] said that the students should study pornography. saying that 'this is what goes on in FTII.'
She was talking about pornography and how it's bad, and of course it's bad, but only when it's done for titillation. In film school we don't watch [film] to be titillated, we study it. She does not understand that.
She keeps talking about discipline and ethics. In art schools, nudes are painted. Somebody's personal idea of morality shouldn't come in the way of academics.
On various talk shows, she and the others have admitted that they really don't have any knowledge of film and art. Whenever they are cornered, they say, 'this is an administrative position,' and 'what the FTII really needs is discipline.'
Interacting with them on various talk shows, we found that under the name of discipline, and because they constantly dodged questions on freedom of expression, they had a very narrow-minded outlook and don't have the kind of liberal values that are required in a film school.
Neel Kant: Narendra Pathak has headed the ABVP for the longest time. ABVP is involved in a court case involving a screening of Jai Bhim Comrade, a National Award-winning film by Anand Patwardhan, at the Film Archive of India [near FTII].
ABVP members accosted students coming from the screening, telling them they were anti-national, then started beating them up. FTII students went to the police to file an FIR; ABVP people were already there and they filed a counter-FIR.
At the time, Pathak said [to the press]: "In anti-nationals ko toh sabak sikhana padhega (We will have to teach these anti-nationals a lesson)."
Is your objection partly to their political and ideological leanings?
Ameya: It's not like we don't want people to have a political stance. It's not that we only want apolitical people to come to FTII.
When Mr Vinod Khanna, also from the BJP, was chairman, there was never any protest against him. Because he's from the industry and has a liberal mindset, he understands the space a little better.
But when you have someone like Mr Chauhan, who says 'Modi is an avatar of god Vishnu and was born to vanquish evil,' I don't think he will ever stand up against him, even if that means compromising the students' interests. And there are times when political interests and student interests clash.
When students were protesting against the privatisation of FTII in 2010, the chairman Mr UR Ananathamurthy stood up with the students against privatisation and the institute wasn't privatised. This made it possible for a middle-class person like me to continue studying here.
[On one of the talk shows,] I even asked Mr Pathak, 'If I make a film critical of Modi, will you allow its screening?'
He said, 'if the film is in the larger interest of the society, the nation and doesn't hurt anybody's sentiments, only then we'll allow you to screen it.'
We all know which organisations' sentiments get hurt at the press of a button.
What's your vision for cinema in this country?
Sakshi: I want to work within Bollywood and make the kind of films that will show the truth of the world as it is. I don't want to change the world exactly, but I want to make films that have a certain honesty and truth to them.
I really feel that if there is a character that is honest, if the stories are very honest, they end up making a mark. That's why a Lunchbox and a Killa end up making a mark.
Do you consider freedom of expression paramount?
Ameya: In an art school, definitely. We need to understand people's world-views though their art. That's why we do it in an academic setup, so that we can study it and not pass judgements.
What is your vision for education at FTII?
Ameya: Everybody is saying these appointments are supposed to be political, that every government does this, every government puts its own people in these positions.
But their artistic contributions need to be the most important criteria, not their affiliation with the government.
For a government that is talking about vikas, I don't understand why higher education is not one of its topmost priorities. And if it is one of its topmost priorities, then we need our best people in these positions.
'We all know which organisations' sentiments get hurt at the press of a button'
How do you determine the significance of the artistic contribution?
Ameya: If you look at people like Adoor Gopalakrishnan or Shyam Benegal or Saeed Mirza, these people have been the faces of Indian cinema, they have represented Indian cinema. It's not just that they are famous.
It is pointless to compare them with someone like Mr Chauhan, because he has by no means done anything revolutionary in cinema or television. He is also out of touch. He has, in recent years, mostly been part of the political sphere.
[In an interview somewhere] Mr Chauhan has said: "Jo chal jaata hai voh A-grade cinema hota hai (whatever works at the box-office is A-grade cinema)".
This market-driven approach he's talking about is completely in conflict with the purpose of the film institute. FTII's vision statement talks about alternative cinema and creating independent, thinking filmmakers.
Mr Chauhan was asked, 'what kind of cinema do you like?' He said, '3 Idiots'. He was asked, 'what about world cinema?' He said, 'I don't want to say that on record; I am only involved with Indian cinema.'
A few years back, the Polish filmmaker Krzysztof Zanussi, had come down to FTII for our film festival. About three years ago, we started our own film festival, the Students Film Festival of India. A lot of international students also come and screen their work here.
And yet we have a chairman who doesn't even want to talk about international cinema.
What kind of cinema do you want to make?
Ameya: I personally like very simple work. I like the work of Abbas Kiarostami. He is, by the way, the head of the Children's Film Board in Iran, whereas we have Mr Mukesh Khanna.
When [Khanna] was asked about the FTII issue, he said that if he was in-charge of a school and if he made someone the principal of the school and the children had a problem with the principal, they should leave the school. He comes from this mindset where education is just something to be transmitted to students.
I believe in honest and personal cinema, which transforms the filmmaker and the crew themselves. And in this process, it automatically becomes a socio-political statement.