Explaining Modi's International Yoga Day event at Chandigarh in five pictures
While India suffers bad economics, wrong policies, inflation and intolerance, the prime minister is busy healing people by selling happiness. The state has packaged good health and positivity for its citizens.
World Yoga Day has now become one of the biggest annual events that India celebrates and it also serves as a promotional programme in the health market for the country across the globe.
Prime Minister Narendra Modi has used yoga as a tool to achieve multiple objectives at the same time. Besides it being good for health and one of India's oldest traditions, yoga has added to Modi's international image.
Also Read: Yoga Day in numbers: just how big has the yoga industry become?
At the same time, yoga appeals to the ideology and politics Modi represents. Yoga keeps him fit and keeps RSS and the Hindutva brigade happy.
The last time, the big show was at Rajpath. This time around, Modi went to Chandigarh. Here are some images which explain and show the connect between the PM's ideas and actions.
1. The scarf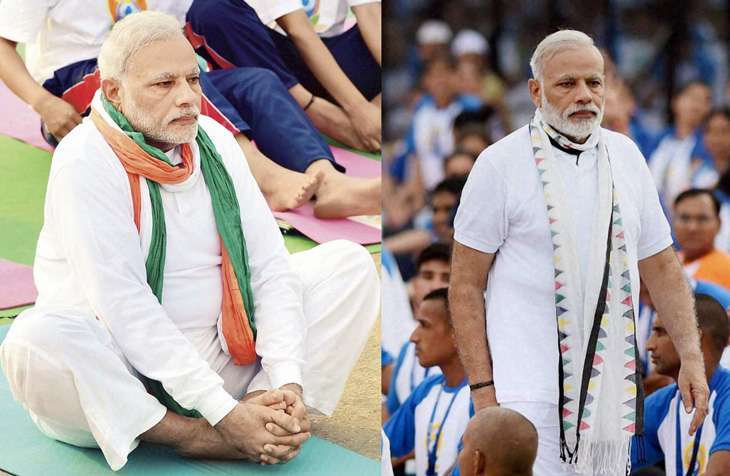 PTI
Last year, Modi came for the event with a tricolour scarf around his neck. It symbolised the Indian flag but people made fun about it on the social media by saying that scarf was put on wrong. The green was on top up followed by the white and saffron.
A scarf is something one should avoid during yoga. But it hides the belly well and therefore it is a necessity for someone who is the brand ambassador of yoga now.
So, Modi didn't drop the scarf. He just replaced it with another one with a different pattern. It was still a tricolour scarf but it didn't offer much scope for criticism this time.
2. The living terracotta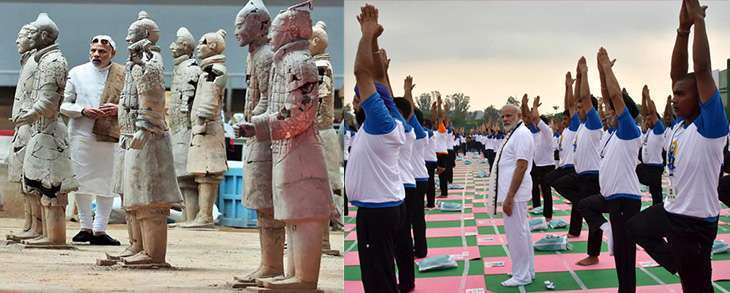 Press Information Bureau
There was a yoga mat spread out for the PM as well at the grounds in Chandigarh where the event was held. But instead of doing yoga along with the people gathered there, Modi chose to walk among them and observe their moves and postures.
Modi walked with the confident stride of a yoga expert, with an attitude of an instructor looking over his students. As he made his way through the lines of people, they got distracted and ultimately had to shift to make way for him.
The image of Modi walking through lines of soldier figurines at China's Terracotta Museum came alive.
Also Read: Now yoga departments in 6 central universities
To mark World Yoga Day, people had been asked to do yoga at various places, institutions and departments. They were to obey the orders.
Schools, colleges performed yoga under the strict watch of PT teachers, much like commands given to army battalions by their generals.
3. More flexibility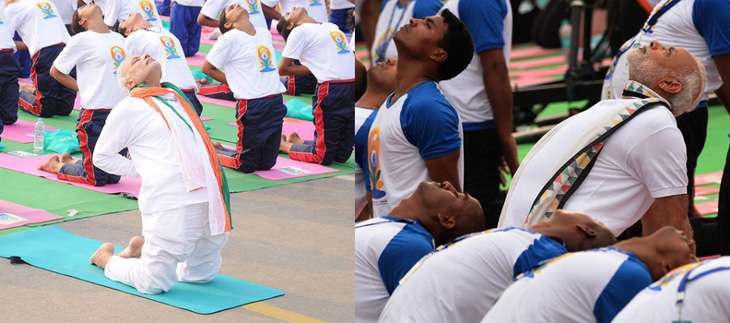 Prakash Singh/AFP Photos
Modi has indeed learnt a lot in the course of the last one year since he performed yoga on Rajpath. He is more flexible. His yoga postures have improved -- the body moves better while doing yoga since his last performance on Rajpath. He seems more comfortable in complicated poses.
Modi's inherent restlessness has not gone away, though. While doing yoga, his lack of concentration was exposed by his eyes going here and there.
Modi's flexibility is, however, more result oriented - like his flexibility on foreign direct investment.
4. 'Keep criticising, I don't care'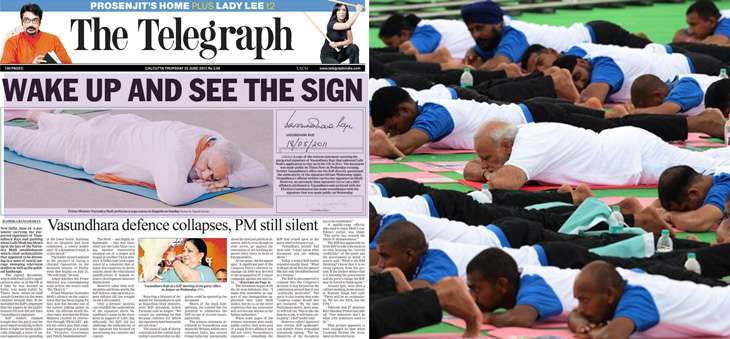 Press Information Bureau
Last year, The Telegraph's front pages with Modi's yoga images became very popular. They went viral on the social media.
The PM, lying prostrate was criticised by the paper and his opponents. However, Modi didn't skip the posture this time. He did it again. The message is clear, "You go on with your attacks, I don't care. I am doing this because I believe in it".
Not doing the same aasanas this time would have meant as a victory for his critics. Modi didn't let that happen, not this time.
5. The political aasana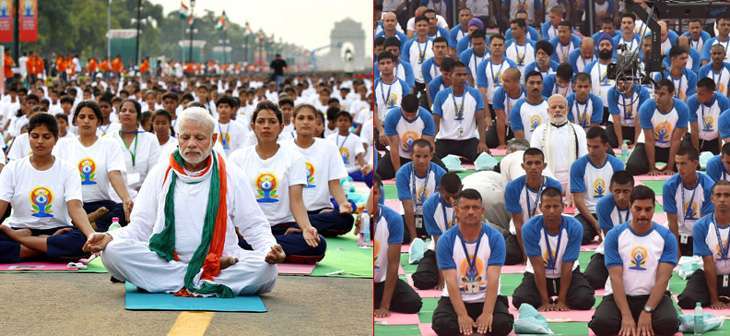 Press Information Bureau
Yoga Day is indeed a political move by Modi. Last year it was at Rajpath with India Gate in the background. This time it was Chandigarh. This adds a new backdrop his image. The albums from both years stand clearly apart.
Modi picked Chandigarh with a lot of forethought. It is a city celebrated for being modern, urban and well developed. Chandigarh was a subtext in Modi's message to the world - a message of a developed India.
One cannot forget that Punjab is preparing for Assembly elections in a few months' time.
Unlike a solo show last year, Modi brought in the Governor of the state, CM of the state, party leaders and minsters on stage to send out a political message - Chandigarh matters and so does Punjab.
Edited by Jhinuk Sen
Also Read:
Second International Yoga Day: Celebrations begin across the nation