Even as Hadiya case is adjourned, mother of another 'love jihad' victim moves SC
Anurag Dey
| Updated on: 9 October 2017, 20:10 IST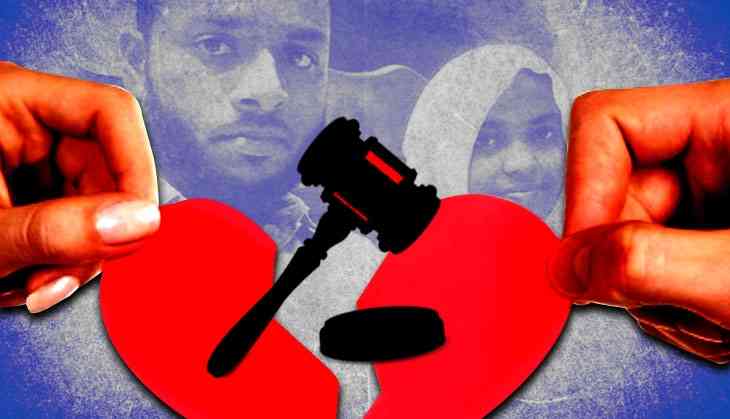 While hearing the "Kerala love jihad case", a Supreme Court bench opined against a court's interference into the marriage between two consenting adults.
The case concerns Kerala woman Akhila Ashokan's conversion to Islam and her subsequent marriage to a Muslim man, Shafin Jahan. After converting, she changed her name to Hadiya.
Adjourning the matter till 30 October, the bench, headed by Chief Justice Dipak Misra, also said it would "interview" Hadiya, who has claimed since the beginning that her conversion to Islam and her marriage to Jahan was voluntarily.
Following a petition by her father that it was a case of "love jihad", the Kerala High Court in May had annulled her marriage, terming it a "sham" and directed her to return to her parents.
The husband (Jahan) subsequently approached the apex court against the high court verdict. Challenging the legality of the verdict, Jahan, has contended that it was a violation of their fundamental right.
A Supreme Court bench in August then directed the National Investigation Agency (NIA) to probe the matter after the central probe agency informed the court that the Hadiya case was not an isolated cased and there could be more instances of "love jihad" in the state.
Jahan also filed a plea seeking the SC to withdraw its order for NIA probe.
Hearing the case on Monday, CJI Misra said that when two adults marry a court cannot interfere.
On the issue of the High Court directing Hadiya's custody be given to her father, the CJI said that such custody can be given when the person is mentally challenged, or psychologically depressed etc.
The bench in its last hearing (3 October) had said that it would examine if a High Court has the power to quash a marriage.
Many more allegations
Meanwhile, three applications have been filed before the court for becoming parties to the petition contending that "love jihad" was rampant in Kerala and a NIA probe was imperative. The applications come in the wake of the Kerala government affirming to the court that investigation by the state police have found nothing that merit a central agency probe.
The applications have been filed a Kerala woman whose daughter was a love jihad victim and later joined the IS, a "love jihad victim" from Maharashtra and three Kerala-based advocates.
Detailing how her daughter Nimisha (alias Fatima) was forcibly converted, radicalised and joined IS, Kerala based Bindu Sampath said "love jihad" was a well-orchestrated and well-oiled scheme and a central agency probe was necessary.
She has claimed that Nimisha, first cajoled and influenced by one Sajjad Rahman and then by her roommates at her Dental College to adopt Islam and marry a Muslim.
"Thereafter she was brainwashed, radicalised and forced to join Jihad of ISIS in Afghanistan, whilst she was seven months pregnant. She is currently believed to be in the Khorasan province of Afghanistan, which is ISIS controlled territory, and has been the site of many US led bombings on the hideouts of ISIS there," she said in her application.
Citing various media reports, she said her daughter's case was not an isolated case rather a motivated scheme of operation.
"Media reports clearly show that Kerala has become a hub of ISIS and jihadi activities. It is clear that some antinational organisations are behind these brain washes and forced conversions, and are actively luring youngsters into radicalisation and routing them to ISIS and other terrorist organisations for their use in terrorist activities," reads her application.
"Similar media reports from across the country are pouring in with FIR's and cases being filed across India citing Love Jihad cases where Muslim men have been changing their identity, luring hapless girls, then forcing them to convert, torturing them, mass raping them and then pressuring them to take part in anti-national activities. All of these need to be properly investigated as they are all following a common pattern and modus operandi – where a heartless strategy of luring vulnerable girls to convert to Islam by feigned love and promises of marriage," reads her application.
Echoing often made allegations by the RSS-BJP, she further stated : "It appears that the situation in Kerala seems to be grim - the most number of people joining ISIS from India are so far from Kerala.
The second applicant, Sumati Aarya, from Maharashtra's Latur who was forced by her father and husband to convert to Islam and get her indoctrinated to join and support the activities of SIMI, ISIS and Dr Zakir Naik.
"The applicant has firsthand knowledge and experience of the techniques adopted by these persons for over last two decades, wherein first they identify young girls who can be easy targets and start creating fabricated and fraudulent age proof as school certificates.
"Before the girls turn major, they are shown as major on fabricated school certificates. These young girls are raped, physically and sexually exploited and sold off to older men.
She claimed the involvement of foreigners, specially people from Syria, Afghanistan and Pakistan and inflow of huge amounts of unaccounted money, both in bank accounts as also in cash, illegal weapons and prostitution.
"The applicant was also cajoled, coerced and forced to read literature propagating Jihad of SIMI, ISIS and Dr. Zakir Naik. She was expected to also spread and propagate this literature propagating Jihad to young impressionable and vulnerable girls of Hindu community," she said seeking a comprehensive probe.
In their applications, three advocates — Sheela Devi, Keerthi Solomon and Vishnu Jayapalan, have said that Hadiya case was not an isolated incident.
"There is a concerted effort to threaten and dissuade judiciary in the state (Kerala) from giving justice to persons (like Hadiya's father). Lawyers who are involved in such cases feel insecure. The state police have failed to properly investigate the matter. This is a fit case for an investigation by the National Investigation Agency," they said.