End of an era: Author, social activist Mahasweta Devi is no more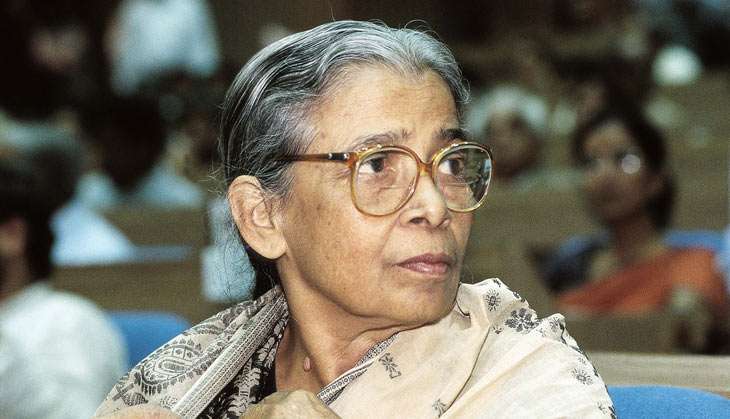 Whenever crimes against tribals in India rose, when they were displaced due to development, suffered in poverty, died from malnutrition and much before modern-day tribal crusader Rahul Gandhi was born - there was one person fighting for tribal rights. It was the legendary author and social activist Mahasweta Devi who passed away on Thursday. She was 90.
Mahasweta Devi suffered a heart attack on 23 July. She was also suffering from blood infection and kidney failure and was being treated at Kolkata's Belle Vue clinic for the last two months for age-related complications.
Mahasweta Devi was the recipient of Sahitya Akademi, Padma Vibhushan, Jnanpith and Magsaysay awards, among many others.
She was known for her books like Hajar Churashir Ma, Rudaali, Layli Asmaner Ayna, Choli ke Peeche, all of which were made into critically acclaimed films.
"India has lost a great writer. Bengal has lost a great mother," tweeted West Bengal Chief Minister Mamata Banerjee. Mamata also mentioned in her tweet that she lost a personal guide.
A legend
Mahasweta Devi was born in 1926 into a well-known family. Her father was distinguished poet Manish Ghatak, and her uncle was illustrious film director Ritwik Ghatak.
Her mother's brother was Sachin Chaudhury, the founder editor of Economic and Political Weekly.
She married Bijon Bhattacharya, founding member of Indian People's Theatre Association and their son was late Nabarun Bhattacharya, a radical fiction writer whose work was characterised by magic realism, dark humour and satire.
I had the good fortune of interacting with her in 2009. It was a personal visit at her Golf Green quarters to discuss some things about my own grandmother, who was a year senior to Mahasweta Devi in Vishwa Bharati, Shantiniketan.
When I met her, there was a young guy (aged 16 or 17) engrossed in rapt conversation with her.
It was soon revealed that the boy came from the Bengal-Odisha border. He had read her works, and wanted to work for tribal rights and hence, he had come all the way to meet her to seek her blessings and guidance.
I had just completed my post graduation in Political Science and easily cruised into the discussion based on my own readings, but without any practical experience what-so-ever.
What she told us next will remain with me for the rest of my life -
"If you want to work for the welfare of the tribals you have to go there and stay with them for months, learn their culture, get exposed to their lifestyle and feel their emotions. During my initial days, I had sat for dinner in a tribal village. They served me rice and chilly powder. Coming from the city, and having no exposure to their lives I asked ,'What do I have the rice with?' The answer was disconcerting - 'Mother, have the rice with your hunger,'" she told us.
The crusader
That was possibly the first time she realised the plight of the tribals and the abject starvation they live with. This was surely the first time I felt motivated for any cause.
During this period, Mahasweta Devi also came down heavily against the Left Front regime for their Singur and Nandigram disasters.
Mamata Banerjee lapped up the opportunity and many intellectuals started deserting the Left camp and joined Mahasweta Devi.
Left cadres committed another blunder by starting to defame Mahasweta Devi.
I remember a discussion where I was trying to convince a local Left leader that Mahasweta Devi can never be a 'sell out', she was not a Trinamool spokesperson, and she was possibly more left than the Left itself.
The local leader went on - his moot point being - how could anyone be so ungrateful after she was feted for years by the Left Front.
What people often forget is that Mahasweta Devi was the first person to criticise the Mamata government for undemocratic practices and intolerance.
She stood for and supported the underprivileged, discriminated and marginalised throughout her life, and she feared no one.
It was unfortunate that she was dragged into politics in her later years.
Edited by Jhinuk Sen
Also read: Writer-activist Mahasweta Devi passes away at 90