Delhi Election Results: Twitter wish happy birthday to Kejriwal's wife Sunita, say 'You are the strength of our hero'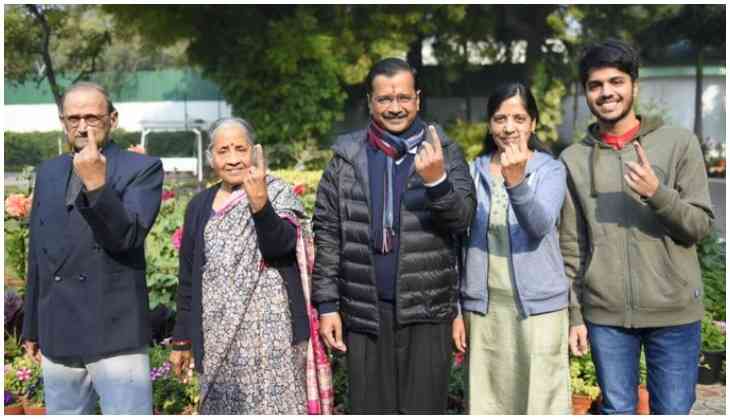 Arvind Kejriwal led Aam Aadmi Party is expected to form government once again, as per the latest trends. Kejriwal is leading to winning seats with a majority by defeating Bhartiya Janata Party (BJP), Congress and others. Someone correctly said that behind every successful man, there is a strong, wise and hardworking woman.
This line also goes with Kejriwal too because of his wife Sunita who burned the midnight oil in support of AAP during elections.
11 February is a big day for Kejriwal and his wife not just because of the victory but also for Mrs Kejriwal's birthday.
On her birthday anniversary, the amazing victory of Kejriwal's AAP will be a gift for Delhi CM's wife.
Even netizens are sending birthday wishes to Mrs. Kejriwal, who had campaigned hard for assembly elections. Her door-to-door campaigning with AAP workers worked as the results are in their favor.
One of the users on Twitter wrote, "Happy Birthday Sunita Kejriwal Ma'am God bless you and the entire family. You are the strength of our hero. Proud of you."
Another wrote, "What a day to celebrate a birthday!! Happy birthday to Sunita Kejriwal ma'am, the force behind the man of the day today @ArvindKejriwal."
Sunita Kejriwal turned 54 today. Notably, both husband and wife were officers of the Indian Revenue Service before stepping into politics.
Meanwhile, the AAP is trailing in the early trends and BJP is fighting to win some seats since the counting begins. The counting of votes for 70 seats began amid tight security at 8 am today.
The voting in Delhi was held in single-phase on February 8, 2020.
In 2015, Arvind Kejriwal led Aam Aadmi Party (AAP) won 67 seats out of 70.
According to Election Commission of India, total 62.59 per cent of votes were cast on the polling day.
Also Read: This adorable young boy wears 'muffler' like Arvind Kejriwal; netizens left stunned [PIC]