Death factories: industries at MIDC Dombivali are ticking time bombs
Parth MN
| Updated on: 10 February 2017, 1:49 IST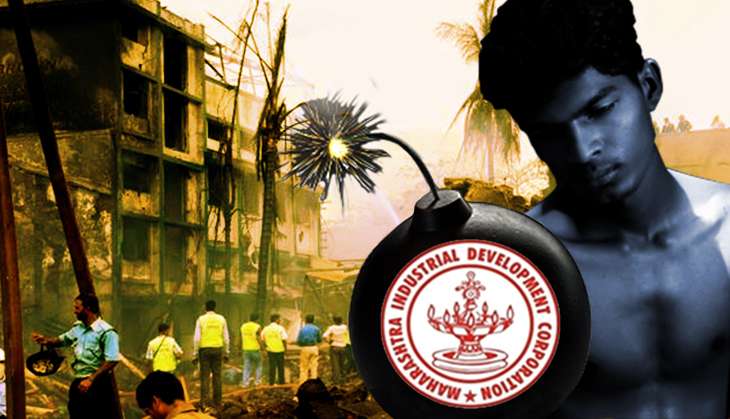 What happened?
Blasts ripped through Probace Enterprises chemical factory at Dombivali MIDC on 26 May, killing 12
It took 15 fire engines and 10 water tankers four hours to douse the fire
Can it happen again?
Activists say due to flouted safety norms in the area, there could be a worse explosion any time
Explosions will also affect residential complexes that have come up illegally around MIDC areas
More in the story
Safety issues in the factories
What can be done to potentially fix things
At a roadside tea stall located on the corner of a lane, alongside a pile of debris and a canal of sludge, a few labourers have gathered to grab a cutting chai.
Wearing only shorts and sullied handkerchiefs wrapped around their hands, they appear to be discussing the uncertainties of life.
The area is Maharashtra Industrial Development Corporation (MIDC), Dombivali, in Maharashtra's Thane district, which is part of the Mumbai Metropolitan Region, and their topic of discussion is the chemical explosions that ripped through a factory here on 26 May.
These workers are mostly contract labourers earning Rs 150-200 a day working in unforgiving conditions.
Also read: Mumbai: 3 dead, over 100 injured in Dombivali chemical factory blast
In spite of being exposed to various chemicals on a daily basis, they are not provided with basic protective gear like masks, helmets or gloves.
They hesitate when they are asked to elaborate on their fears, because the factory they work in is right across the street.
"It could have happened in any factory," says one. "What would our families do if the blast takes place at our factory?"
Their fears are not not unwarranted, say activists. The multiple explosions that occurred at the chemical factory of Probace Enterprises, and later spread to another factory as well, were largely due to flouted safety norms by factory owners and the callous approach of the MIDC.
Stalin Dayanand of the NGO Vanashakti says the factories in the area are stuck in time. "The infrastructure and the machinery that is needed to operate have not been upgraded at all in the last 15-20 years," he says. "Simultaneously, the production is going on the way it used to."
Moreover, as per safety mandates, every industry must keep a margin area free from any machinery for easy rescue operations in case of an accident, but hardly any factory adheres to it.
Danger zone
A ride through the MIDC industrial area evidently makes the danger clear. Huge boilers occupy the space and, in case of an accident, damage is magnified due to blocked margin areas.
The boilers, because they have not been upgraded, are already vulnerable to explosions, due to excess load on infrastructure.
By keeping a hazardous machine outside the plant, the dangers for the surrounding vicinity drastically go up, says Stalin. "By keeping boilers outside, you make more space for production inside the plant," he says. "It is a clear violation of law."
A case has been registered against the owners of the factory for causing death due to negligence and other different sections of the Indian Penal Code in the 26 May blasts.
MIDC officials have told reporters that checking of various permissions and inspections comes under the purview of Directorate of Industrial Safety and Health (DISH), and it is investigating the issue.
DISH, meanwhile, has assured that it will carry out inspections of different factories.
Apart from the safety issues, MIDC factories have also disregarded environmental norms. Untreated chemical effluents are released in the canals, which should directly go deep into the sea. In case of Dombivali MIDC, polluted canals meet the Ulhas River.
The National Green Tribunal has also pulled up Maharashtra Pollution Control Board in the case of Ulhas River pollution.
Also read: Coastal road on Arabian Sea: how Maha govt is pushing Mumbai towards disaster
Once the rivers are polluted, effluents consequently percolate into the ground water and contaminate aquifers.
As a result, even the drinking water supply, or the borewells, have become grossly polluted, augmenting the chances of water-borne diseases. Environmentalists say it is 'irreparable damage'.
Not the only problem spot
The situation at the Taloja MIDC on the outskirts of Mumbai is identical, if not worse. The Kasadi River has been so severely polluted that fish have not been able to survive. The fisherman community in that area has been rendered unemployed.
"They do not even have enough inspectors to run checks on all the factories," says Stalin.
Activists say small-scale explosions, keep happening but if authorities remain indifferent, it should not come as a surprise if explosions lager than the ones on 26 May rip through the Dombivali MIDC area, which houses around 3,000 factories.
On the brink of disaster
In the recent explosion, 12 people were killed, though an industrialist, who did not wish to be named, says the death toll is three times the number that has been reported.
Reportedly it took 15 fire engines and 10 water tankers four hours to douse the fire. Most of the structures were reduced to rubble and the explosions were severe enough to affect nearly 100 buildings with 1,000 residents and a few commercial outlets as well. Tremors from the blast were experienced within a 2.5-kilometre radius from the site.
Stalin says if something similar goes wrong in a textile industry instead of a chemical factory, it would trigger a chain of explosions affecting tens of thousands.
"The factories are located in close proximity to each other," he says. "The cloth at the textile industry would catch fire in case of a mishap and it would spread quicker than anything else."
The paranoia in the vicinity is therefore palpable. Residents fear for their lives after the chemical explosions.
Girija Vichare, who lives within a kilometre of the site, says the explosion was so loud that it seemed like a bomb blast. "I was shivering the whole day," says Girija, who lives with her two kids, husband and in-laws. "They are playing with people's lives here."
Also read: Khadse resigns: Modi and Shah said to have had enough of allegations
Residential complexes in closer proximity saw their box grills bent, windows cracked and plaster peeled off the ceiling.
Following the blast, Thane's Guardian Minister Eknath Shinde appealed to Chief Minister Devendra Fadnavis and Industry Minister Subhash Desai to shift dangerous companies away from residential areas.
However, the constructive way forward, say activists, lies in making industries danger-free by enforcing safety norms, instead of shifting them elsewhere. And the mushrooming residential complexes are illegal, for they cannot cohabit with an industrial belt.
"There is no buffer zone for the residences," says Stalin. "The increasing demand for housing is being exploited. All the administrative bodies are hand in glove."
The safety scenario at the Navi Mumbai MIDC, one of Asia's largest industrial belts with around 5,500 companies, is eerily similar to that of Dombivali.
In the last five years, apart from gas and oil leaks, 29 major fires and 56 small ones have been reported from here. In fact, reports say the situation is by and large similar across Maharashtra.
As far as Dombivali MIDC is concerned, Stalin says, "It is a ticking bomb that can go off at any time."
Edited by Jhinuk Sen
Also read: Environment Ministry lifts moratorium on industrial unit in Maharashtra