Cheerharan, or Haryana's shame: film on Jat agitation searches for the truth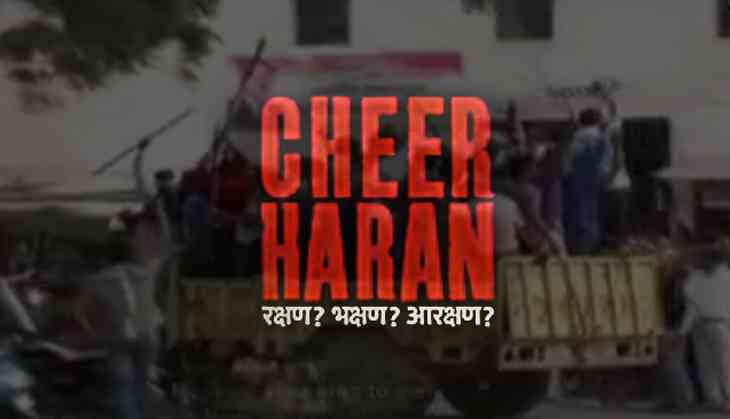 A trailer for a documentary on the Jat agitation, which witnessed large-scale arson and violence in Haryana over four days in February 2016, is quickly picking up views within just a few days of its release.
Titled Cheerharan, the promo has already gotten more than three lakh views on Facebook in just the two days since actor Randeep Hooda released it.
Though the film is likely to cause some discomfort to politicians, social media is driving interest in it with more and more people sharing it largely because it focuses on the human side of the tragedy.
In all, during those four fateful days, 31 people were killed and hundreds more were injured.
Great anguish
The director of the documentary, Kuldeep Ruhil, says his focus for the documentary was to capture the nuances and the unreported factors responsible for the happenings last year.
Ruhil, who grew up in Dahakora village near Rohtak, studied at the Department of Indian Theatre at Panjab University in Chandigarh before moving to Mumbai.
"People like me, despite living outside, still find themselves attached to the state, were shocked. Friends from other regions would throw disturbing questions like 'how can they stoop so low? Does the prosperous Jat community needs benefits of reservation? Why are the Jats hell bent on getting into the OBC list? Who are the real culprits of pushing a peace-loving state into violence?' Many uncomfortable, unanswered questions like these disturbed not just me, but thousands of us. I decided to search for the answers and my quest for truth resulted in this documentary," says Ruhil.
The answers led him to compare Haryana's shame to that of disrobing of Draupadi in the epic Mahabharata and hence the name - Cheerharan.
"It is high time that people realise how they get instigated on such issues. It is true that they get carried away, but that does not mean that they should resort to burning down houses. Discrimination has existed for long. It is part of our psychology. But instead of putting an end to it, we cannot resort to such acts. It is the job of the intellectual class to behave responsibly and show direction to the society in times like these," he told Catch.
A tattered social fabric
Ruhil believes that flaws in the reservation policy were responsible for the flare up. He also advocates that reservation should have a socio-economic basis or should follow the 'creamy layer' principle.
"A Jat living in Haryana who is not well-to-do gets agitated when he sees his counterparts in other states like Delhi and Rajasthan getting reservation benefits. Today, even Patels in Gujarat and Marathas in Maharashtra are making similar demands. What we must realise is the long-term impact of such violence. It will take several years for things to get back on track," says Ruhil.
After the riots, the Jat community, of the 36 Biradaris (communities) in Haryana, still feels alienated and believes that the present BJP government under Manohar Lal Khattar is responsible for not reining in leaders like Kurukshetra MP Raj Kumar Saini from spewing venom against them. This, they say, made the situation worse.
Many also hold the government responsible for how the administration was paralysed, which has led to greater polarisation along caste lines. Yet others accuse the Congress and the Indian National Lok Dal (INLD) for instigating the Jats to initially to resort to violent means to discredit the BJP government.
The film, as a whole, tries to show what various communities and groups had to say. It documents the simmering anger of Jats over being held solely responsible for the whole dilemma.
Coming together
But politics apart, Ruhil says that attempts are now being made by elders from various communities to stitch the social fabric together. But that will take time.
"While a negative thing spread very fast, people slowly respond to positivity. Thankfully, Haryana has the culture of 'muaf karo, aage badho' (forgive,forget and move on). This is what I experienced while making this film. Yet, it may take several years for things to normalise again," he says.