Breastfeeding Week: more Indian mothers breastfeed now but the battle isn't over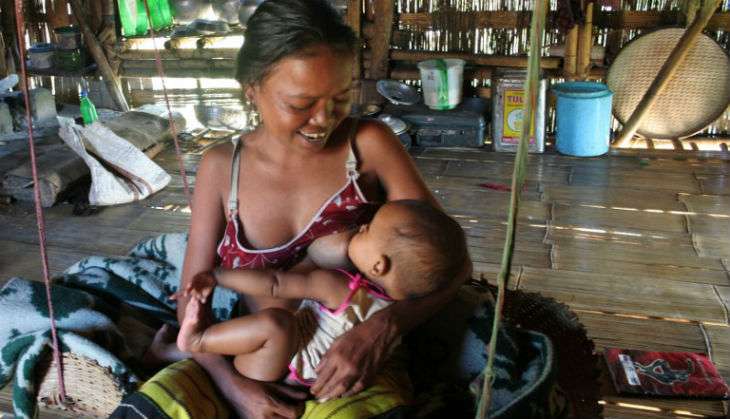 This is a proud confession. I have breastfed on a train, a bus, a flight, an auto, a taxi, at a restaurant, a temple, a bus stop and on a footpath.
Each of my public sessions were in desperate situations and always under the peering eyes of the people around.
Also Read: In photos: Breastfeeding week dedicated to all mothers out there
I'll never forget the sense of embarrassment; the conflicting emotions of anger and desperation while all the time trying to find a creative posture that wouldn't reveal too much and yet keep the baby from suffocating.
I think eventually I even developed a "breastfeeding resting bitch face" to ward off onlookers.
So this year when the theme of International Breastfeeding Week was announced as "A key to sustainable development" I let out a sigh.
Most know about the benefits. But how does one make it happen?
The facts, first
There are two parameters where India lags in breastfeeding - early initiation (breastfeeding in the first hour) and exclusive breastfeeding (the first six months of a baby's life should be exclusively breastfed)
Breastfeeding the child within an hour of the birth, commonly referred to as the 'golden rule', is crucial in giving the child colostrum - the first shot of natural immunisation and antibodies required to resist early infection.
The practice can reduce neonatal mortality by 22%, the World Health Organisation has said.
According to a recent Lancet report, an exclusively breastfed baby is 14 times more likely to survive the first year of birth, compared with those not breastfed at all.
Food rights activists, however, pointed out a worrying trend - despite the phenomenal increase in institutional births, most states still fare poorly in adopting healthy breastfeeding practices.
According to the latest National Family Health Survey 4 (NFHS4), Bihar increased its institutional deliveries from 19.9 percent to 63.8%. Yet only 34.9% of mothers feed
Tamil Nadu, too, has 99% institutional births. Yet only 54.7% of children are fed in the first hour.
"At an all-India level, although 80% of deliveries happen at hospitals, only 44.6% of mothers nurse their child in the first hour. Surprisingly, we have found that private hospital deliveries fare worse than government hospital ones. Focus needs to improve on pre-natal counselling and mothers and families need to understand its importance and not let cultural practices and traditional belief systems come in the way," says JP Dadhich, national Coordinator of Breastfeeding Promotion Network of India.
"Mothers believe that an elder has to come. Or they first feed honey to the child. Or they make a mother throw away the colostrum and wash up before feeding the child. All of these are harmful and delay feeding by over two hours," says Tamanna, a breastfeeding counsellor from Sanjay Gandhi Memorial Hospital in New Delhi.
This can sometimes lead to Hypoglycemia, or a fall in glucose levels, when a newborn is delayed breastmilk for long.
"Sometimes, despite all the counselling, an active supporter in the family needs to be present for the initiation to take place. Family support is crucial," says Dadhich.
Also Read: With love from Amma: why Chennai's breastfeeding rooms are a relief
According to Dadhich, if India has improved anywhere it is in exclusive breastfeeding. A recent WCD report says it has improved to 64% in India from 46%. But it needs to improve further.
Social pushes against the breast
There are two social factors which demotivate mothers from nursing. One is the status symbol associated with formula milk. The other is the plight of the working mother.
My domestic help proudly tells me that she spends a fourth of her salary buying her new born formula milk and Cerelac. She feels proud that she can afford something so expensive to nourish her child. She can happily mix formula in a bottle and feed her child in public.
Although India has a provision in its Infant Milk Subsitutes, Feeding Bottles and Infant Foods (Regulation of Production Supply and Distribution) Act 1992 and Amendment Act 2003 (IMS Act), which disallows companies manufacturing infant formula from advertising or publicly promoting supplement foods for infants, companies are often found flouting these regulations.
"Yes, it is a sort of status symbol. Although we have an IMS act, which disallows formula companies to advertise or promote their products they can only make business by making mothers feel that their milk is inadequate and a supplement is needed," explains Dadhich who pushes for stronger implementation of our existing laws to regulate companies like Nestle or Mother Dairy from advertising.
Breastfeeding becomes difficult especially for working mothers who have to get back to work in the stipulated 12-week maternity leave and often cannot afford an expensive breast pump or lack the space to pump at work.
India's Labour Minister Bandaru Dattatreya has promised to amend the existing Maternity Benefit Act and increase maternity leave to 26 weeks.
Dadhich believes this will improve India's breastfeeding figures, but it will only benefit mothers in India's organised sector: "80% of women are working in the unorganised sector. Maternity leave must be extended to them also to help better breastfeeding."
Then, of course, there is the gaping and gawking and untold sexual harassment that women battle each day for the sake of their babies.
Nobody quite prepares you for your breasts to be introduced as new public goods whose consent is never sought to be stared at, get roped into discussions, debates, be given advice, to be probed and questioned freely and commented upon by both sexes.
Until that changes, our children will always suffer life's most important nourishment.
Also Read: Islamic State kills a mother for breast-feeding her child