Born again: how 'secular' Afzal Guru was turned into a jihadist icon
Catch Team
| Updated on: 14 February 2017, 5:28 IST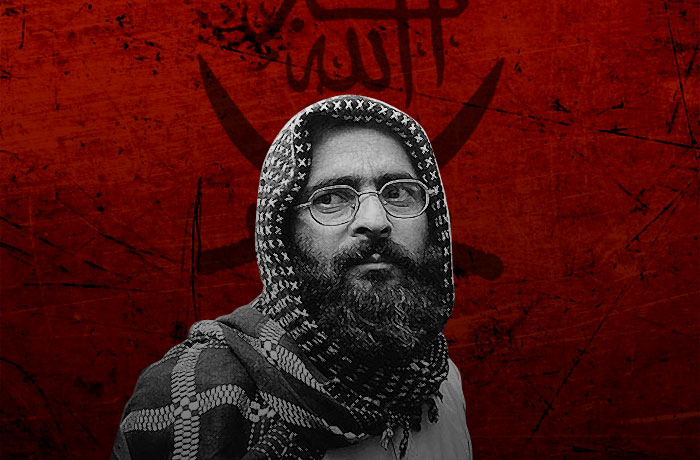 The man
Afzal Guru was hanged on 9 February 2013 in Tihar jail
He was convicted of involvement in the 2011 parliament attack
Guru was a surrendered militant of JKLF, a secular outfit
The icon
Militant outfits in Kashmir are holding him up as a jihadist icon
As proof, they point to Last Message, a book Guru allegedly wrote in jail
The Jaish has dedicated Pathankot, Mazar-e-Sharif attacks to him
Two attacks take place thousands of miles apart, one in Mazar-e-Sharif and the other in Pathankot. Both purport to have the same motive: revenge for the execution of Afzal Guru on 9 February 2013 for his role in the 2001 attack on the Indian parliament.
Shaheed Afzal Guru Squad, the brigade of Jaish-e-Mohammad which carried out the attacks left no one in doubt about this. In Mazar-e-Sharif, the militants even scrawled on a wall: "Afzal Guru Ka Intiqam." Afzal Guru is avenged, the message read.
Also read -
Writing on the wall: The Afzal Guru connection between the attack on Pathankot & India's Afghan Consulate
So, is Guru the new inspiration for jihad in Kashmir? Or is his name being appropriated just for its resonance in the valley?
There are no easy answers to these questions as the third anniversary of his execution draws near.
Under one flag
For it's only the Jaish that has carried out attacks in his name, the first of which came in September 2013 in Kathua in Jammu region. The attacks left twelve people, including an army lieutenant colonel, dead and at least four others injured.
That attack had come days before a meeting between the prime ministers Manmohan Singh and Nawaz Sharif in New York, where they eventually agreed to work on calming the then volatile Line of Control.
The other major militant outfits in Kashmir such as Lashkar-e-Tayyiba and Hizb-ul-Mujahideen have refrained from drawing on Guru's "martyrdom" or dedicating attacks to him.
Last Message quotes Gandhi: when the need arises, both men and women will have to resort to violence
Lashkar founder Hafiz Sayeed had attended a prayer meeting organised by separatist leader Yasin Malik in Pakistan around the time Guru was hanged. And Hizb chief Syed Salahuddin had, shortly after Guru's execution, vowed "revenge" against India. However, Guru has since had little play in the two outfits' jihadist discourse.
The Jaish, on the other hand, has sought to appropriate Guru from his otherwise basic identity as a militant of the secular JKLF. The outfit has projected him as a staunch supporter of jihad, despite his advocacy, even in his statements from prison, for adopting peaceful means to resolve the Kashmir dispute.
By the book
In this project, Guru's purported book Last Message has come handy. He's alleged to have written it in Tihar Jail, as a dairy, and handed over to fellow separatist leader and Hurriyat chief Syed Ali Geelani's biographer Shafi Shariati days before his execution.
It was released six months after Guru's execution by Hurriyat leader Nayeem Khan in Srinagar, and then on 11 February 2014 by the Jaish chief Masood Azhar in Muzaffarabad.
It was Masood's first appearance in a decade, although not in person. He spoke to a large crowd over a phone held close to a microphone, apparently from his hideout somewhere in Punjab. The audience was strictly instructed not to take pictures or record the audio. On the stage, the Jaish's Operations Chief Mufti Abdul Rauf Asghar Asghar was sitting alongside Salahuddin.
'Kashmir will soon have a new generation of martyrs': did Afzal Guru foresee the ongoing militancy?
"Guru was not just Jaish-e-Muhammad's fighter but of all the groups fighting for freedom in Kashmir, and his mission would be accomplished," he told the gathering. "India would have to face a chilling revenge for executing Guru."
Since then, all the Jaish's attacks have been carried out in Guru's name, something that has stripped his persona of its complexity and essentially reduced him to an overarching jihadist symbol.
In December 2014, there was an attack on the Mohura army camp in Uri, near the LoC. Seventeen people, including 11 security men, were killed.

In November 2015, three Jaish militants stormed an army camp at Tangdhar in Kupwara and were killed in the ensuing gunfight. A civilian also died in the attack. The bags recovered from the slain militants had the markings of Afzal Guru squad.

Jaish followed it up with a strike in Gurdaspur, the first in Punjab in nearly eight years. Three militants in army fatigues stormed the Dina Nagar police station, which falls between Gurdaspur and Pathankot towns. Seven persons, including a Superintendent of Police, a Punjab Provincial Service officer, two home guards and three civilians were killed.

The Pathankot air base attack last month, which has led to a temporary unravelling of the fledgeling Indo-Pak dialogue, has been the Jaish's most audacious strike so far. Seven security men, including an NSG commando, lost their lives.
For this violence, the Jaish draws validation from Guru's purported 94-page book, which backs jihad for Kashmir's liberation. In it, Guru lavishly praises Kashmir's first local suicide bomber Afaq Shah, a class 12 student who blew himself up in a car outside the 15 Corps headquarters in Srinagar in 2000. He purportedly also pays tribute to the parliament attack mastermind Gazi Baba, who was killed in 2003.
Also read - From Beijing to Kashmir: here's the curious case of a Kashmiri cabbage walker
"Kashmir will soon have a new generation of resistance leaders who will be inspired by the examples of Gazi Baba and Afaq Shah, who was Gazi Baba's disciple. And this generation will be an extension of martyrs," he purportedly writes, in a way presaging the new home-bred militancy in the valley.
"Afaq had not been trained to use AK-47. The young martyr turned his car into a missile and killed 20-25 soldiers at Badami Bagh Corps headquarters".
Leaving a legacy
The book profusely quotes Mohammad Qutb, the ideologue of the Muslim Brotherhood whom many see as the intellectual progenitor of Al Qaeda and other raging Islamist movements across the Muslim world.
It even cites MK Gandhi to uphold jihad. "When the need arises, not only men but also women will have to resort to violence to meet force with force," the book quotes Gandhi as having written in his newspaper Harijan. "Where there is only one choice between cowardice and violence, I would advice violence."
There's also a mention of Fatima Mansoor's The Young India in the Process of Independence, in which she quotes Gandhi privileging violence if it was possible: "If an open warfare were a possibility, I may suggest that we tread the path of violence that other countries have and at best evolve the qualities that the bravery on the battlefield brings forth."
Although most of Guru's admirers in Kashmir doubt the book's authenticity, the truth is that nearly three years after his execution Guru stands canonised as an overarching symbolic figure of resistance in separatist pantheon.
There are pages after pages dedicated to him on social network sites which boast hundreds of members. He is a staple of the valley's separatist political and militant discourse. And come 9 February, the anniversary of his hanging will once again be observed with a shutdown and a rally or two in the valley. Conferences will be held in Pakistan and Pakistan Occupied Kashmir as well, some likely by militant outfits.
More in Catch - 4-point formula may be 'ideal solution' for Kashmir. But is it feasible?
Space for protest has shrunk, so youth are picking up the gun: Yasin Malik
False colours: why protestors in Kashmir are waving ISIS flags