Book review: While India holidays on its beaches, Goa Eats Dust
"Reacting to Portugal's hold on her colony, Jawaharlal Nehru was supposed to have famously referred to Goa as a pimple on the face of India. Now look at how the pimple has been squeezed."
Most Indians prefer Goa as the right place for a (moral) vacation, eventually encountering neither the Konkani language nor its speakers. India has imposed a similar debauchery on Goa.
Also read: Avirook Sen's book 'Aarushi' makes chilling narcoanalysis tests public for the first time
Its relationship with the coastal state's nature can best be termed exploitative -- the well-known figure being that the state (India's smallest by size) supplied 40% of the country's iron ore exports.
Most of it was illegal, and gave us the notorious Goa mining scam. Mountains were wiped off, water sources submerged in the quest for iron ore.
The beneficiaries were politicians and the Goan elite. The rest ate dust.
Eat Dust: Mining and Greed in Goa is born out of the anger of the rest. It so happened that on a small farm near one of the mining pits in south Goa lived Hartman de Souza, veteran journalist, theatre personality, and owner of a sharp tongue.
When I uncovered my copy of de Souza's Eat Dust:, a friend sitting next to me instantly exclaimed why, for heaven's sake, was I going to read a book on mining in Goa. Goa, of all places.
Indeed. Why did I bother myself reading about iron ore mining plundering the state, when it offered me to forget it all in narcotics-filled experiences on its pretty beaches?
Ghosts of Goa
The spectre of illegal mining in Goa is as complex as it can get. Understanding it requires a dozen diagrams, charts to know where the money and the contracts went, along with glossaries that can explain the difference between a raising contractor, a lease owner, and an operator.
It is a complicated mess. I've barely understood it. Admittedly, Eat Dust doesn't make it easier.
Where the book makes a mark is not as a better glossary on the scam, but as a human account of what mining is - entire forested hills disappearing, stripped and blasted into oblivion, leaving gigantic ugly orange coloured pits in their wake.
Schools bribed with stationery and uniforms, village councils hijacked, hearing your village's entire supply of groundwater gushing out of a mine, neighbours turning traitors, politicians threatening you at your doorstep, seeing your old mother being imprisoned for speaking up.
There is probably no other book on mining that relates to the last detail what it is like to live in a mining zone.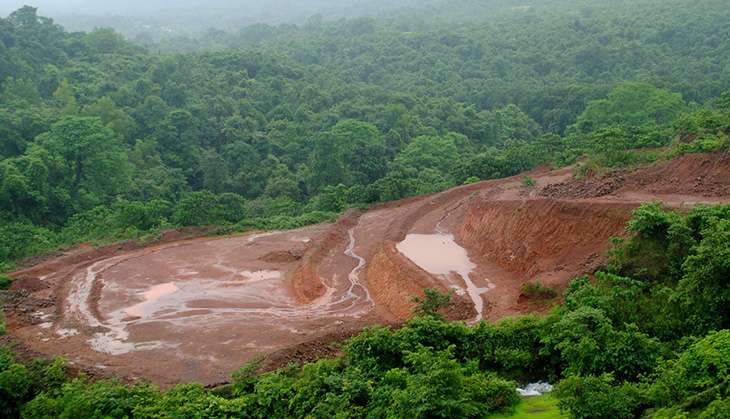 Goa Foundation
Spinning truths and tales
It unfolds around a farm in Maina, south Goa, where Hartman's sister Cheryl lived with her daughter. The narrative is angry. It is alive. This is aided by the fact that Hartman is experienced in both journalism and theatre.
Also read: City of Joy to Genius: a new book that maps the world's 'genius cities' picks Kolkata
For him, the hills are not just flora and fauna, they are alive with thousands of gods. The book, which begins with describing how a crested serpent would view the entire state from its left eye, engages you with characters and objects that Hartman sees as his surroundings.
Then comes the story. The most horrific part has to be when the book describes the day when the mining drills hit an aquifer. Aquifers are natural water storage tanks underground, which store the water we draw from wells and pumps.
When the miners behind Cheryl's farm hit the aquifer, Hartman writes that they could hear the water gushing out for an entire day. This was all fresh water, which would have served the villages and farms for years. All gone into a mining pit, soiled. This soiled ore-heavy water is pumped out by miners and simply left to run down the hills, destroying farms in its path. I don't know who wouldn't go mad seeing all this unfold.
Writing memories
Reading the book you will be left with enduring memories of its characters, hills, trees and its gods. You are introduced to Paik, a syncretic god with a centuries-old shrine at the source of a spring. Then you are told how the part of the hill with the Paik, his shrine, and the water he protected, was "scooped out" by miners.
Similarly, you are treated to Jollerancho Dongor - a hill (dongor) that was the abode of the spirit of Zolar, and hundreds of myths and stories accompanying him.
Jollerancho Dongor - like Paik's Spring - are today the names of mining leases.
Hartman's writing evokes living imagery of a place - the peas swimming in coconut gravy, the elegant hand that emerges from a limousine to throw a neatly knotted plastic garbage bag into a rice field by the road, the "tall whiskys" after a long day of surveying mining-ravaged areas...
This I believe is not new to de Souza's writings. But it is a fresh approach to environmentalism. The book succeeds - perhaps unwittingly - in rescuing the environment from 'environmentalists'.
And how. While the book is an account born out of a first hand experience of mining, it also as much about the dramatis personae of the Goan mining scene.
Here, Hartman has been more than generous. After describing all the shady characters running mining companies, Hartman then moves on to the holy cows - journalists, activists and environmentalists.
Hartman describes how Goa Foundation and its co-founder Claude Alvares are embarking on a campaign to restart mining in Goa - with the rider that proceeds will be channeled directly to the citizens of Goa.
This will be achieved through a funds known as Goenchi Mati Permanent Fund. The first two words roughly translate to Goa's Soil (soil used as in 'son of the soil'), but Hartman indicatively translates Mati to Mud.
The 'Mud Fund', as he further shortens it to, will contain all royalties from mining in Goa and earn interest. Each Goan will get a fixed monthly return from the fund, permanently. The idea is to use Goa's natural wealth - mining royalties - back to Goan pockets.
Mud and money
While this would amount to about Rs 1,000 per month per Goan, the consequences are too obvious to mention.
As Hartman says, won't this lead to greed? Telling each Goan that she gets Rs 1,000 a month from iron ore mining would make it easy for politicians to promise opening up more mining: bauxite mining for another Rs 300 a month, sand mining for another Rs 200.
Far from preserving natural wealth, this may make Goans see 'nature' more as 'wealth', rapidly stripping one of the most ecological verdant landscapes in India.
GMPF proponents like the Goa Foundation have the reverse logic. They say that the income would impart a sense of ownership of natural wealth, and lead to its preservation.
It is alarming how, in the end of Eat Dust, the Foundation and its people are described using words like "naive" for those who don't want mining to resume, and the anti-mining movement a "lost cause", of deploying the development vocabulary that defines a happier future as "idealistic" and the status quo as "practical".
The bigger picture
It's disturbing to note that this lexicon belongs now to a green NGO. It was Goa Foundation that filed the Supreme Court petition to ban mining in Goa, and fights several others on Goa's environmental issues.
Activists in Goa commonly describe the tiny state as a microcosm of India. What goes wrong in Goa is a sample of what is wrong in India.
Following through with the logic, Goa has some disturbing truths about civil society and environmentalism; Eat Dust provides some testimony.
On just a four-day visit to the state I heard stories of infighting worthy of a novella. In Goa, names are followed in hush tones by those of mining magnates.
Hartman's book provides a damning picture of the natural resource curse in India, and the dangerous directions environmentalists can take.
I definitely could not digest that without a tall whisky.
Title: Eat Dust: Mining and Greed in Goa
Author: Hartman de Souza
Price: Rs 350 (paperback)
Pages: 277
Publisher:Harper Litmus, an imprint of HarperCollins (2015)
Edited by Jhinuk Sen
Also read: QuickReview: Rana Ayyub's book Gujarat Files is a tale of gritty journalism, with a heart