Bijnor violence: How Dainik Jagran & HT wrongly blamed Muslims
Three people died and several others were injured in a clash between Muslims and Jats in Uttar Pradesh's Bijnor district on Friday.
Besides the violence itself, the most disturbing aspect of the entire incident was the spread of misinformation by leading national dailies and right wing websites.
What actually happened
Catch was among the first to speak to the Bijnor Police on Friday. This is what the officials said:
"A Muslim girl was harassed by boys belonging to the Jat community. It led to a clash after which members of the Jat community fired bullets, killing 3 people. Twelve more suffered injuries and are recovering" - Umesh Kumar Srivastav, Superintendent of Police, Bijnor

This version was corroborated by the Circle Officer, Bijnor City police station as well as a number of villagers.

Late on Friday night, Bijnor Police issued a press release which said that "In Peda village, a girl belonging to the Muslim community was eve-teased. This led to an altercation between the girl's brothers and the eve-teasers."

According to a police official, after the girl's family protested, Jat men took positions on the roofs of their homes and began firing bullets killing three people. They are said to have been members of the girl's family who had protested the molestation.
Read the full story: Bijnor: 3 killed as Jats and Muslims clash over eve-teasing incident
What was reported
Uttar Pradesh's leading daily Dainik Jagran, published a different story, insinuating that Muslim youngsters harassed a Jat girl.
"Girls from the Kachhpura and Naya villages in Bijnor take buses from the Peda village to go to school. People from the village claim that men belonging to the minority community have been harassing schoolgirls for some days now. On Friday morning, an incident of eve-teasing led to an altercation. This blew out of control leading to stone pelting and firing," the Dainik Jagran story read.
A later update by Jagran, however gave the correct details.
A story published in Hindustan Times was equally misleading.
"According to the police, some girls from Nayagaon told people in their village that boys from Peda harassed them when they went to board a bus for school in Bijnor. A group of male residents from the village then escorted the girls and beat up a boy named Talib after he was reportedly found harassing one of the girls.
Talib, however, called more people from his village who attacked the Nayagaon inhabitants. The injured boys managed to escape to their village where they narrated the incident. Following this, a group from Nayagaon and a neighbouring village reached Peda armed with guns and wooden staffs and attacked the villagers. Both the sides exchanged fire and pelted stones at each other."
These stories are misleading on numerous counts. First, if the SP of Bijnor has said on record that men belonging to the Jat community molested a Muslim school girl, where did Talib (clearly a Muslim) come from? It turns out that Talib is the brother of the girl who was molested.
Secondly, UP DGP Javeed Ahmed told NDTV in an interview that the Muslim men were killed in an act of "unprovoked firing". There was no retaliatory firing by Muslims, contrary to the "firing from both sides" that has been claimed. Also, if the firing from the Jat side was unprovoked as the DGP has said, the entire narrative of "Talib" and his Muslim supporters attacking Jat villagers would be false.
Hindu right wingers do the rest
The Jagran story was promptly spiced up and posted on Hindu right wing websites.
This is how hindupost.in completely turned the entire incident on its head, presenting it as a case of Hindu girls being harassed by Muslim youth and the girls' family members confronting the offenders in retaliation.
"A molestation bid on Hindu girl students has spiraled into communal violence leaving 4 people dead and several injured today in Paida village, Bijnore district, Western UP.
According to a report in Dainik Jagran, the violence broke out after Hindu girls on the way to school were harassed by Muslim youth. Angry family members of the girls confronted the offenders and soon firing and stone pelting broke out....4 Muslims from the village have died in the clash. A crowd has blocked the Najibabad road, and started targeting Hindu homes, burning one hut and bike. In front of the police force, they were heard chanting 'khoon ka badla khoon se lengey" (we will avenge blood with blood)".
The story is not only grossly inaccurate, it seems a mischievous attempt at creating tensions.
Another right wing website, hinduexistence.org, which is known to for content against Muslims and Christians, also posted a similar report.
Right wing trolls also tweeted a story by Amar Ujala giving it a distinctly anti-Muslim spin, even though the story itself was a balanced one and did not mention either of the two communities.
★ Muslims molest Hindu schoolgirlin #Bijnor ! Hindus retaliate and kill 4 Muslims. #Muzaffarnagar again ? ★ https://t.co/1tm3oKb0zN

— Nisha Singh #HDL (@Nisha__Hindu) September 16, 2016
★ Muslims molest Hindu schoolgirlin #Bijnor ! Hindus retaliate and kill 4... https://t.co/nAQnpgDPCN by @YesIamSaffron via @c0nvey

— AMIT KUMAR NAYAK (@amitnayakmrj) September 16, 2016
★ Muslims molest Hindu schoolgirlin #Bijnor ! Hindus retaliate and kill 4... https://t.co/3TIKtwGKmj by @Nisha__Hindu via @c0nvey

— Rajappan Padmanabhan (@PRAJAPPAN2) September 16, 2016
★ Muslims molest Hindu schoolgirlin #Bijnor ! Hindus retaliate and kill 4... https://t.co/BOitRtH0DX by @satyaprakashty1 via @c0nvey

— Dikshant Sharma (@dikkhandal) September 16, 2016
★ Muslims molest Hindu schoolgirlin #Bijnor ! Hindus retaliate and kill 4... https://t.co/mNFbixgMKQ by @nirbhaisingh07 via @c0nvey

— Hasit Hemani (@hasithemani) September 16, 2016
The fact that these tweets are absolutely identical indicates that this was part of an organised attempt to spread misinformation.
The cyber warfare by the right wing brigade didn't end with this. Mediavigil.com a Hindi website which flags right wing mischief, was hacked on Saturday afternoon. They had earlier in the day written on Dainik Jagran's misleading report
A repeat of Muzaffarnagar
This is not the first time the media has published misleading or provocative content during riot situations in Uttar Pradesh.
After the murder of Sachin and Gaurav in Kawal near Muzaffarnagar in 2013, Dainik Jagran gave an emotionally charged headline 'Seeney par chadke kaati saanso ki dor' (They sat on the chest to slit their throats) and went on to narrate in gory detail how the duo were slaughtered.
On 21 August, 2014, in the run-up to the anniversary of the Kawal double murder, Dainik Jagran ran a story with the headline"Kawal se guzre to bura anjam hoga" (The consequences will be deadly if anybody passes through Kawal). On 24 August, it said: 'Kawal ka maarg LoC nahin hai' (The road through Kawal is not the Line of Control between India and Pakistan)
Around the same time, Dainik Jagran and Hindustan published elaborate reports on alleged cases of love jihad in Western UP. This coincided with BJP leader Yogi Adityanath raising the love jihad issue in the run-up to the bypolls in the state. This almost brought Western UP to the brink of another Muzaffarnagar-like riot.
If the Jagran headlines during the 2013 Muzaffarnagar riots weren't incendiary enough, right wing trolls morphed the daily's headlines and circulated the images on WhatsApp, that further fuelled tensions.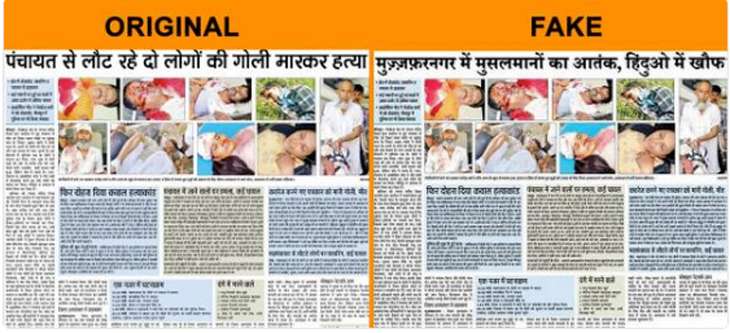 The original Jagran story (left) and the version with the morphed headline that was circulated (right).
The problem is that it isn't just anonymous trolls who are circulating incendiary content. BJP MLA Sangeet Som is accused of sharing a fake YouTube video during the 2013 Muzaffarnagar riots. Another BJP leader, Suresh Rana, has admitted in a sting operation, that he fabricated rape charges against Muslim boys "to teach them a lesson".
There seems to be a clear attempt to incite violence by spreading wrong information. The Muzaffarnagar experiment may be replicated more times in the days to come.
ALSO READ: Meet the "Muslim rapist": Hindutva propaganda machine's latest product