Bhima-Koregaon case: Legal activists smell a rat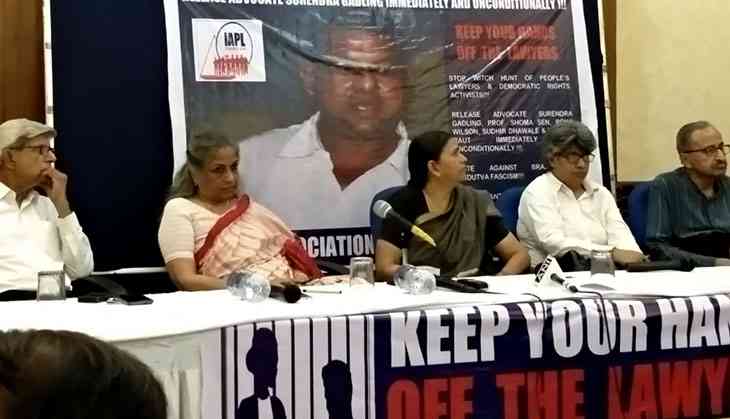 The shadow of the Bhima-Koregaon violence grew longer Thursday with the legal community raising questions on the Wednesday arrests of five persons while the ruling Bharatiya Janata Party alleged that they had Maoist links and even alluded that the Congress was in collusion.
Sudha Bharadwaj, vice-president of Indian Association of People's Lawyers (IAPL), said none of the five arrested Wednesday – Sudhir Dhawale, Surendra Gadling, Shoma Sen, Rona Wilson and Mahesh Raut – were named in the original first information report.
Pointing out that the police raided the house of Gadling, IAPL general secretary, back in 17 April and confiscated his computer and storage devices, the legal activist questioned the timing of the arrest and the evidence it was based upon.
Advocate Nithya Ramachandran said the police was yet to indicate that it had concrete evidence against the arersted.
At the same time the Maharashtra Police asserted it had recovered "incriminating documents" from them, which indicated they had links with "Maoist outfits". A television channel displayed a letter Wednesday night, claiming it established Wilson's Maoist connection. The same letter was seemingly displayed at a press conference Thursday by BJP spokesperson Sambit Patra. It was not clear whether it had been released by the police.
They also claimed Jignesh Mevani, a member of the Gujarat Legislative Assembly, was a conduit for raising funds from the Congress.
Officially, however, no evidence was released. Till late afternoon it was not known whether the arrested activists were produced in court. Gadling was reportedlt produced before a magistrate at residence and taken into police custody. Condemning this, advocate Poonam from Pragatishil Mahila Sangathan demanded his immediate release.
"This has become a norm," she alleged, addign that there are increasing number of cases where the police avoid presenting the accused at courts of law and instead take them to the residences of magistrates. In the process they are denied legal aid.
"The police may have been apprehensive of taking Gadling to a court due to his popularity in the bar," Bharadwaj said.
A legal activist for 25 years, he had fought for Dalit activists in the Ramabai Nagar firing in 1997 and the Khairlanji killings of 2006, she said. He was even appointed a special public prosecutor, she added.
Bharadwaj also mentioned the GN Saibaba case, in which, she said, Gadling was instrumental in bringing out the lacunae in the state's arguments. Subhash Bawache, the investigating officer in that case, was also involved in the current case she said.
Saibaba, a former Delhi University professor with 90% physical disability, was last year sentenced for life by a court in Maharashtra's Gadchiroli for links with Maoists.
The legal activists criticised the use of the Unlawful Activities Prevention Act (UAPA) against the five arrested activists. Calling the act "draconian" Ravi Kiran Jain from Peoples Union foro Civil Liberties pointed out that cases under it stretch long and the chances of bail are slim.