Bekhauf Azadi March: Chandigarh women call out for freedom after stalking incident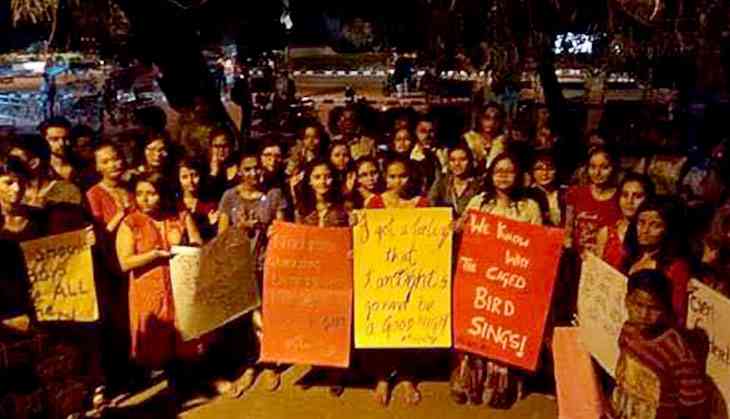 Late Friday night saw a large number of Chandigarh's women take to the streets with the 'Bekhauf Azadi March' in an attempt to reclaim their city. These women were accompanied by an equally large number of men. There were also those who were not from the city but stood against patriarchy and for equal rights for women to move around the city fearlessly at any point of time in the day.
The message of the march was – "Yeh raat bhi hamari hai, yeh sadakein bhi hamari hain.....Yeh chand bhi hamara hai, yeh sitaare bhi hamaare hain! (This night is ours, these roads are ours...This moon is ours and these stars are also ours!)."
The march was organised in the light of the recent incident of a woman being stalked by two men. Varnika Kundu, a DJ by profession, was stalked by Haryana BJP chief Subhash Barala's son Vikas and his friend Ashish Lumar.
The two men were rearrested on Wednesday after a public outburst compelled the local police to book them under non-bailable offences of attempt to kidnap and wrongful restraint. The police had earlier tried to allegedly dilute the case by applying sections of the IPC which are bailable.
The march was able to make a powerful statement as slogans and songs reverberated through the night on a part of the 'Geri Route' which has become infamous for ogling, stalking and harassment of young girls.
Reclaiming the night
The women had gathered outside the gates of the famous Rose Garden carrying placards and banners with slogans on the freedom of women written boldly on them. The march started from this spot and after covering a stretch of a little more than one kilometre concluded outside the Government Arts College in Sector 10.
Here the participants held a session of singing songs and reciting poetry that ranged right from the iconic Azadi poem penned by Kamla Bhasin to Aag written by Dushyant Kumar along with feminist poems by famous Punjabi poetess Nirupama Dutt. There were also speeches made by many activists and other participants.
Jagmati Sangwan, a senior member of the All India Democratic Women Association (AIDWA) said the re-arrest of the accused in the Varnika Kundu stalking case is a big achievement for the public, social activists and media. She hit out at the counter campaign being carried out by some elements dictating terms to women and preaching social conduct to them.
"Who are they to tell us what to eat, what to wear, where to go and at what time to go? In this case, an investigation also needs to be carried out on those who tried to save the accused and they should be brought to book," Sangwan said.
A radio jockey with a local FM network candidly pointed out that despite being called a modern and safe city – "Chandigarh is not that safe a place".
A need of a stronger statement?
There is a point of view that organising this event would have had more weight if it was carried out in those parts of the city from where the maximum cases of crimes against women are reported. These are the areas where harassing women is a 'done thing' since people from the poorer and deprived sections of the society reside there.
Keeping the Madhya Marg as the venue was fine as far as making a statement was concerned but to make an impact such events need to be held in places where such crimes are rampant, the voices of the complainants are muffled and there is no one to speak out for them.
There is also a social debate that has started over the famous 'Geri Route' of the city which has become a venue to stalk and harass women. This stretch on the internal road from Sector 8 to Sector 11 is no longer a place for some 'harmless fun' and socialising as it used to be till about two decades ago.
The term 'Geri' is derived from the Punjabi term 'Gera' which in simple terms means taking a round. This used to be an earlier practice among the landlords in Punjab when they mounted their horses to make a 'Gera' of their fields. In Chandigarh, the route derives its feminine name and displays the feudal mindset.
Chandigarh's 'Gedi Route' finds a prominent place in a large number of Punjabi songs that depict the brashness and show the culture that defines it. For example: Gedi Route, Geri Route, Red GTR – Geri Route and Love Drive.
The songs are all about being a 'man' and showing off your car, your money and of course – getting the girl.
What one gets to see on this route is a vulgar display of wealth in the form of swanky cars and bikes with brash young men playing loud and suggestive Punjabi songs as they try to 'flirt' with women. These cars are quite often well-stocked with liquor and it surprises no one if the people in the cars are also high on drugs.
The police do carry out special drives and try to impose strict rules but the well-connected youth with deep pockets are back to their ways soon.
Observers say that most of these youngsters come from rich landed families of Punjab and Haryana and with Chandigarh being their first brush with a westernised lifestyle, they resort to such behaviour.
It is in this context that the organising of the 'Bekhauf Azadi March' on this stretch becomes quite relevant. With a large participation from the middle-class strata of the city along side the student and teaching community, the march also hints at the rumblings of discontent finding their voice on the streets of this otherwise 'Dead City' with a typical middle-class self-centred attitude.
Edited by Jhinuk Sen